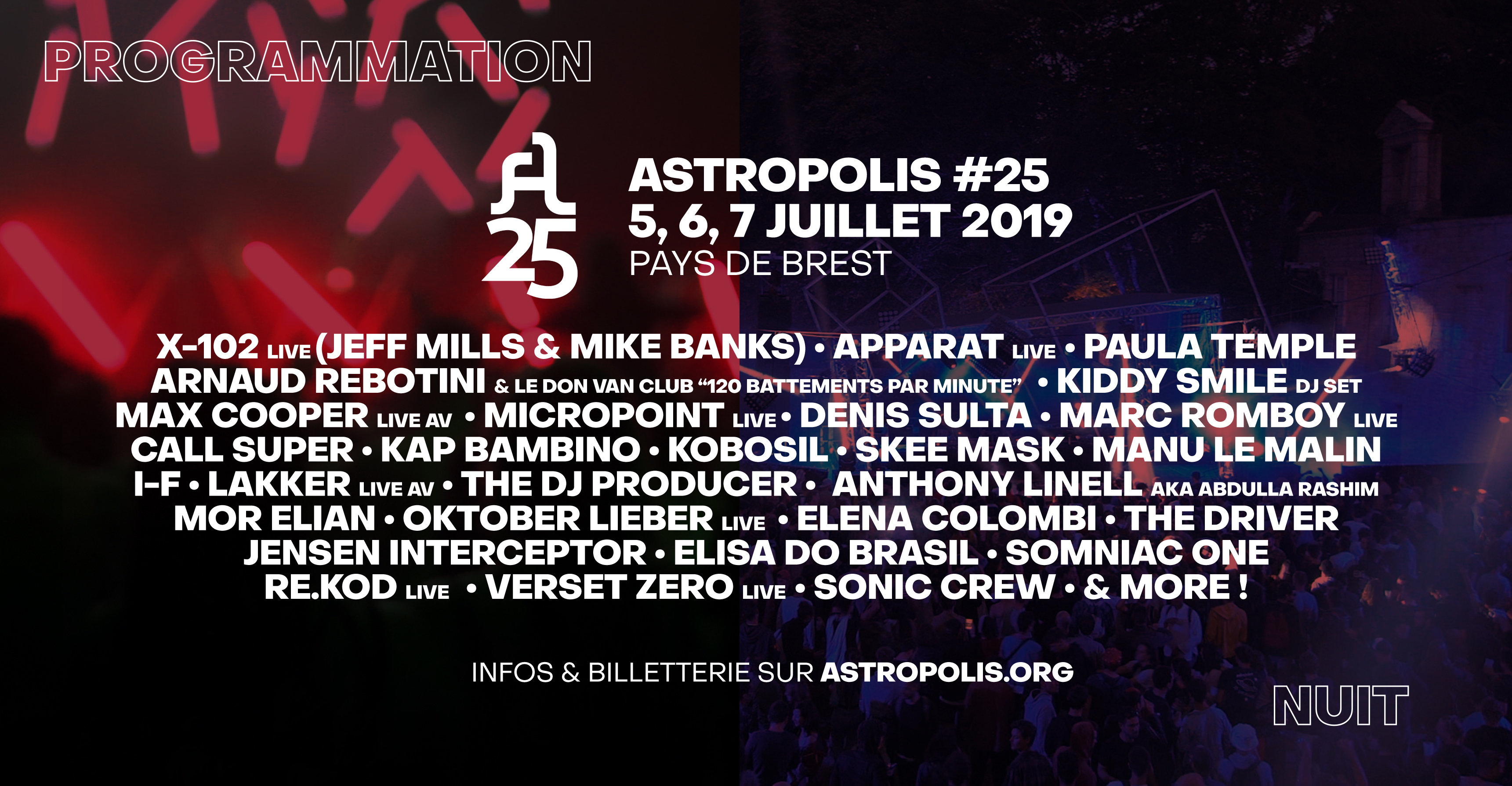 Astropolis festival unveils its night program for its 25th edition! 
Every summer, the city of Brest is illuminated by a beautiful nebula, insatiable and passionate, joyfully crazy dancer. Three days of magnetic festivities, day and night in the city, from its splendid wood of Keroual to its seafront through its clubs, parks and cultural institutions. Fifteen formats for all electronic sensibilities and a hundred artists between rare international legends and references, rising stards and local heroes. On the 5th, 6th and 7th of July, Astropolis will celebrate its 25th edition! 25 years of colorful adventures and passionate dancing to celebrate together … An edition that promises to be unforgettable!
Discover 28 acts that will rhythm 4 events, around 40 artists :
Legendary, rare and atypical acts for the 25th anniversary: Underground Resistance's spirit embodied by X-102 de Jeff Mills & 'Mad' Mike Banks, the new Apparat live with its band, a few months after releasing his new electronica & pop LP, the colossus Arnaud Rebotini accompanied by an orchestral ensemble to re-interpret 120 Battements par Minute's soundtrack, a kaleidoscopic AV live from brittishMax Cooper, the groovy techno from veteran Marc Romboy and the discreet but legendary Viewlexx & Intergalactic FM boss I-F to perform a 3hrs dj set.
Among the iconic artists of recent years and ambassadors of the international electronic scene we'll find the techno priestess Paula Temple whose first album will be released in May, the eccentric Denis Sulta, and his unstoppable groove, the colorful palette of the electronic painter Call Super, the French sonic tornado between electro and punk Kap Bambino, who returns with an album after 6 years of absence, the essence of Berghain with the boss Kobosil, and also the LGBT icon and figurehead of the voguingKiddy Smile!
The creative and innovative youth will also be honored with these rising stars: the prodigy Skee Mask, author of one of the finest masterpieces of last year, cold and electric spells from Oktober Lieber, the electro dynamited from the bolide Jensen Interceptor, the classy and introspective techno of Anthony Linell (aka Abdulla Rashim), the new comet between electro and Mor Elian breaks, the EBM and new wave finds from Elena Colombi, a hypnotic and captivating performance Lakker duo and the dark sound of Verset Zero.
Hardcore fans will be enchanted with a meeting to the height of this birthday: with veteran The Dj Producer, French reference Micropoint with a live band, the newcomer Somniac One from PRSPCT team, without missing the historic Astropolis residents: the indispensable Manu Le Malin and his alterego The Driver, drum'n'bass queen Elisa Do Brasil, atmopheric experiments from RE.KOD and indefatigable Sonic Crew.
New acts will join the line up soon, with the Red Bull Music Boom Bus stage, local crews and artists, our scenographers, and all the day-program! We'll launch the whole program and our visual identity the 11th April.
RAVE UP!