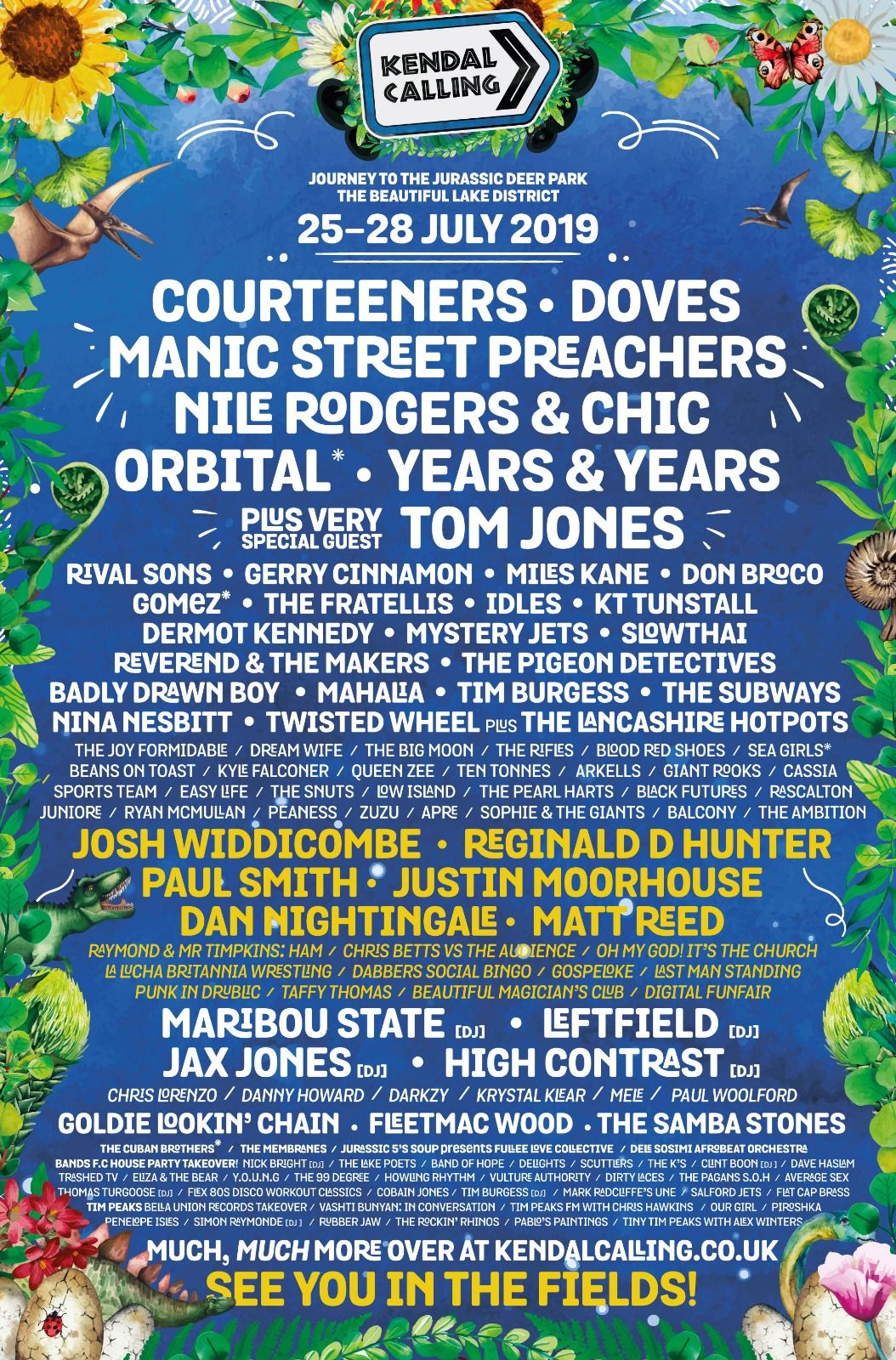 Josh Widdicombe + Reginald D Hunter join MEGA Kendal Calling lineup,
Continuing its reputation as one of the UK's best loved music festivals, Kendal Callingcontinues to add even more exciting and diverse names to the bill for its unmissable weekend of music, arts, comedy, food and drink – this year revealing the festival's dino-mite theme as Kendal Calling 'Goes Jurassic'!
Heralded for its incredible comedy lineups, this year the inimitable Josh Widdicombe will headline Kendal Calling's Soapbox Stage. Best known for his angelic curls and appearances on long-running Channel 4 series The Last Leg and newly launched show Hypothetical, the Devon-born comedian has spent the last 10 years making a name for himself on much-loved shows such as Mock The Week, QI, Live at the Apollo and Have I Got News For You… so much so that "it's hard to flick through the television channels after 9pm and not find him on at least two of them" (said The i earlier this year). Hopefully there'll be lots of Dave re-runs for those at home while Josh entertains crowds over the Kendal Calling weekend!
Also taking to the Soapbox Stage to get festival-goers giggling is American comedian and honeyed-toned philosophiser Reginald D Hunter. Renowned for his searingly honest material, Hunter is a panel show favourite, as well as recently selling out his season at the Edinburgh Fringe Festival, so we can't wait for him to join us in the fields. Can he make you laugh? You bet Jurasshican!
Reginald says:
"I'm really looking forward to coming back to Kendal. I had great fun last time when I barely knew what I was doing! I look forward to seeing you again when I completely know what I'm doing."
Award-winning Liverpool comedian and Hot Water Comedy Club resident Paul Smith also joins the bill today, along with fellow funny-men and Northern souls Justin Moorhouse – a self described undercover vegan and dog walker who cut his teeth in Phoenix Nights – plus Lancashire's own Dan Nightingale and born and bred Sunderlandian Mat Reed.
Over on the Kendal Calling mainstage the musical lineup continues to grow with stellar new additions. A true phenomenon in British rock, Don Broco have risen to the tricera-tops of their game through three incredible studio albums. Fronted by powerhouse presence Rob Damiani, they stand as one of the most in-demand live acts in the country, and fresh off the back of a headline show at London's Wembley Arena, they're set to bring their A-game to Lowther Deer Park.
Promising to transport revellers back to the glory days of mid-noughties indie disco are Sheffield rockers Reverend & The Makers, bringing bangers such as 'Heavyweight Champion of the World', 'Bassline' and 'Open Your Window' to the fields, alongside Leeds' outfit The Pigeon Detectives for raptor-ous renditions of 'I Found Out', 'This Is An Emergency' and 'Take Her Back'.

A festival like no other, Kendal Calling has earned itself a community feel with familiar faces, famous or otherwise, returning year after year. One such face is Tim Burgess, known internationally as the lead singer of The Charlatans, a solo recording artist, record label boss, author, and head honcho of the Tim Peaks Diner, which returns this summer for its Kendal Calling residency. Housing hot brews, food and exclusive stripped-backed sets, the Tim Peaks diner is an unmissable Kendal experience, and reveals the likes of aBella Union takeover with Vashti Bunyan, Piroshka, Penelope Isles and Simon Raymonde, plus sets from Average Sex, Violet, Liines, Shards and The Lake Poets, and is also set to host the T-Rex T-Party.
And of course, no Kendal Calling would be complete without the Lancashire Hotpots! Back due to popular demand, blast away hangovers with hits such as 'Chippy Tea' and 'I Fear Ikea'. Frontman Bernard said: "It's always an honour to be asked to play Kendal Calling and we're delighted to be on this year's line up. Get ready for a big dollop of Hotpot fun in the fields!"
Elsewhere over the weekend, Twisted Wheel, one of Manchester's finest bands are back with a fresh take on rock and roll. The former Oasis tour buddies have an irrepressive live energy that will serve as a perfect compliment to this year's headliners Courteeners, Doves and the Manic Street Preachers. The band are set to perform on the Woodlands stage, alongside German indie pop band Giant Rooks and late 70s post punk outfit The Membranes & Choir.
Also joining the bill today is a diverse collection of up and coming talent from the UK, including Oxfordshire's electronic four-piece Low Island, London's socially conscious industrial noise makers Black Futures, Northern Irish songwriter Ryan McMullan, Chester three-piece PEANESS and the BBC Introducing Merseyside favourites The Ambition. The line up of promising new acts continue with alt pop duo APRE, arty electro pop four-piece Balcony, and Parisian indie pop band Juniore.
The Soapbox continues to expand its huge programme of entertainment, with appearances from locally renowned and award-winning story-teller Taffy Thomas, Edinburgh Fringe favourite Chris Betts vs The Audience, experience a Sunday service from Oh My God! It's The Church, fire up the balls with Dabbers Social Bingo plusRaymond & Mr Timpkins Ham, La Lucha Britannia Wrestling, Gospeloke, Last Man Standing, Punk in Drublic, Beautiful Magician's Club and Digital Funfair.
Welcoming the many wonderful sounds from around the world and the underground, Chai Wallahs adds Dele Sosimi Afrobeat Orchestra, Amy True, De-tronic, Honeyfeet, Psychadelephant, LayFullStop, Necktr, Dan Webster, Emily Capell, Joe Fleming Band, The Plimp Souls and Simon Lynge to the veritable melting pot. In-keeping with the theme for this year, we can also look forward to Jurassic 5's Soup presents Fullee Love Collective.
Expect a unique rendition of Brassic Park by the Flat Cap Brass Band over the course of the weekend, with even more Jurassic gems to be discovered over at the House Party stage – where Jurassic Party will be found amongst a brilliantly daft 3-day knees up withMike Sweeney, Hello Bulldog, Secluded Sea, Hello Cosmos and more.
All set in the incredible location of the Lake District's Lowther Deer Park, this innovative, fan-focused, independent festival is renowned for more than just music and visitors will also enjoy four days of arts installations, comedy, cabaret, cinema, magic, gourmet food and real ale all within the confines of what is surely the most beautiful festival site in the UK, with lots more entertainment for all the family still to be announced.
Kendal Calling has firmly established itself as one of the undisputed highlights of the increasingly busy summer calendar, regularly picking up awards including UK Festival Awards' Best Medium Festival in 2016 and Marketing Campaign of The Year in 2018.
Tickets always sell out for the festival well in advance so fans are urged to get their tickets now to avoid disappointment. See you in the fields for an epic Jurassic show of Spielberg-ian proportions!
Follow @KendalCalling and like the festival on Facebook for more info.