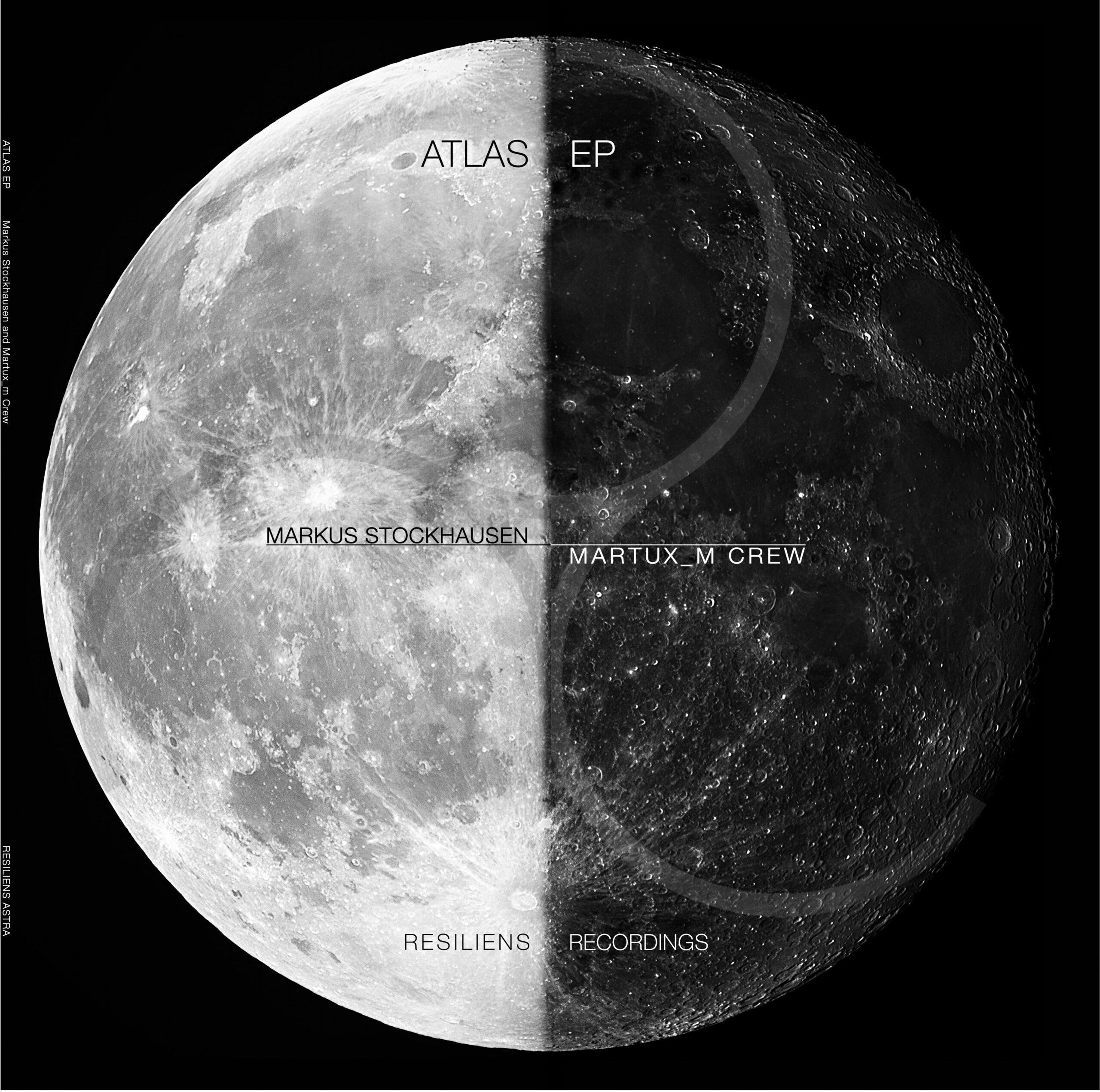 Martux_M Crew & Markus Stockhausen - Atlas EP
The Resiliens label serves up four tracks from avant garde talents Martux_M Crew & Markus Stockhausen that keeps up their philosophy of releasing underground music that is influenced, but not defined by, modernity, all the while encouraging artistic investigation. That may sound highfalutin, but the music is just as carefully thought out.
This new release is the product of a long standing collaboration between two artists who have played together at numerous international festival. They are prize winning German trumpeter and composer Markus Stockhausen, a celebrated and accomplished veteran who performs on the international stage and has composed for the Berlin Philharmonic, the London Sinfonietta, the Metropole Orkest and many others. He is also the son of revered electronic music pioneer and composer Karlheinz Stockhausen. With him is Martux, an Italian electronic pioneer who works under many aliases and releases on labels all over the world. His projects have been presented at events such as Sonar in Barcelona and Mutek in Montrela and he has played alongside artists such as Carl Craig, Ellen Allien & Apparat.
The Atlas EP is inspired by Cloud Atlas, the famous movie by the Wachowski brothers and features real trumpets and flugelhorns played by Stockhausen, as well as an array of hard and software. "We wanted this project to be an atlas of emotions, an emotional geography," say the producers, who also cite an influential quote from the film: "All borders are waiting to be overcome, and I know that separation is an illusion…"
Opener 'MM 01' is six minutes of minimal synthetic rhythms and static, frosty synths and pulsing rubber clicks. Masterfully absorbing and with hugely emotional pianos and trumpets it is truly elegant stuff. 'MM 02' is more spacious sound design, deep bass and poignant trumpet playing all coalescing into a gentle groove and 'G 1' is an eight minute journey through sad trumpets and scuttling ants on glass with the odd patter of drums. It's moving stuff for late nights alone.
Finally, the exquisite 'G 5B' is a sombre piece featuring a lonely trumpet hanging in a wide open space. Quiet found sounds and sparse hand drums occasionally join in but don't ever detract from the beauty of Stockhausen's playing.
Simply put, this is adventurous and patient but hugely rewarding and beautiful music for the real connoisseurs.
Tracklist:
1. MM 01
2. MM 02
3. G 1
4. G 5B