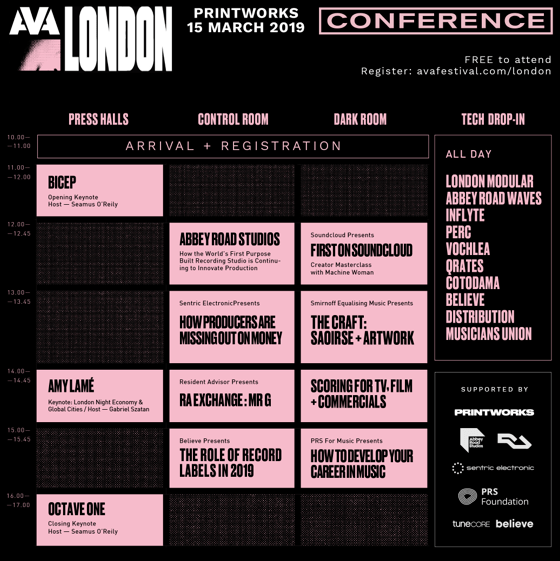 AVA LONDON ANNOUNCE ADDITIONS TO CONFERENCE PROGRAMME INCLUDING LIVE RA EXCHANGE WITH MR G AND SOUNDCLOUD WORKSHOPS
On Friday 15th March, AVA will be taking over Printworks for a day time FREE music conference and ticketed night time show. After announcing an all encompassing line up earlier in the month, today AVA adds pioneering house DJ Mr G and key global music streaming website Soundcloud with Machine Woman and their 101 workshop, amongst other key industry mainstays.
Mr G's stripped back, raw approach to production and widely respected international live shows have helped make him a cult favourite. As a DJ, he draws on a lifetime of vinyl love and his sets can take in bossa, disco, funk, jazz, reggae, and soul, with a real sense of storytelling and musical connections. Joining the AVA conference line-up, he'll be the subject of leading electronic music magazine Resident Advisor's live Exchange podcast.
For the Exchange, Mr G will sit down with host Martha Pazienti Caidan to discuss his roots in music, influences, inspirations, and beyond. The session will be a rare opportunity to hear an enigmatic artist talk openly about his career, and his forthcoming work.
AVA is excited to announce the addition of global streaming platform and key gateway to music from all over the globe Soundcloud who'll head up a number of workshops for aspiring musicians and producers.
The team from Soundcloud and success stories from its community will share the tools and tips to fully utilize the platform to kickstart, build and grow a profile and in turn a career from the platform. Specialists will be on hand at the conference to advise on how to maximise exposure and engagement on the platforms dedicated listener community, with Jack Bridges and Nick Tsirimokos hosting the Creator Masterclass.
The day long Tech Drop in also has a new addition, Musicians Union. Representing over 30,000 musicians in the UK, the team negotiate with all major employers in the industry, as well as offering services, benefits and advice and will be on hand to assist with queries for aspiring musicians.
These additions will join the already illustrious line up including an extremely rare Keynote with Bicep as they dive deep into creation of their hugely successful debut album, from concept all the way through to the artwork, and how they translated this into a live international touring show and beyond.
Longstanding institutional recording studio Abbey Road examines how the world's first purpose built recording studio is continuing to innovate production in 2019 whilst London's Night Czar Amy Lamé will give a comprehensive discussion on how she moves the conversation forward around the night time economy with journalist and ex Boiler Room programmer Gabriel Szatan.
Standing at the front of the royalties and sync industry from PRS for music will also join the lineup focussing around the topic of artist development hosted by PRS's very own Ashley Howard. The panel will discuss the different people and organisations aspiring musicians need to work with experts from Warp Publishing's Kay Wrate, Vidhi Gandhi from Ninja Tune and booking agency Coda agent Sandy Marris, and Irish house duo Brame and Hamo.
Elsewhere, Smirnoff's Equalising Music campaign that is committed to pushing the conversation on equality in music forward invite genre spanning DJ and Irish native Saoirse, long term London based DJ Artwork to sit down talking techniques, selecting and wellbeing on tour.
Key players in the distribution industry Believe will sit down with London based label with a worldwide sound Brownswood and staple dance music label R&S Records in a roundtable discussion focussed on the 'Role of Record Labels in 2019'. They will examine the current industry climate, its future and how to stay relevant with so many competitors.
Publishing and Sync experts Sentric Electronic will also head to Printworks opening up the conversation with established producers on the impact that publishing royalties have had on their careers. Elsewhere Warp signing Gaika, and Industry experts from from Netflix, Adidas and the BBC will host a scoring panel looking into commissioning for TV, Film and Commercials from both artists and composers and tips for making it in the industry in London.
Having debuted at International Music Summit Malta in 2018, the market-leading promo delivery platform Inflyte will bring their 'Inflyte Promo Clinic', where the team will be on-hand offering 1-2-1 advice and guidance to independent record labels and artists on all aspects of music promotion and marketing.
The conference is FREE to attend, simply register at: www.avafestival.com/london