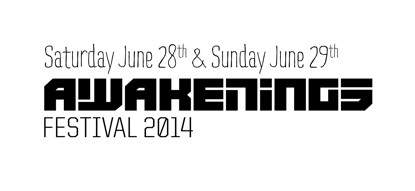 Awakenings Festival 2014 – Netherlands – Last call for remaining Sunday tickets!
All Weekender- and Saturday tickets for Awakenings Festival 2014 have been completely sold out. For the first time in the history of the festival, Awakenings will take place on both Saturday and Sunday – a whole weekend filled with the very best techno has to offer. Ticket sales have gone even faster than previous years, but a few tickets for the Sunday edition are still available HERE: http://www.awakenings.nl/

Sunday's edition, with 6 area's instead of 8, will have a slightly more intimate setting. This second festival day will see performances by, amongst others, Carl Cox, Sven Väth, Adam Beyer, Joseph Capriati and Ben Klock & Marcel Dettman.

Awakenings Festival 2014 takes place at Spaarnwoude Houtrak on Saturday 28th and Sunday 29th of June, both days from noon till 11 p.m. It's the 14th edition of the internationally acclaimed festival. For more information about this years' line-up and timetable, as well as the last tickets for Sunday, please visit www.awakenings.nl and www.awakeningsfestival.nl

For more information about Awakenings Festival 2014 check www.awakenings.nl or www.facebook.nl/awakening.