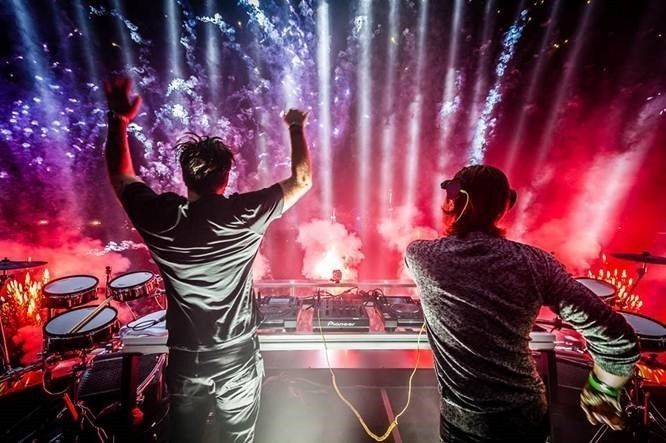 Axwell / Ingrosso sign to Def Jam / Virgin EMI
Two former members of Swedish House Mafia band together to release new music and content in 2014, debut album coming 2015
The duo of Axwell /\ Ingrosso, former members of the legendary Swedish House Mafia, has been signed to an exclusive contract with Universal Music Group, to release new music and content in 2014 on Def Jam Recordings in the U.S. and Virgin/EMI in the UK, with their debut album coming in early 2015. This will be the first official album from Axwell /\ Ingrosso, whose previous band, Swedish House Mafia never released a full studio album, despite selling over 10 million records worldwide. (Two compilation albums were issued in 2010 (Until One) and 2012 (Until Now), on Virgin Records/Astralwerks.)

"We are proud at Def Jam to have Axwell /\ Ingrosso choose us to be their label home. Their music is forward, innovative, invigorating and boundless," said Steve Bartels, CEO of Def Jam Recordings. "Def Jam has the artistry and energy of DJ culture within its pedigree, right there in our logo. This is a significant moment for all of us as at Def Jam."

Swedish House Mafia was renowned for selling out Madison Square Garden in nine minutes for their concert in 2012, without any album in the marketplace. The group disbanded in March 2013, after playing their final sets that month at the Ultra Music Festival in Miami. Emerging as a duo, Axwell /\ Ingrosso premiered new music with influential BBC radio personality Zane Lowe in late March 2014. "I was lucky enough to go down to the studio this week, listen to a whole bunch of songs. It's going to be incredible," Lowe raved on air. "It's a whole new era for these two."
In early June, the band landed back in the US for their first headlining gigs atGovernors Ball in New York City, followed by Electric Daisy Carnival in Las Vegas.The Los Angeles Times heralded their set: "Freed from the expectations of being in one of the globe's biggest bands, the duo's set was simultaneously more challenging and more playful than anything their previous project could do…Axwell /\ Ingrosso's set found them working out different ideas about tension and song craft…One new tune, which fans have given a working title of "On My Way," felt like it had pop-hit potential with an immediately memorable chorus. But the long, well-spaced drum builds and crowd-teasing pacing felt entirely new for the duo."

Axwell /\ Ingrosso (with third member Steve Angello) began collaborating in 2007 as Swedish House Mafia, which became a multi-platinum household name success across Europe by the end of 2010, with "One" featur¬¬ing Pharrell, and "Miami 2 Ibiza" vs. Tinie Tempah. "Save the World" extended their run into 2011, along with "Antidote" vs. Knife Party.

"Don't You Worry" featuring John Martin was SHM's breakthrough hit in 2012, #1 in the UK, Sweden and Australia, and Top 10 in most territories around the world, including the U.S., where it was certified RIAA triple-platinum. It was in late-2012 when SHM announced they would disband at the end of their "One Last Tour" in 2013, paving the way for this year's emergence of Axwell /\ Ingrosso.

About Swedish House Mafia:
Swedish House Mafia was a supergroup comprised of Axwell, Sebastian Ingrosso, and Steve Angello, childhood friends who went on to have the fastest single to ever to reach Beatport at #1, to be get nominated for two Grammy Awards®, and sell one million concert tickets in one week. Swedish House Mafia achieved their first BPI Gold Sales award in the UK in 2010, and enjoyed international chart success. Having announced their 'One Last Tour' in 2012, Swedish House Mafia went on to tour 36 cities, racking up an impressive 56 shows over 5 months. They have won government Export Prizes in Sweden (also awarded to the likes of ABBA), four International Dance Music Awards (with seven nominations), and the Best Swedish Act award at the MTV European Ballz awards. They were nominated for fourBillboard Music Awards, two World Music Awards and two Grammy Awards®. Their brand collaborations included Greyhound with Absolut, Volvo and Sony Ericsson. On the final leg of their farewell tour, they raised a million dollars for Hurricane Sandy at a Black Tie Rave in 2013 in New York City. The city honored them by turning the Empire State blue and yellow, Sweden's colors. The Swedish group stamped out the animosity once associated with popular dance music, setting a new precedent with such chart-topping endeavors and momentous live landmarks.

About Axwell:
The global icon and five-time Grammy Award® nominated Axwell has a career that has taken him from the Swedish underground to Madison Square Gardens and the UK charts alike. Driven by the belief that every release should matter, his Axtone Records imprint continues to lead with quality and consistency, balancing his own musical tastes alongside some of the freshest talents around. Ax already has many landmark hits under his belt: "Feel The Vibe," "Wonderful World," and the accidental crossover anthem "I Found U" were all tracks synonymous of his earlier years.

About Sebastian Ingrosso:
Sebastian Ingrosso is a musician who understands the world of melodies just as much as he understands the power of the kick drum. For his label, Refune – this year celebrating its tenth anniversary – Sebastian is constantly discovering and developing new talents such as Otto Knows and, of course, rising star Alesso, signed to Def Jam Recordings in the U.S. and Virgin/EMI in the UK.