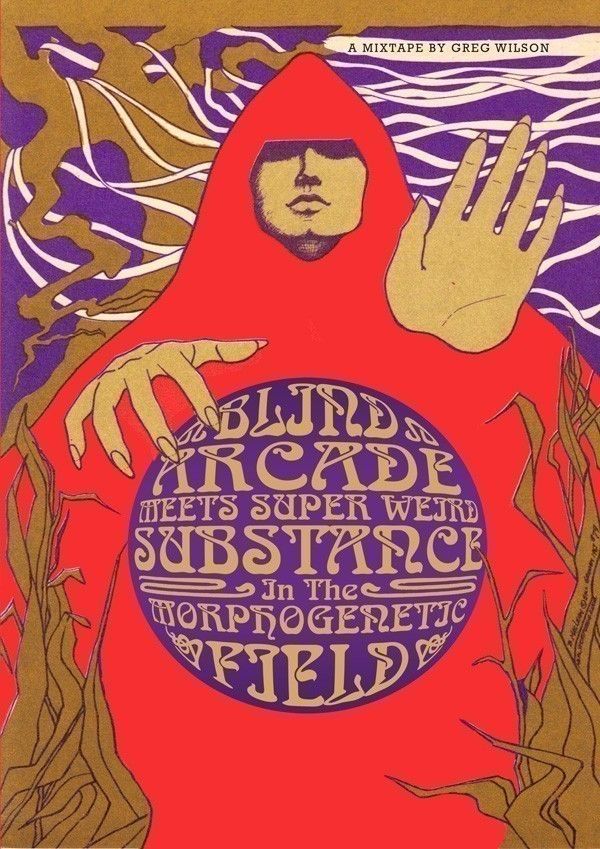 Super Weird Happening tour starts this weekend
The rekindling of a special musical alliance has created the Super Weird Happening. Helmed by two inspirational, dynamic and countercultural figures, Kermit Leveridge (via his new project Blind Arcade) and Greg Wilson (in setting up his Super Weird Substance imprint) have launched a series of five events taking place around the UK during the autumn. Their life-affirming mixtape collaboration, Blind Arcade Meets Super Weird Substance In The Morphogenetic Feel, a viral success in these past summer months, is an uplifting riposte to the recent throng of music's more recent manufactured sound. Acting as an antidote to much of the current scene's lack of emotion, with renewed passion, and most importantly, with meaning and hope and not to mention fun, SWH brings some heartfelt feeling back into music. Aligned to the beat of a different drum and veering away from the recent proliferation of music which has arguably lost its soul, it evokes the spirit of positivity that marked out former times.
Underpinned by their long-standing friendship and previous working relationships (Broken Glass / Ruthless Rap Assassins) it was Kermit who came to Greg with his new batch of music demos, seeking somewhere to release them. Greg immediately recognised the power of Kermit's new direction with Blind Arcade, and sought to help bring him back into the fray. Kermit's is a journey of redemption, from his challenging past into his burgeoning present standing as the front man of Blind Arcade and a totemic figure who, despite traversing many dark moments due to past misadventures, is now hitting his stride with a smile on his face. He has been involved in some of Manchester's greatest musical output, from the iconic Rap Assassins to the chart-topping Black Grape (partnering ex-Happy Monday Shaun Ryder). He came all too close to death during these hazy, drug-fuelled days, contracting septicaemia as the result of injecting with a dirty needle, leading to complete separation from the music world for a number of years as he weaned himself off drugs and prepared for a heart operation to repair damaged caused by the infection, which was, thankfully, a complete success. Now, as a recent father, his life has turned around completely, and although he has the drive and energy of a man many years his junior, he also has a new-found contentment and a more measured approach to his work that belies the chaos of earlier times.
Blind Arcade have already garnered support from legendary, cult and contemporary figures based on the strength of the project's ethos and the growth of the mixtape itself; Fatboy Slim calling it 'a breath of fresh air in the current climate'. The feel of the project aligns itself to two rich eras, the psychedelic 'summer of love' in '67, and the acid house phase of the late '80s that came to be known as the 'second summer of love'. The music seeks to embrace the essence of these febrile times, invoked here as a truly emotive experience. There is a deeply symbolic resonance in Kermit's music that chimes with many on a human level: an archetypal message of rebirth from the darkness into the light.
The five shows will feature a vibrant and edifying mix of music, debate, art and more, featuring a live appearance from Blind Arcade and a 3 hour DJ finale from Greg Wilson, with special local DJ guests and speakers hosting audience Q+As. During each event, there is also an eclectic range of freestyling art from local artists who will capture each evening through their respective medium. A strong, countercultural seam binds Super Weird Substance around a distinctly leftfield solar centre, illuminating proceedings at each event, creating a series of unique, free-flowing experiences this autumn.
Stream / download the mixtape here:

www.kermitleveridge.co.uk / www.gregwilson.co.uk
Super Weird Happening – The Five Events Coming Up
Super Weird Happening
Gorilla, 54-56 Whitworth St W, Manchester M1 5WW
Saturday 20th September
Blind Arcade
Greg Wilson
Guest speaker: Lemn Sissay
In conjunction with El Diablo's Social Club
8pm – 4am
£10 advance
Super Weird Happening
SW3G, 100 Eastvale Pl, Glasgow G3 8QG
Friday 26th September
Blind Arcade
Greg Wilson
Guest speaker: Steve Mason
In Conjunction with Melting Pot
7pm – 3am
£12 advance
Super Weird Happening
The Island, Nelson St, Bristol BS1 2LE
Friday 3rd October
Blind Arcade
Greg Wilson
Guest speaker: TBC
In conjunction with The Island
8pm – 4am
£10 advance
Super Weird Happening
Constellations, 39 Greenland Street, Liverpool, L1 0BS
Saturday 18th October
Blind Arcade
Greg Wilson
Guest speaker: John Higgs
In conjunction with Oxjam / Freeze
4pm – 4am
£12 advance
Super Weird Happening
Oslo, 1a Amhurst Rd, London E8 1LL
Saturday 1st November
Blind Arcade
Greg Wilson
Guest speaker: TBC
In conjunction with Heavenly
8pm – 4am
£10 advance