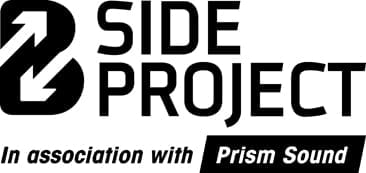 B-side Project Concludes in Star-studded Awards Ceremony at Metropolis Studios
B-Side Project, the renowned, global remix contest, in association with Prism Sound, has concluded its sixth year, with its annual awards ceremony. This took place on 1st December at the prestigious Metropolis Studios in West London. Winners were announced from around the globe, with Dutch producer, hindernis taking home the overall award for Best Remix Production, for his remix of Jung's original track, '3AM', winning an entire studio worth over £15,000. Awards were presented by the likes of Talvin Singh OBE and La Roux, with Roni Size delivering a keynote speech. With high attendance from industry figures and, with the event streamed live, many musicians and producers watching from overseas, the next generation of musicians and remix producers were officially recognised for their exceptional talents.
Hosted by Too Many T's, one of the UK's freshest live hip hop acts, who also performed on the night, the B-Side Project awards ceremony was the culmination of the contest's most successful year ever. Over two hundred musicians and two hundred producers from over forty countries registered to take part in this year's B-Side Project. The standard of entries was higher than ever, a fact highlighted by drum & bass legend, Roni Size in his keynote speech, where he also detailed the efforts and attention that went into the judging process.
The world-class judging panel were in attendance at the event, including Grammy Award winners, La Roux, uber-producer, Matt Schwartz, Superfoxx founder, Krystal Roxx and of course, Roni Size, with others appearing via video to offer their congratulations to winners. The quality of the judging panel continuers to reflect the high regard in which the industry holds this competition.
Best Remix Production winner, hidernis, flew in from Amsterdam to collect his award, and alongside Jung, the original artist he remixed, collected his prize from Prism Sound co-owner Graham Boswell and La Roux. The B-Side Project winner took home an entire studio worth over £15,000, including a Prism Sound Lyra Pro Audio Interface, a pair of Amphion Loudspeakers One15 Studio Monitors, Studio Package One acoustic panels from GIK Acoustics, mic and headphones from Audio Technica, a Seaboard Rise from Roli, custom-made ear protection from ACS, software from IK Multimedia and more. In addition, hidernis will be invited to watch his track being mastered at Metropolis Studios in London, where artists such as The Rolling Stones, Paul McCartney, Paul Weller, The Who and Amy Winehouse have all recorded.
Six awards were presented in total (see list below) including the Public Choice Award, won by Massive Dynamic for his remix of "I Need You" by Zangba. The top 10 remixes as chosen by members of the public, plus the Best Remix Production, will go on to be digitally released as a double album (original and remix tracks) through B-Side Recordings in early 2017, and each artist will also be offered a single track publishing deal from Metropolis Music Publishing; a fantastic opportunity for any new artist.
B-Side Project co-founder Yvette Chivers commented:
"We were amazed by the quantity and quality of original track entries this year, and the subsequent electronic dance music remixes that were produced. This project really is helping musicians and producers to interact across countries and achieve recognition. As long as they keep creating amazing music, we'll continue to help everyone to mix it up and break musical boundaries!"
The awards kicked off with live performances from some of the original artists who entered the awards this year. Garfield Mayer, impressed with his acoustic talent, while Damson Jones delighted the crowd with her quirky songwriting, and female beatboxer Bebox amazed with her layered loops and ability to create songs live.
Since its conception in 2009, the B-Side Project and its associated partners have helped numerous producers and artists get a foothold in a highly competitive industry, gain access to industry professionals, secure potential publishing and recording deals, win huge prize packages, and the opportunity to create an invaluable network of contacts. 2014 winner Hugh Hardie went on to sign to Hospital Records and join the B-Side judging panel for the next two years.
The B-Side Project continues to go from strength to strength, as reflected by another hugely successful awards ceremony. With the next B-Side Project album to come and next year's competition already in the planning stages, 2017 looks set to be even bigger.
B-Side Project Award Winners:
Award
Award Winner
Original Artist / Track
Best Remix Arrangement
sixdec Mad Hearts 'Open Up Your Eyes'
Most Imaginative Remix
noise vs silence Night Sprite 'Judgement Day'
Most Innovative Remix
bARTek Benedict Harris-Hayes 'Finding a Voice'
Public Choice Remix
Massive Dynamic Zangba 'I Need You'
Best Female Producer
Catnip & Claws Simon Kelly 'Just A Ride'
Best Remix Production
hindernis Jung '3AM'
Top 9 Remix Track
bARTek Benedict Harris-Hayes 'Finding a Voice'
Top 9 Remix Track
Antonio Escobar The Echo Cult 'Timeless'
Top 9 Remix Track
The Fayr Bettina 'Far Away'
Top 9 Remix Track
Misty Jones Foxer 'Otherside'
Top 9 Remix Track
Rick Moore Moscow 'Come Around'
Top 9 Remix Track
Skoulger & Gully NoisyGift 'Sundance'
Top 9 Remix Track
Chemikal Recipe Perpetual Motion 'Flying On The Wind'
Top 9 Remix Track
Catnip & Claws Simon Kelly 'Just A Ride'
Top 9 Remix Track
liudprand Volovia 'True Star'

www.b-sideproject.org
https://www.facebook.com/bsideprojectHQ
https://twitter.com/bsideproject