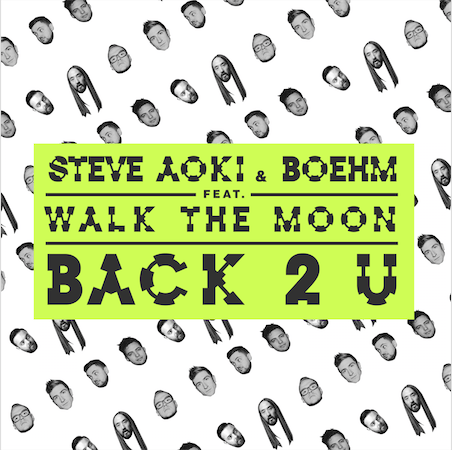 Steve Aoki & Boehm - Back 2 U feat. WALK THE MOON
Next from electronic music producer and DJ Steve Aoki is 'Back 2 U' with Boehm and featuring Walk The Moon. The new studio offering is co-produced by Aoki and emerging producer Boehm, with Walk The Moon's front man Nicholas Petricca offering a resplendent vocal. Flutes and dance floor beats accent throughout.

The song surfaced yesterday, 18th May courtesy of Zane Lowe via Beats 1 Radio followed by a Billboard exclusive. It's a unique pairing for Steve Aoki who is known to align himself with a diverse caliber of artists in the studio. Walk The Moon had one of the biggest global smashes as of late with 'Shut Up & Dance' and Boehm has had a recent string of Hypemachine #1's and over 25 million online streams of his various productions which blend tropical and future house.
'Back 2 U' is available now to listen and for purchase via Ultra Music here.
Says Steve Aoki, "I really enjoyed working with both Boehm and WALK THE MOON on 'Back 2 U.' We each brought our own musical style to the track to make a song that I am so excited for everyone to hear."
Adds Walk The Moon's Nicholas Petricca, "Thrilled to be a part of this collaboration and inject some of our wild spirit into Steve's ever-evolving vision of future-music. The song opens this unique door between our genres and reveals a really emotional side of all of us involved."
"I never thought I would have the chance to work with Steve Aoki and Walk The Moon as a growing producer. It was truly an incredible experience," states Boehm. "The message of the song is so powerful and I think people are going to be able to relate and find their strength in it."
Don't miss Steve Aoki this summer. All tour dates are listed at www.steveaoki.com/tourdates
For more information on Steve Aoki, see below:
www.steveaoki.com
www.dimmakrecs.com
www.facebook.com/Steve.Aoki
www.twitter.com/steveaoki
www.instagram/steveaoki
www.ultramusic.com