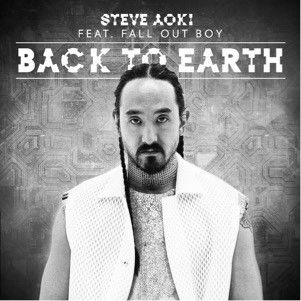 Steve Aoki and Fall Out Boy - Back to Earth
The latest installment of STEVE AOKI's "Neon Future" conceptual video series, "Back To Earth" featuring Fall Out Boy, premiered this week on Billboard.com; watch now below.
In keeping with AOKI's futuristic premise, "Back To Earth"–directed by Aaron Grosso and produced by Lord Danger–is a two-fold heart-racing performance video featuring the entire Fall Out Boy ensemble, who collaborated with Steve on the track, and an action packed fight sequence as warriors battle to save their planet.
"It was an absolute honor working with my close friends Fall Out Boy on this song and video," Aoki shared with Billboard.com. "This was such an action packed video and an integral piece to Neon Future."
MTV.com described the new video as "cinematic, futuristic, and totally weird…features everything you'd ever want in a clip: spacey visuals, a badass heroine, and a squad of robot bad guys. Kind of 'Hunger Games' meets 'Star Wars'…We dig." (18/8), while PerezHilton.com raved, "Fall Out Boy and Steve Aoki joined forces and the end result is EPIC…We could totally see this being the anthem for some futuristic dystopian rebellion!" (18/8)
"Back To Earth" is featured on part 1 of AOKI's Neon Future double-album concept, NEON FUTURE I, out now on Dim Mak/Ultra Music. The album also includes the Gold certified single "Delirious (Boneless)" with Chris Lake and Tujamo featuring Kid Ink, "Born To Get Wild" featuring will.i.am and "Rage The Night Away" featuring Waka Flocka Flame. NEON FUTURE II was released in May and features collaborations with Linkin Park, Matthew Koma, Snoop Lion, Rivers Cuomo and NERVO.