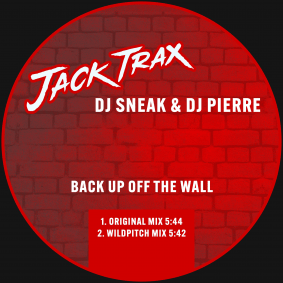 DJ Pierre & DJ Sneak - Back Up Off the Wall
Afro Acid sister label, Jack Trax sees house luminary and label head DJ Pierre team up with DJ Sneak this July to release 'Back Up Off The wall'.
With over thirty years on the global house music scene, acid house pioneer DJ Pierre, has been active since the 80s with releases on the likes of King Street, Strictly Rhythm and Nite Grooves to name a few. Pierre teams up with DJ Sneak here, the influential Chicago house producer who has released on Cajual, Classic and Robsoul as well as on his own 'I'm A House Gangster' imprint for a new collaborative EP on Jack Trax, the sister label of his Afro Acid imprint.
The original mix of 'Back Up Off the Wall' leads, utilizing Pierre's signature modulated 303 acid sound which wanders throughout the cut alongside a classic, raw 80's style vocal refrain and shuffled percussion to keep the track moving.
Pierre then delivers his famous 'Wild Pitch' rework of the track, providing a more ethereal take with underpinning, angelic pads, sturdy syncopated drums and an assortment of subtle synth blips. 'Back Up Off The Wall' is a true example of the both Pierre & Sneaks signature style of robust house that's gained them the reputation they have today.
DJ Pierre & DJ Sneak 'Back Up Off the Wall' is out on Jack Trax 20th July 2018.
Tracklist
1. Back Up Off the Wall (Original Mix)
2. Back Up Off the Wall (Wild Pitch Mix)