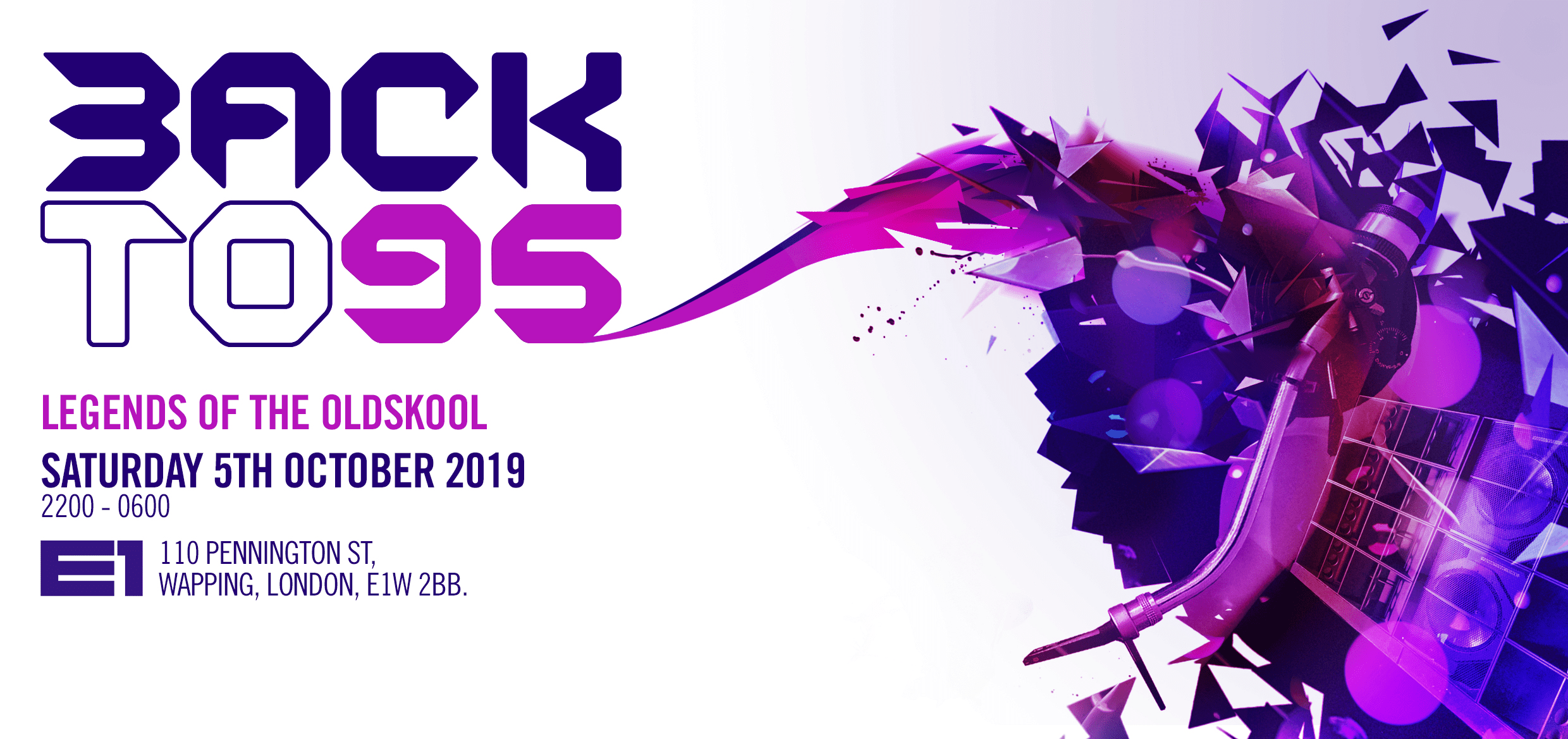 Backto95 at London's E1 – Saturday 5th October
SVA the pioneers of Oldskool House & Garage events return with our 3rd Instalment for 2019 at Sat, you will be entertained by a star-studded line up of your favourite artists over 3 rooms of music, to once again take you back to the original Oldskool vibe and party atmosphere.
Headlining our main room will be the legendary Grant Nelson and a PA from Xavier performing her House & Garage anthems.
Headlining Room 02 playing the best in Oldskool Jungle classics will be DJ Lipmaster Mark and MC Everson Allen aka Ratpack! In Room 03 it's 90's Soul RnB, Soca, Bashment and Funki House headlined by the mighty Rampage and Firin Squad.This event will be a road block so purchase your tickets early to avoid disappointment!
▬▬▬▬ LINE-UP ▬▬▬▬ 
WAREHOUSE – OLDSKOOL HOUSE & GARAGE
GRANT NELSON
MATT JAM LAMONT
NORRIS DA BOSS WINDROSS
MAJESTIC
MATERSTEPZ
DJ LISTENER
JASON H
JERRY RANKIN
HOST:
CREED – MC DT – PSG – MR BUZZHARD – CKP – ONYX STONE
PA: XAVIER
PERFORMING: JUST GETS BETTER AND TUMBLIN DOWN
BLACK STUDIO – OLDSKOOL JUNGLE
RATPACK
NICKY BLACKMARKET
TOP BUZZ
JUMPING JACK FROST
SHOCKING
EZM
HOST:
MC DET – MAD P – NUFLO
WHITE STUDIO – 90S SOUL, RNB, BASHMENT & FUNKI HSE
RAMPAGE
FIRIN SQUAD
LLOYD LIFE
SELLY J & DJ ALTON
SAMMY CONFUNKTION
DJ SKINS
2 FOUR 7
HOST:
CHAMPS
▬▬▬▬ GENERAL TICKETS PRICES ▬▬▬▬
£12.50 (+BF) EARLY BIRD
£15.00 (+BF) 2ND RELEASE
£17.50 (+BF) 3RD RELEASE
£20.00 (+BF) 4TH RELEASE
£25.00 (+BF) 5TH RELEASE
▬▬▬▬ TICKET OUTLETS ▬▬▬▬
NORTH:
• KRICOSS (HARINGEY) 0208 800 7528
EAST:
• ZEE & CO (BOW) 0208 983 3383
SOUTH:
• EMPORIUM (PECKHAM) 0207 3589920
• DNR RECORDS (CROYDON) 0208 4069905
▬▬▬▬ ONLINE TICKETS ▬▬▬▬
• BACKTO95.COM
▬▬▬▬ ENTRY CONDITIONS ▬▬▬▬
• ID REQUIRED
• MALE – OVER 23
• FEMALE – OVER 21
• PLEASE REMEMBER TO BRING ID WITH YOU. NO ID, NO ENTRY.
▬▬▬▬ LINKS ▬▬▬▬
• Tickets: bit.ly/TICKETSBTO95OCT2019
• Facebook: https://www.facebook.com/backto95/
• Soundcloud: https://soundcloud.com/backto95
• Website: https://backto95.com/
• Twitter: https://twitter.com/backto95
• Instagram: https://www.instagram.com/backto95oldskool/