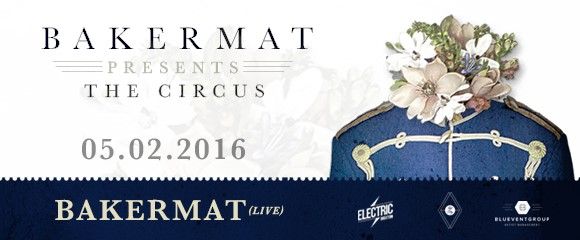 Bakermat presents The Circus
After a sell out 2015 world tour, including a show in Paris at the legendary L'Olympia, Bakermat will be returning to London in February with his brand new concept – The Circus.
Dutch musician, producer and DJ Bakermat has played at almost every credible and important music festival over the last 3 years including I Love Techno, Ultra Miami, Sensation White, Mainsquare, Montreux Jazz Festival, Tomorrowland, Mysteryland, South West Four. He is also the host of stages at the biggest festivals like the Bakermat & Friends stage at Tomorrowland every year, the Bakermat's Gospel Church at Kingsday Festival and a lot more.
'Bon Voyage' is Bakermat's first studio album, it contains new material and new production techniques. According to Bakermat this was an opportunity for him to "really be free of restrictions and make exactly what I want".
It seems 2016 will be a great year for Bakermat once again, as he introduces to us his new show concept; The Circus.