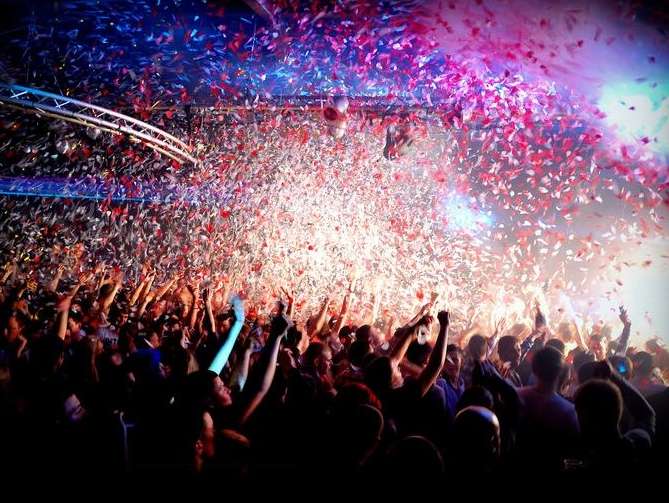 Balearic Superclub BCM Mallorca to open its own hotel in 2016
BCM Mallorca is one of the world's leading super clubs and now the team behind it is renovating Club B and transforming it into Magaluf's most exciting party hotel.
BCM Mallorca is renowned around the globe for its tales of excess. The vast club boasts more CO2 cannons, bigger sound systems, better lights and lasers and no expenses spared production at every event. Wild dancers, foam parties and fun loving party people from all over the world come here to experience a rare type of sensory stimulating clubbing and soon they will be able to get an even more complete experience once the hotel renovation is complete.
The hotel complex that was already on the site has had more than two million euros spent on it and the whole thing has been completely upgraded from the ground up. Designed for those that are looking for a fun and lively atmosphere, BCM Hotel offers completely renovated apartments – perfect for you and your friends in an amazing location. The hotel will always offer the best price in this modern complex for the party crowd and includes accedes to a swimming pool, all-inclusive deals, air conditioning, free hi-speed wifi and comfortable facilities as well as rooms with a view of the pool that sleep four and feature a spacious bedroom plus a living room with sofa bed, complete bathroom with shower and bath, kitchenette equipped with fridge, kettle, free hi-speed wifi, air conditioning, balcony with views, desk, safety depsoit box, wake up service… All that you need to enjoy the best holiday.
Following the success of BH Mallorca last summer we're really excited to announce the opening of BCM Hotel for summer 2016. Magaluf had a fantastic year in 2015 and bringing all the magic of BCM to a hotel seems like the right step!" says Rob Seaman the Brand Director
All local beers, wines, spirits and soft drinks are included and you can also enjoy breakfast from 09.00 till 11.00, lunch from 13.00 till 15.00 and dinner from 19.00 till 21.00 in the Buffet Restaurant. During lunch and dinner clients can enjoy soft drinks, beer and wine from self service area. Snacks are also available and inclusive bars are open day and night.
The hotel offers great access to spectacular beaches and great views of the med and everyone who books directly through the BCM Hotel website will receive 1 night entrance into the World famous BCM (Sundays), a goodie bag full of exclusive BCM merchandise plus a BCM discount wristband which will give you savings in some of Magaluf's busiest bars, clubs and restaurants. Also you'll get free, poolside access to the legendary BCM pool parties. Think cutting edge production, BCM's famous dancers and the sounds of the summer directly to your sunbed.
Musically, BCM offers a wide range of dance, bass, commercial, grime, r&b and EDM sounds from the best brands and DJs out there. The likes of Cream, Radio 1, Mistajam, Skrillex, David Guetta, Snoop Dogg, Chase & Stauts, AfroJack, Tough Love and anyone else who is worth seeing have all played the club over recent times. As such, with the new hotel, there really is no need to go anywhere else.
Prices start from £26 for summer 2016
For more information please visit – http://www.bcmhotelmallorca.com
For the latest on BCM Planet Dance Line ups visit here – http://www.bcmplanetdance.com