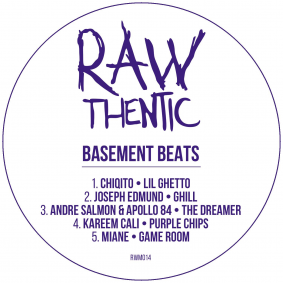 Various Artists - Basement Beats
Rawthentic keep up the pressure with a new various artist release entitled 'Basement Beats' showcasing a range of fresh voices in the house scene who all make a big noise.
First up is Hungarian Chiqito who has had major success on the likes of Elrow and does so again here. 'Lil Ghetto' is a hard hitting, brain frying bit of hardcore house with distorted synths and rapped vocals. Chattery claps and blistering bass ensure maximum impact in the club. Manchester's Joseph Edmund releases on Jamie Jones's Hottrax and provides 'GHill', another fantastically frazzled house track full of texture and rawness, from the squiggling lead synth to the coarse claps and many layers of analogue dirt.
Andre Salmon & Apollo 84 then work together once more after many successful outings on Resonance amongst others. Here, 'The Dreamer' is an electrifying bit of tech with frantic drum loops and weird synth sounds all darting about the mix to disorientating effect.
Brooklyn based producer Kareem Cali runs the Inmotion Music label and offers the excellent 'Purple Chips.' It's a more stripped back affair with dub chords and jacked up drums offering a perfectly physical house trip that rolls and rolls. Closing out this dynamite package is Miane, fka Spanish artist Taty Munoz from the likes of Knee Deep In Sound and Moon Harbour. Her monstrous 'Big Room' has block rocking beats and menacing vocals that together will slap the floor into action.
This is a no nonsense package of chunky, arresting house music for the peak of the night.
Various Artists 'Basement Beats' drops on Rawthentic on 17th May 2019.
Tracklist:
01 Chiqito – Lil Ghetto
02 Joseph Edmund – GHill
03 Andre Salmon & Apollo 84 – The Dreamer
04 Kareem Cali – Purple Chips
05 Miane – Game Room