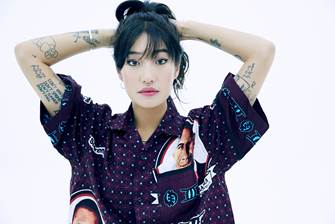 BBC Radio 1 announce lineup for the next 'residencies' series.
BC Radio 1 today announced the new line up for BBC Radio 1's Residency – the strand that brings listeners the biggest names in dance music, from the underground to the arena – with Danny Byrd, George Fitzgerald, Monki and Peggy Gou – joining the line-up alongside Artwork, Bradley Zero, Jubilee and The Black Madonna who are staying on rotation and altogether will form the Residency team from September 2018 – February 2019.
Radio 1's Residency incorporates two shows on a Sunday night into Monday morning between 1am – 2am, and 2am – 3am, featuring cutting edge DJs and producers from the UK and around the world. Previous residents have included Kolsch, Deadmau5, Helena Hauff, Eats Everything and Jessy Lanza, to name a few.
Drum & bass icon and king of the dancefloor, Danny Byrd was one of the very first to sign to Hospital Records at the turn of the millennium. With his unique take on the genre and strong hip-hop and R&B influences ever present in his music, Danny Byrd's signature mixing style and production flair render him one of the scene's greats.
After bursting onto the scene in 2012, London-based producer George FitzGerald hasn't looked back. He came through Radio 1's In New DJs We Trust camp back in 2013 and has become a regular fixture on the Residency, having been included in many rotations since 2014. You can expect an eclectic selection of dreamy electronic music, with guests such as Bonobo, Roisin Murphy and Hot Chip having featured in previous years.
Monki is an underground tastemaker championing new, electronic talent. She was signed to Radio 1's In New DJs We Trust roster in 2012, but soon singled out for her own slot on BBC Radio 1 and 1Xtra. Now firmly part of the Radio 1 Dance family, we welcome her to her new home on Radio 1's Residency.
Peggy Gou is a South Korean producer and DJ, based in Berlin. Having begun her career in the underground club circuit throughout 2016 & 2017, 2018 has certainly been her year! Her selections are eclectic and there's no doubt this will be reflected in her Residency; she's particularly keen to represent music from her motherland of Korea, including tracks her mother played to her whilst growing up.
The new line-up is as follows:
1st Monday of the month, beginning 3rd September
The Black Madonna
Bradley Zero
2nd Monday of the month, beginning 10th September
George FitzGerald
Jubilee
3rd Monday of the month, beginning 17th September
Artwork
Peggy Gou
4th Monday of the month, beginning 24th September
Monki
Danny Byrd
Danny Byrd says: "I feel completely honoured to be part of the new BBC Radio 1 Residency team! The Residency has always been an amazing snapshot of the current state of all things in dance music. I really want to use this opportunity to showcase the best of the new underground artists on the rise but also give some insight into some of the drum & bass classics over the years, too. Hopefully inspiring the next generation of DNB producers and making the bass music circle complete."
George Fitzgerald says: "I'll be returning to Radio 1's Residency in September. I always love putting these shows together, can't wait to be back."
Monki says: "Looking forward to getting stuck into The Residency again and bringing the listeners a power hour of solid dance music every month."
Peggy Gou says: "I'm hugely excited to start my first ever radio residency. The BBC is so influential around the world, and I'm looking forward to getting the chance to express my musical taste on such a wonderful institution."