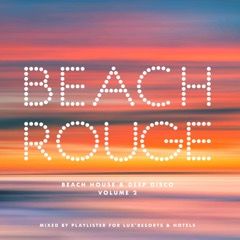 Various Artists - Beach Rouge Volume 2
'Beach Rouge Volume 2', is the second release in the Beach Rouge series, featuring expertly selected and mixed, quality, Beach House and Deep Disco. Out now on Playlister Records, the 13 track digital album, perfectly captures the unique ambience of the renowned Beach Rouge bar at the LUX* Belle Mare resort in Mauritius. With Playlister as music advisors and programmers, the modern music policy of LUX* Resorts and Hotels, ideally complements these exceptional beachside retreats, as typified by the laid-back, cool grooves of 'Beach Rouge: Volume 2'.
DJs Dan Lywood and Ben Bridgewater, founders of music curation specialists Playlister.fm, once again take the reins to deliver the perfect mix for a summer getaway. Featuring the likes of the Balearic beach house of Sweed ft Jalana 'Finally', the peerless disco of Hot Toddy's remix of Oh Yeah 'Nothing But The Beat', the deep piano of Ridney's 'Left My Heart At Mambo' through to the uplifting energy of Eli & Fur 'You're So High', this album is an odyssey through some of the finest beach house and deep disco out there. 'Beach Rouge Volume 2' is available as a continuous mix; the perfect remedy for the winter blues, or as unmixed tracks for the discerning DJ.
Beach Rouge is where the cool and the colourful gather to sip cocktails and soak up spectacular sunsets, before taking to the dancefloor. Occupying a prime spot right on the sands and with breathtaking views across the Indian Ocean, beach cocktails and tapas make for lazy days and cool evenings by the Indian Ocean: flop down on cushions on the beach to the upbeat sound of top DJs. The DJ programme, designed by Playlister, combines a range of forward-thinking and influential DJs, with 5 star luxury resort atmosphere. The exciting line up of 2016 visiting DJs includes NTS Radio founder, Femi Adeyemi, London tastemaker, Tasker, Eglo Records boss, Alex Nut, and many more all gracing the Beach Rouge decks each month throughout 2016.
Just like its predecessor, 'Beach Rouge Volume 2' is an album you'll keep coming back to; a listening experience that transports you directly to the magical Beach Rouge Bar.