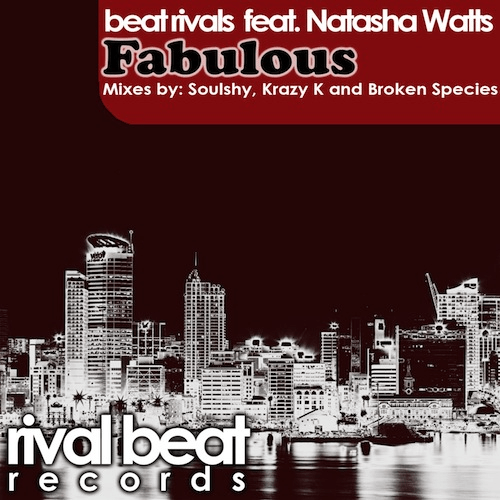 Beat Rivals ft. Natasha Watts – Fabulous
Fledgling London label Rival Beat Records continue to ramp up momentum, revealing their new collaboration from Beat Rivals and UK Soul Natasha Watts, with an uplifting, soulful house groove titled 'Fabulous'. Beat Rivals (aka Soulshy and Krazy K) each provide their own takes, with Soulshy delivering a classy soulful affair, laced with warm piano vibes, jazzy brass stabs and a funky bassline, whilst production partner Krazy K turns out a cool, percussive deep edged groove with a popping bassline. Both fans of live music, Beat Rivals turn out a sublime 'Live Groove', armed with a powerful deep bass hook, which also sees the appearance of Soulshy's new drum kit, before they turn up the dance floor pressure with a 90's flavoured 'Uptempo Groove'. Also featuring on the package are Broken Species, who bring booty shakin' vibes with their dubby afrocentric treat for the dancers that centres around the drum.
Rival Beat Records is a London based imprint owned by production duo Beat Rivals, with a focus on releasing good quality House music with a soulful edge. Beat Rivals, aka Soulshy and Krazy K, draw on a collective of influences from Soul, Garage, 80's classics and club music, fusing individual styles into a single groove. Working together since the early 90's, the two launched the Rival Beat label in 2011 with their debut single Beat Rivals feat. Flexie Muiso – 'Why Do I', winning the hearts of the Soulful house fraternity. Beat Rivals re-launched the label in 2013 with 'If I Could' featuring the vocal talents of Lifford Shillingford, which came with remixes by Circle of Funk and UK Funki don, Major Notes. Forthcoming projects include new interpretations of 'Why Do I' and 'Reach Out' by Tony Lindsay, with mixes by Karl Brown, Soulshy and Krazy K.
2014 is a big year for Rival Beat Records. We are currently signing 2 artists to the label that are going to be immense! We are not restricted to a genre, but anything we release needs to be built on Soulful foundations.
Having just released her debut self titled solo album to great acclaim, Natasha Watts is in demand more than ever for her vocal talents and vivacious stage presence. She's worked with Josh Milan, Papa Records, Reel People, Bugz In The Attic's Kaidi Tathum, Speedometer, Purple Music, Nervous, Barcoda, Yam Who? Her live shows have taken her to IPM, Amalfi Conference, Moscow, Croatia and Miami WMC, not to mention all the various international Soul festivals she has now graced, including Blackpool Soul and Southport Weekender, among many others.
TRACK LISTING
1 Fabulous (Soulshy Mix)
2 Fabulous (Krazy K Mix)
3 Fabulous (Broken Species Remix)
4 Fabulous (Live Groove Mix)
5 Fabulous (Up Tempo Mix)
'Fabulous' will be release on Traxsource promo on July 14th / Full release – July 21st 2014 on Rival Beat Records.