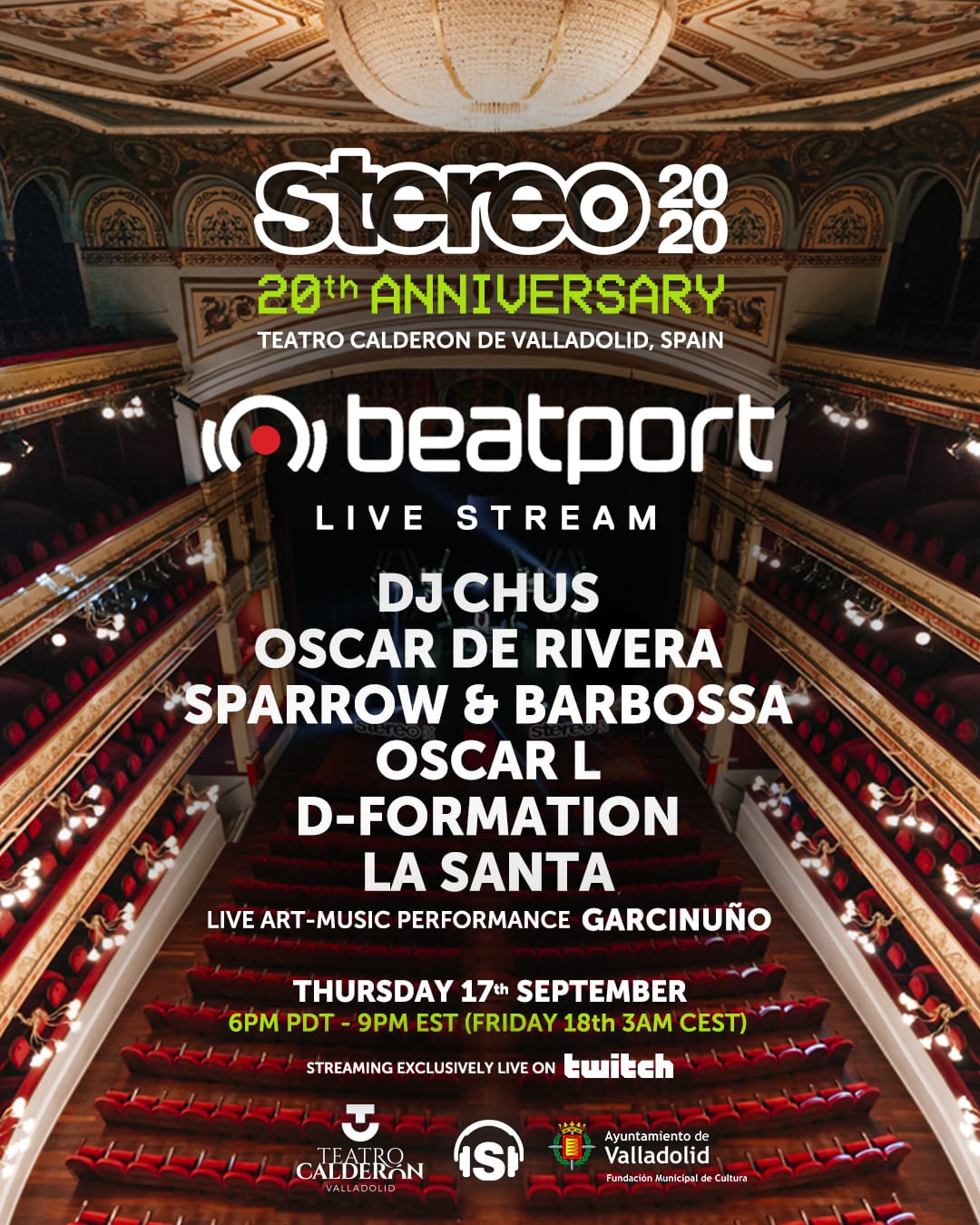 BEATPORT LIVE STREAM XX STEREO 2020
Stereo Productions had a spectacular tour that would take them worldwide to celebrate their 20th anniversary. However, reality had its plan in the form of Pandemia, and both were not compatible. But, the Stereo team was not just going to give up and deliver what their fans were expecting. Next Thursday, September 17th (Pacific Time) and Friday 18th (European Time), the Spanish label will be hosting a Beatport Live Stream from a unique location, the Calderon Theater in Valladolid, in Spain. It's one of the most iconic buildings in the country with impressive neoclassical architecture, dedicated to Calderón de la Barca, one of the greatest Spanish dramatists with an overwhelming cultural legacy. The event will revolve around the concept of defense of culture and Art.
Beatport, the leading platform for music downloads in the electronic music industry, will be in charge of broadcasting the show. Once again, Stereo has come up with an event in which they're taking special care in the show's quality and small details, preparing an impressive technical lighting and visual display.
The line-up will feature familiar Stereo names and also brand new talents. The Stereo Productions founder himself, DJ Chus, who needs no introduction. Stunning Duo, Sparrow & Barbossa, formed by the Swiss Bryan Coletta and the Uruguayan Emiliano Haberli, who has an Afro House sound in which there is no lack of live percussion and ethnic influences. Óscar de Rivera, an example of perseverance and quality with a lengthy career, precise musical style full of technique, and versatility. Oscar L has become one of the biggest names in the Techno scene, thanks to his energetic groove and stunning releases worldwide. D-Formation, owner of the acclaimed BeatFreak Recordings label, and world-renowned for his Work in the studio and his Melodic and Progressive House style. And to put the icing on the cake, La Santa, a charismatic DJ, who can transform any experience into music in a sensitive and harmonious but also sensual and dreamy way.
To capture on the canvas the symbolism of the Virus that causes the empty seats of the Theater, we have Kike Garcinuño. A prolific and restless plastic artist who, throughout his career, has mastered different styles and trends. His way of looking at and narrating the world is unique. He is interested in aesthetic beauty with scars, cleaning the mud. His abstract paintings have found a home in Madrid, Ibiza, and Paris, Kyoto, or New York. During the DJ session, Garcinuño will capture in one of his paintings what he has called the 'Techno Virus of 2020'. The Work will be auctioned, and the proceeds will be donated to a non-profit organization to help artists affected by the Pandemic.
Thanks to Stereo Productions, magic will return to the Stages on September 17th-18th.
The broadcast will be carried out exclusively from the Beatport's Twitch account from 6 pm to 12 pm (PDT), 9 pm to 3 am (EST), and 3 am to 9 am (CEST).