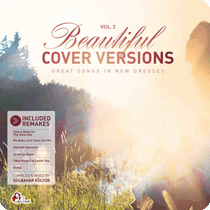 compiled by Gülbahar Kültür - Beautiful Cover Versions Vol. 2
The golden age of cover songs is crowned here, in this amazing compilation album. DJ Gülbahar Kültür hails once again with great picks of the art of cover in Beautiful Cover Versions Vol. 2, where she perceptively rattles the senses and opens the path to new appreciations whilst triggering fond memories. The album features 35 thrilling tracks packed in two CDs, the titles of which accentuate on what we all truly need to practice: "MORE LOVE" and "MORE PEACE"…

MORE LOVE, first CD of the album is a fine blend touching down to the marrow, with samples like Léo Ferré's poetic piece Avec Le Temps performed by the South Korean Jazz vocalist Youn Sun Nah; Every Breath You Take – the biggest hit of 1983 written by Sting and performed by The Police – saturated with the creativity of Jazz and sweetness of Swing by Pink Turtle, aka the French touch of Swing; and Algerian Raï artist Khaled's breakthrough Pop hit Aicha dolled up with a cappella new threads by internationally celebrated cover artist Alaa Wardi. The Tide Is High written by Jamaican DJ Duke Reid back in the 1930s that became a timeless success when covered in 1980 by Blondie of Debbie Harry and Chris Stein is one of the pinnacles of the first CD, just like Jamaican dancehall Reggae artist Busy Signal's Sweet Love (Night Shift) the original of which is The Commodores' tribute to Marvin Gaye and Jackie Wilson.

MORE PEACE, second CD of Beautiful Cover Versions Vol.II celebrates distinctively movey, dancey and soulful remakes that shine a new light on the originals. French folk-punk chanteuse Olivia Ruiz's powerful yet smooth singing of the Jazz Standard My Baby Just Cares For Me is a generously-cool start ; Irish musician Imelda Mayknown for her musical style of Rockabilly revival, contributes a fantastic version of Buddy Holly's hit I'm Lookin' For Someone To Love; "Easy-Break-Funk" sound bearer Skeewiff gets the real funky mood in 1963 song Nitty Gritty; Smoove & Turrell from North-East England whose sound fuses a variety of musical genres including Funk, Northern Soul, Hip-Hop and Jazz renders a brilliant cover of Michael Jackson's It's the Falling in Love to give the fizzy feeling of burning up the dancefloor.

All captivating and groovy… and these are only the tip of the iceberg… All time favourite titles like Love Me Tender, Take A Walk On The Wild Side, Let's Stay Together, Satisfaction, Rude, Somebody That I Used To Know, I Was Made For Lovin' You, Commandante Ché Guevara, Smooth Operator, Tu Vo' Fa' L'Americano, La Vie En Rose, Papa Was A Rolling Stone, I Feel Love, Hava Nagila, Running Up That Hill, Riders On The Storm, Streets of Philadelphia and many more are delivered in Beautiful Cover Versions Vol.II with the highest standards of Cover, indebted to pure creativity and fluency in dissolving the boundaries in every way, be it musical genres or cultural backgrounds.

Beautiful Cover Versions Vol. 2 is a charmingly positive album, an antidote to weariness with tasteful samples. Will definitely be one of your favourites all day through everywhere; at home, at a café, in the car, while lounging, eating, partying… Just get the good vibes!