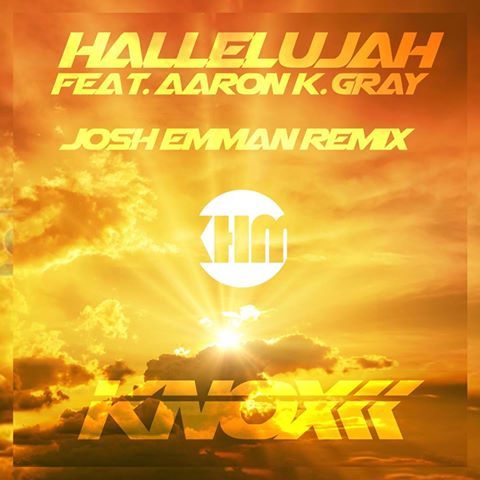 Knox, Aaron K Gray, Josh Emman - Hallelujah (Josh Emman remix)
Graham 'Knox' Frazier is a native New Yorker. Born in the late 60's he spent his youth listening to Soul, Disco, Hip Hop and Dance music and built up an impressive vinyl collection, which he used to learn the ropes of mixing and DJing from the age of 12. His skills were in demand at parties,fashion shows and Manhattan clubs including Tattoo, The Supper Club, Doubles and The Hayden Planetarium. He began producing in 1991 after meeting John 'Roc' Mateo (Mateo and Matos) and he was signed by Todd Terry in 1996. Knox has also worked as a TV editor for Sony and MTV and he currently works for the Daily Show. Music production is more than a hobby for Knox, it's a real passion that shines through in the quality of his work.
Aaron Kendall Gray was raised in Delray Beach Florida, the youngest of six children, and having been brought up in a spiritual environment, Gospel has been a huge influence in Aaron's life. He began singing in church at the age of 5, and has excelled in the performing arts, becoming a proficient dancer and hair and make up artist. In 2001 he released the R & B album titled "Body Rain", and his rich vocals brought him to the attention of the music world. He collaborated with Tony Humphries, Junior White and Noelle Barbera on the much acclaimed Soulful/Gospel House hit 'Wonder Why'. This led to the collaboration with Knox and Scott Wozniak which resulted in the original release of 'Hallelujah', 'That Feeling' and 'Remind Myself'. Aaron has performed with some of the world's top Gospel artists such as Vickie Winans, John P. Kee, Donnie McClurkin, and Karen Clark Sheard to name a few. He is a born entertainer, and his sweet soulful voice warms the heart of every listener.
Josh Emman (Aries Audio Music) belongs to a family of performers and musicians and is a seasoned member of the music scene. A lover of all genres including Soul, Disco, Jazz, Rare Groove, Motown, Two-Tone, 80's Soul, Electro and Rave, Josh has built up an impressive music collection over the years. He has a sophisticated ear for production, having studied Music Technology and Sound Engineering at college. Josh has performed as a DJ at many prestigious venues including Babalou, Turnmills, Ministry of Sound, Bournemouth's Opera House, and The End, and he has presented on radio for many years, most recently on Back2Back fm. Production is an outlet for Josh's inspiration in all walks of life and his productions radiate quality. Past works include Love on The Line featuring Nina Provencal, the instrumental Refreshing EP, and a remix of Luka's Love Is Freedom. Josh strives for excellence and has created a unique soulful sound which is the framework to many of his tracks.
The KHM (Knox House Music) label was established in 1997 and has hosted more than 140 releases. The original Hallelujah release took place in December 2014.
There is no doubt that Aaron is devoted to his faith and he delivers the lyrics of "Hallelujah" with heartfelt emotion and joy. The song really does reflect his ethos and pure joy at being alive, making it an anthem for love and life. His pure and soulful voice has power, maturity and subtlety which Aaron controls with expertise.
Josh's remix is a four to the floor House beat with a deep sophisticated vibe that builds in complexity. The vocals are perfectly placed around the rich percussion and atmospheric keys, and this is a track that will move the body from the opening bars, enchanting, bringing joy and dazzling the dancers among us with its warmth and rhythmic flow. This version provides a whole new contrast to the original and will be the must have track for every DJ and dance floor this Christmas.