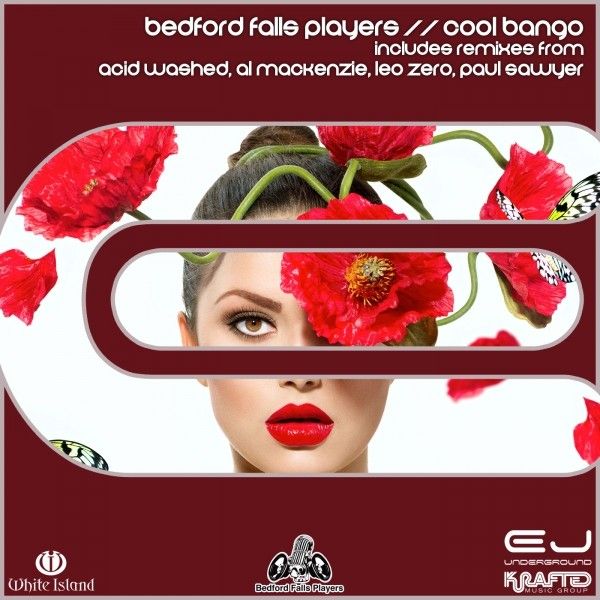 BEDFORD FALLS PLAYERS – COOL BANGO
DJ and production collective Bedford Falls Players are back again with yet another memorable addition to their library – this time a seriously original concept by the name of 'Cool Bango' which will be released under the EJ Underground stamp. A collaboration between Mark Cooper and Bob Miles, the original mix is the foundation for a further four imaginative remixes by a team of head turning talents under the label's wing. With an extensive list of heavyweight pre-release supporters showing love for the release already – it's looking like another international success for the fast-moving label. Those already showing their love include Erick Morilio, Anthony Pappa, Tensnake, Sossa, Above & Beyond, Richie Hawtin, Miguel Campbell, Stacey Pullen and many more.
The five-track configuration offers a truly wide range of styles, all contributing to build a unique project ready to push on what's looking like a key year for the EJ Underground family. The Original Mix in all its glory emits an extra-terrestrial atmosphere, generated by the cosmic synth lines and eerie 303 bass swirls – both tinged by an in-the-pocket disco-house hybrid drumbeat. The single is decorated from start to end with an array of vibrant electronic effects palpitating through the claps, sporadic vocal effects and some seriously original synth generated nuances that add to 'Cool Bango''s otherworldly ambiance. Bedford Falls Players introduce another layer of sophistication, devising a dreamy string-synth arrangement that subtly intensifies the progressive passage of the whole production. Another creative element within this track is the repartee style section, a back and forth action between a mellow drops and a drum-fill driven phrase. Whilst Bedford Falls Players keep the steady and deep grooved lead throughout, prominent synths and melodic phrases are later introduced to spice up the production with a classy edge, typical of the artists.
Next up is Acid Washed's interpretation of 'Cool Bango'. The Parisian French House inspired duo composed of Andrew Claristidge and Richard d'Alpert give an added element of original and modern sounds to the original offering. Whilst holding on to the vast majority of melodic elements found within Bedford Falls Players' version, the French duo's remix makes more reference to the celestial leitmotif, using an abundance of alternatively crafted synth and FX sounds. On the other hand, Al Mackenzie, one half of D-Ream kicks off his House-focussed remix with an organic sounding, syncopated shaker, leading into a deep synth melody accompanied by an intricate and hypnotic hi-hat pattern. Later hardening the groove with a stiffer drum rhythm, Al Mackenzie's version is a further diversion from the original, giving a new vision to the track and pushing new directions, something the label seems to get so right when compiling remixes. This remix is infused with prominent sub-frequency bass, with its deep bass-line and chunky kick pattern – it's a rework that really hones in on the lower ends of the frequency spectrum. Al Mackenzie shows his dexterities with the introduction of a complex, eerie lead synth melody, contrasting the sub by fundamentals in the production. Another fine addition to a vibrant collective of reworks for the impending package.
Also adding his take on 'Cool Bango' is Leo Zero, a renowned producer who has remixed international superstars such as: Dido, Lou Reed, David Bowie, Florence & The Machine, Everything But the Girl, and Badly Drawn Boy, apart from producing for EMI, Virgin, Sony BMG, Chrysalis, Island, and Ministry of Sound just to name a few. His remix introduces an immediate dense groove, whilst making use of the original string arrangement at the very beginning before moving into a bass-filled accompaniment. Moreover, Leo Zero also keeps true to the galactic themed elements found in the original mix, whilst adding a unique guitar-like synth melody, which is central in his production.
Finally, since this EP is marking EJ Underground's 100th release it was only appropriate to add label boss Paul Sawyer's remix as part of the package. A consistent name on Beatport's charts, Paul Sawyer is a trendsetter in the UK within the House and Techno scenes. Rightly so, his remix has a personalised Tech signature – delivered with all the impact that you'd expect from the label boss's consistently high-end outputs. Whilst maintaining the interstellar influences, Paul Sawyer establishes a more prominent role for the vocals, providing a closure in style for this admirably well-crafted project.
EJ Underground has hit the electronic world with an impressive 100th release, a massive feat reached in less than two years of operations. Part of the Krafted Music Group together with other labels such as: Endemic Digital, EJ Eternal, Krafted Records, First Step Recordings, Sounds of Juan, and Unrivaled Music, this premium label has become a stalwart entity within the electronic music realm. 'Cool Bango' is definitely another feather in the cap for both the artists included and imprint alike.
'Cool Bang' will be released March 4th 2015.