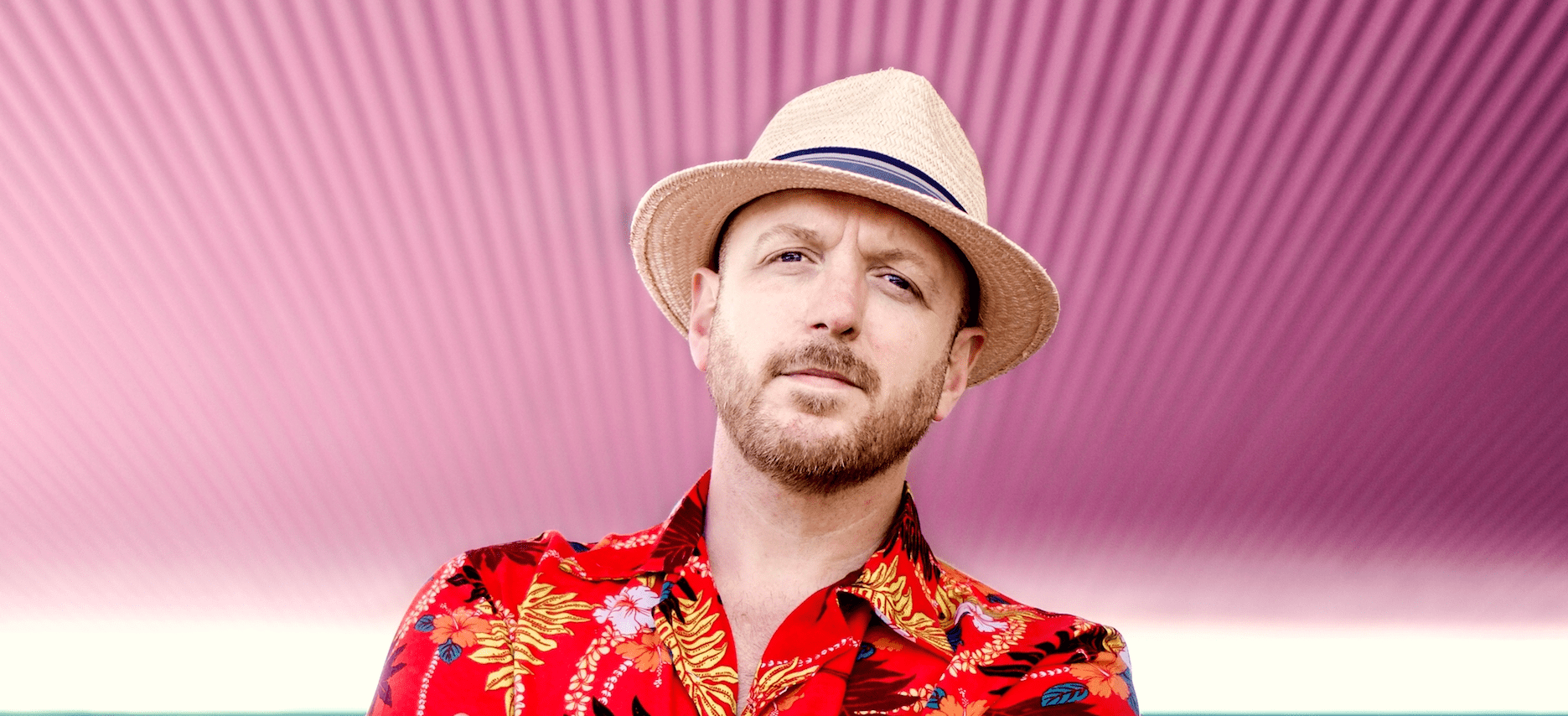 Behind The Scenes with KORT
Armed and dangerous with one of the biggest Disco records of the Summer, we go behind the scenes with producer and Tropical Velvet Records boss KORT.
Hi KORT, how's your summer going so far?
Hey, really nice thanks, the weather in London has been amazing. I've been super busy with gigs & studio work which makes it a little tougher when the weather outside is so nice. 🙂
You've just released your first attempt at a proper disco record, 'Here & Now' are you pleased with the results?
It's been a massive labour of love to make this record, it's the hardest project I've ever worked on, I think there was 126 channels I was using on the mixer as the record is about 90% all live. I was a huge learning curve working on this and it's my favourite work to date.
What's the song about?
The giveaway is in the title. It's about living in the moment in the 'Here & Now'.
Is Disco a big love of yours? Who are your disco influences?
I love disco, I love house, I love anything that's funky. It's gotta have that bit of funk to it for me. I haven't just jumped on a the disco bandwagon, as that can be heard in a lot of my previous productions. My disco influences?… of course Nile Rogers who is an absolute genius and Rod Temperton. Amazing writers and producers!
You've used all live instrumentation, how did you go about putting it all together and recording?
I had the basis of the track written in my studio with me playing keyboard parts etc then I sent to my musician friends to re play the parts & add what they thought worked for them too. Then I sent the instrumental to the vocalists Kat Deal & Sejal Keshwala who I think wrote a great song for it. All the instruments and vocals were recorded separately at different studios.
How long did it take to complete the production?
A very long 4 months.
How did you meet vocalist Sejal and will you be working with her again in the future?
My friend Dan Carpenter who does the brass section on the record knew I was looking for a powerhouse soul vocalist and he's worked with Sejal a few times, so he just hooked us up.
I'm actually in the process of doing a follow up to 'Here & Now' with Sejal and all the musicians again.
You've also got a remix from Angelo Ferrari, what did he bring to the table?
Angelo is a jackin Don! I love his sound. I thought getting a remix from him would switch things up which he's done. He's taken it more based on the main room kinda sound. Big & dark.
So is Disco the sound of KORT moving forwards, or was this just an experiment and are you back on house music duty for the next release?
After working with these amazing musicians & getting the result that we got, I will be doing more live music for sure (as we are in the the middle of doing our follow up record) but I'm always writing stuff but won't always be live disco but it will certainly be funky.
What's your take on the modern Disco resurgence?
It's good for me and my label, as I said earlier, my music has always had that influence, but with every genre that becomes the 'popular/cool' genre its always gonna get slightly over saturated. So for me that means just upping your game to stand out more.
How important are songs for our dance floors?
For me songs are really important for the dance floor. I don't wanna hear the same thing on a night out nor while I'm djing also. It's good to have a good balance I think
You've just recently had your Tropical Velvet party with Joey Negro, how was that and when is the next party and who with?
Yeah it Was really good fun. It was a carnival sunglasses party, so we had carnival dancers, percussion, trumpet player, a full on production. For our parties we like to put on a show. Not just good djs playing good music. Dave was great as always! I can't tell you who is playing at our next one just yet. But we'll reveal very soon 😉
How's the Tropical Velvet label going and what else have you got coming up release wise you can tell us about?
The label's going from strength to strength, we're releasing really good music (I think) & that is the most important thing. I've just signed a track from Fabio Totsi which is a real party record. That will probably be coming out after 'here & now'.
What else is in the pipeline for you?
More live studio work with our 'in house band', I'm just finishing another track with my label friend Elementary, which features another amazing singer songwriter called Holly Petrie. Plus there are more label parties that we're in the process of working on and more live shows.
'Here & Now' is out now on Tropical Velvet.