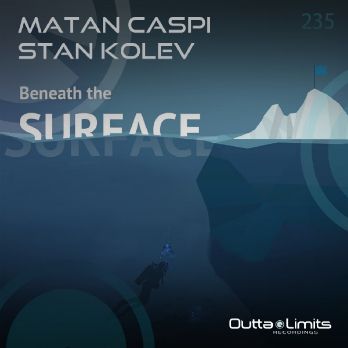 Matan Caspi, Stan Kolev - Beneath The Surface EP
Renowned electronic artists Matan Caspi and Stan Kolev return to their Outta Limits label with a stunning collaborative EP featuring two stunning new tracks. As two of the most refreshing and skilful electronic DJ/Producers to rise to prominence on the global stage over the past decade or more, their music (both as individuals and together) always shines with a unique fusion of the finest underground genres, blending distinctive originality with beautiful sophistication.
Title track, 'Beneath The Surface', is a master-class in how to create intricately stunning, brooding sensuality, and the mark of two producers of the highest order interacting perfectly in the studio. 'Revive' ups the anthemic energy level to reveal a different and no less dynamic meeting of two very creative minds. File under powerful, melody rich, uplifting house music at its finest.
Stan & Matan established Outta Limits Recordings to express themself without any limitations of musical genres and their label is a place where you can always hear real quality underground music. This successful venture has already featured a long list of talented producers, including: Dinka, Daniel Portman, Chris Reece, Sergio Fernandez, DJ Lion, Karim Haas, Pete Moss, Ben Coda, Ad Brown, Magitman, Angelo Ferreri, D-Trax, Jon Silva and many more, alongside their own exceptional productions, with many more exciting projects set to be unveiled throughout 2017 and beyond.
Artist Info:
https://www.facebook.com/MatanCaspi1
https://soundcloud.com/matan-caspi
https://www.facebook.com/stankolev.official
https://soundcloud.com/stankolev
Label Info:
http://www.outtalimitsrecordings.com
http://www.facebook.com/outtalimits.official
https://www.beatport.com/label/outta-limits/1239