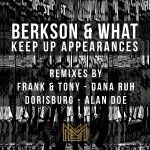 Berkson & What – Keep Up Appearances Remixes
Following the release of their debut LP, 'Keep Up Appearances' on their new label Modelmaker, Dan Berkson and James What draft in Frank & Tony, Dana Ruh, Dorisburg and Alan Doe for remixes.
Berkson & What have chalked up many releases on Poker Flat and Crosstown Rebels over the years whilst most recently turning heads outside of their own Modelmaker imprint via singles for Dogmatik and Seth Troxler's Play it Say It. The duo's LP, released in January, marked a new chapter in their production history and has seen support from Josh Wink, Mr G and Skream over the past few months.
'Keep Up Appearances – Remixes' opens with Anthony Collins and Francis Harris' superb Frank & Tony alias taking on 'Seraphim' which results in a tense but understated piece of layered, classic sounding house music while Dana Ruh, fresh from her excellent debut LP on Underground Quality last year, drops an eerie recreation of 'Worship' that draws on spacey synths and unsettling ambience.
Dorisburg, known for outstanding material on Sweden's Aniara amongst others, continues a sterling run of form with a rendition of 'Feel Free' which employs soaring chords to fashion a luscious and elevating take on the original. Rounding off the package is Berlin producer Alan Doe, an artist who debuted on Rue De Plaisance in 2014. Doe's 'Worship' remix is squarely dancefloor-aimed with punchy kicks, smokey effects and teasing keys.