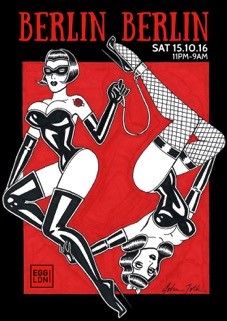 BERLIN BERLIN: SISYPHOS & CHALET CLUB SHOWCASES WITH MARK HENNING
Come and join in the unrestrained special 'Peep Show' edition of Berlin Berlin on Saturday October 15th at Egg LDN powered by a musical soundtrack from s
ome of the city's key contemporary cutting edge techno & house scene shapers featuring the Sisyphos all-weekend party residents Jonty Skrufff, Fidelity Kastrow & Juli.N More alongside Mark Henning, Alexander Koning, Eveline Fink and David Delgado.
Blurring the boundaries of nightlife to create a party playground where anything goes and pulling out all the stops, Berlin Berlin runs riot pioneering a strict no camera policy (adopted from Berlin) as its young risqué underground crowd party till the sun rises. 'What goes on in Berlin Berlin, stays in Berlin Berlin' (!) distilling the true essence of the city's unique and experimental hedonistic party vibe. Fuelled by jaw-dropping performances, BB's polysexual atmosphere explores the Berlin:London connect at its wildest…
With massive queues and tough door pickers, Sisyphos attracts a flamboyant colourful crowd of miscreants and misfits with the DJs championing its own techno, deep and house sounds. Delivering driving, energetic, powerful music that's been deliberately designed for dancing, which makes sense given their parties start on Friday and finish on Monday! Sisyphos residents Fidelity Kastrow, Jonty Skrufff & Juli.N More return for their 5th BB session and be prepared to stay late as all three totally rocked Egg Ldn last time and will be whipping up another techno/house storm guaranteed to make you dance.
With the additional firepower on the decks of Mark Henning, Alexander Koning, Eveline Fink and David Delgado plus Berlin Berlin's wonderful troupe of wild performers and the Kunstkammer avant grade performance crew, 'Peep Show' will be another eye-popping late night at Egg LDN.