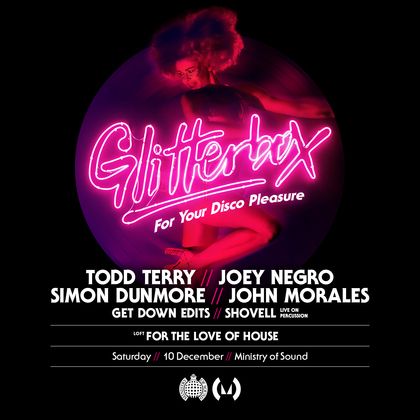 Glitterbox returns to Ministry Of Sound in December
After a stunning four months in Ibiza and a show-stopping day & night party in London back in August, Glitterbox returns to Ministry Of Sound on December 10th for its final party of 2016.
The line-up features a selection of Glitterbox's shining stars this summer, with performances from house icon Todd Terry, the masterful Joey Negro and Glitterbox founder Simon Dunmore. They will be joined by disco kings John Morales and Get Down Edits, alongside Shovell's infectious percussion and For The Love Of House DJs, all creating a timeless soundtrack for any lover of that real house and disco sound.
Packed full of dancers, disco balls and smiling faces – many of whom made this summer so special – Glitterbox at Ministry Of Sound will be a celebration of the night's biggest year to-date, when it became the most important party on the White Isle.
Here's a little idea of what to expect:
Closing Party Footage: http://defected.com/news/glitterbox-closing-party-dancefloor.
Closing Party Reaction: https://twitter.com/glitterboxibiza/timelines/780490116632547328.
Season Gallery: http://defected.com/gallery/23.09.16/glitterbox-2016-space-ibiza.
Tickets: http://defct.de/gbdec16ra.
See you on the dancefloor…
LINE-UP
TODD TERRY
JOEY NEGRO
SIMON DUNMORE
JOHN MORALES
GET DOWN EDITS
SHOVELL (LIVE)
FOR THE LOVE OF HOUSE
Facebook: https://www.facebook.com/glitterboxibiza
Twitter: https://twitter.com/glitterboxibiza
Instagram: https://www.instagram.com/glitterboxibiza
Website: http://glitterboxibiza.com