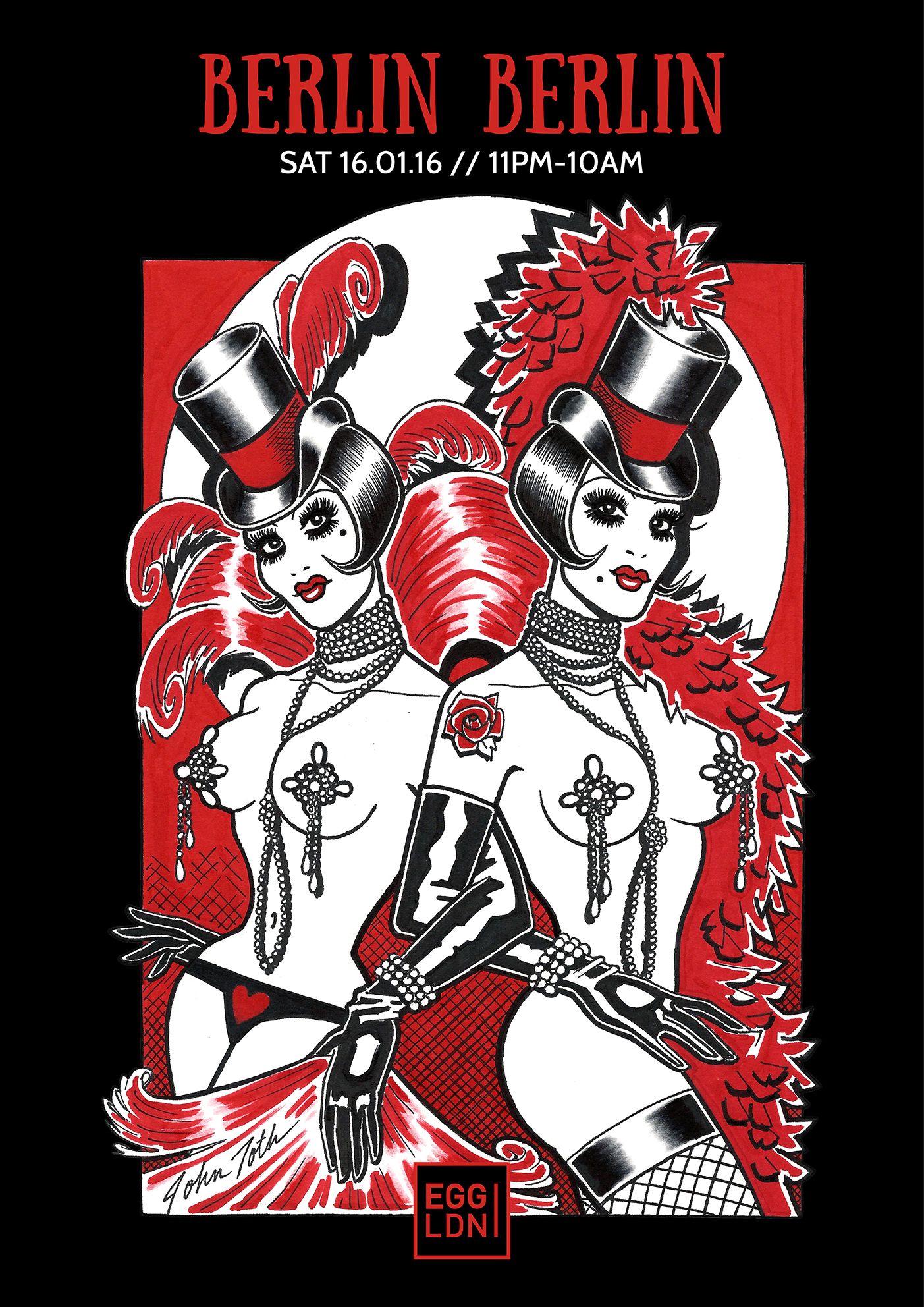 BERLIN BERLIN welcomes Sisyphos, Save Us Records' Cosmic Cowboys, Kris Davis & Andrea Ljekaj + Live Performers
Tanz Tanz Tanz…

Berlin Berlin: The Return

Saturday January 16th 2016

Musical Guests: Sisyphos Club – Jonty Skrufff, Fidelity Kastrow, Juli. N More
More TBA
Special Performances from Akimbo Moonchild, Cynth Icorn, Marnie Scarlet, Beatrix Carlotta, Joanna Glitz

Celebrating The Return of their unrestrained polysexual Berlin Berlin event, Egg Ldn pull out all the stops to unleash an explosive night of cutting edge techno and house fuelled by flamboyant performances from some of Europe's more out-there cabaret's artists, across 4 rooms dressed to the hilt with decadent decor and ruled over by ringmaster & host, Akimbo Moonchild.

For a number of years now Berlin has been a hotbed for clubbing/DJs and music and Berlin Berlin is Egg Ldn's hommage to the German capital's happenings. With leading contemporary German DJs, cabaret performances and Teutonic decor unlike any other London event, BB has already hosted highly rated electronic artists such as Tiefschwarz, Ostgut Ton, Nick Hoppner, Monika Kruse, Keinemusik, Panorama Bar's bi-monthly resident Oliver $, Ruede Hagelstein, Len Faki & his Figure label showcase, Kaiserdisco, Edwin Oosterwal, Markus Suckut etc.
Berlin Berlin is one of Egg Ldn's flagship nights, blurring the boundaries of nightlife to create a party playground where anything goes. Blending the look and laissez faire attitude of 1920's Berlin TanzBars with a contemporary underground musical soundtrack, BB distills the true essence of the city's unique and experimental fun party vibe here in London at one of its most forward thinking club settings, Egg Ldn.

Following on from Berlin Berlin's original artist Johnny Woo, is Akimbo Moonchild, 'International geisha of mystery', who has been tending to Egg's artistic cauldron for seven years. As a costume based performance artist with a surreal imagination she specializes in oriental characters such as geisha and concubines and her spectacular stage shows incorporate kabuki-inspired techniques of transformation to shock and amaze but always in a humorous way.
Joining Akimbo to push the boundaries in Egg's Boxing Ring stage are 4 other leading lights of London's extraordinary cabaret scene including fetish raunch star, Cynth Icorn; the incredible lady in red, Marnie Scarlet; the mysterious minx, Beatrix Carlotta and the exotic, Joanna Glitz.
Encouraging clubbing madness and off-the-cuff fun with their risqué performances and impromptu happenings with a twist that take place in the ring throughout the night, clubbers can really let loose at this explosive first Berlin Berlin party of the New Year.
The esoteric, near-the-knuckle Kuntskammer troupe who take over the Apothecary (Egg's club within a club) space for their wild cabaret performances inspired by 1920's Berlin.
Creating waves with their cutting edge tech releases, Berlin's Save Us Records make their Egg Ldn debut introducing Italian duo, Cosmic Cowboys whose 'Enlight EP' on Endless has notched up solid support alongside this year's 'Tell Me How', 'Perseus' and 'Symphony Of My Life' tracks.
Keeping things deep n' moody with an analog jackin edge, Kris Davis delivers emotional, rough-around-the-edges sets and is a true party instigator on the decks if tracks like 'In The Clearing', 'Akaria' and 'Kafka' are anything to go by.
Berlin-based Andrea Ljekaj has racked up strong releases on Get Physical Music and Save Us, with his recent 'Above Humans' chalking up serious A list support including Richie Hawtin, Maceo Plex, Marco Carola, M.A.N.D.Y and Steve Lawler.
After a summer in Ibiza which saw him spin for Jamie Jones at 'Paradise' at DC10, he's surely One To Watch in 2016 and is already booked for the Burning Man Festival next year. Catch him at Egg Ldn first.
Shoreditch's 'pure, evil n' fun' club society, Bite My Lip takeover The Loft for a soiree of polysexual chaos rocking their floor with a housey electro vibe topped off with some key performance art, and everyone is invited to 'Dress The F**k Up'!
Like Berghain, Sisyphos often has equally massive queues and equally tough door pickers though packing in more Berliners than club tourists and draws a flamboyant colorful hippy crowd more reminiscent of bar 25's infamously wild bunch of miscreants and misfits. Musically though Sisyphos has its own sound and its DJs, whether playing techno, deep or house, deliver driving, energetic, powerful music that's been deliberately designed for dancing, which makes sense given their parties start on Friday and finish on Monday!
Sisyphos residents Fidelity Kastrow, Jonty SKRUFFF & Juli.N More are three of the club's leading lights & Egg Ldn welcome them back for their third Berlin session. Come early and be prepared to stay late as all three totally rocked Egg Ldn the last two times and will be
whipping up another techno/house storm guaranteed to make you dance.

Representing the contemporary sound of present day Berlin, more DJs will be announced shortly and stay tuned.
Listings Info

event: Berlin Berlin: The Return
at: Egg Ldn, 200 York Way, Kings Cross, N7 9AX
date: Saturday January 16th 2016
times: 11pm-10am
Performance Artists: Akimbo Moonchild, Marnie Scarlet, Cynth Icorn, Beatrix Carlotta, Joanna Glitz
Line Up:
Grd Floor: Save Us Records present Cosmic Cowboys (Endless/Musik Gewinnt Freunde/Rotary Cocktail/Compost/Save Us ) https://soundcloud.com/cosmiccowboys
Kris Davis (Subjekt/Young Alaska | NeedWant/Bade/Save Us |)
https://soundcloud.com/kris_davis
Andrea Ljekaj (Get Physical/Save Us)
https://soundcloud.com/andrea_ljekaj
Garden Warehouse Room: Sisyphos with Fidelity Kastrow, Jonty Skrufff and Juli.N More
Loft: Bite My Lip
Terrace: TBA
Apothecary: Kuntskammer
Tickets: £10 in advance and for Students with NUS Card;
www.egglondon.co.uk