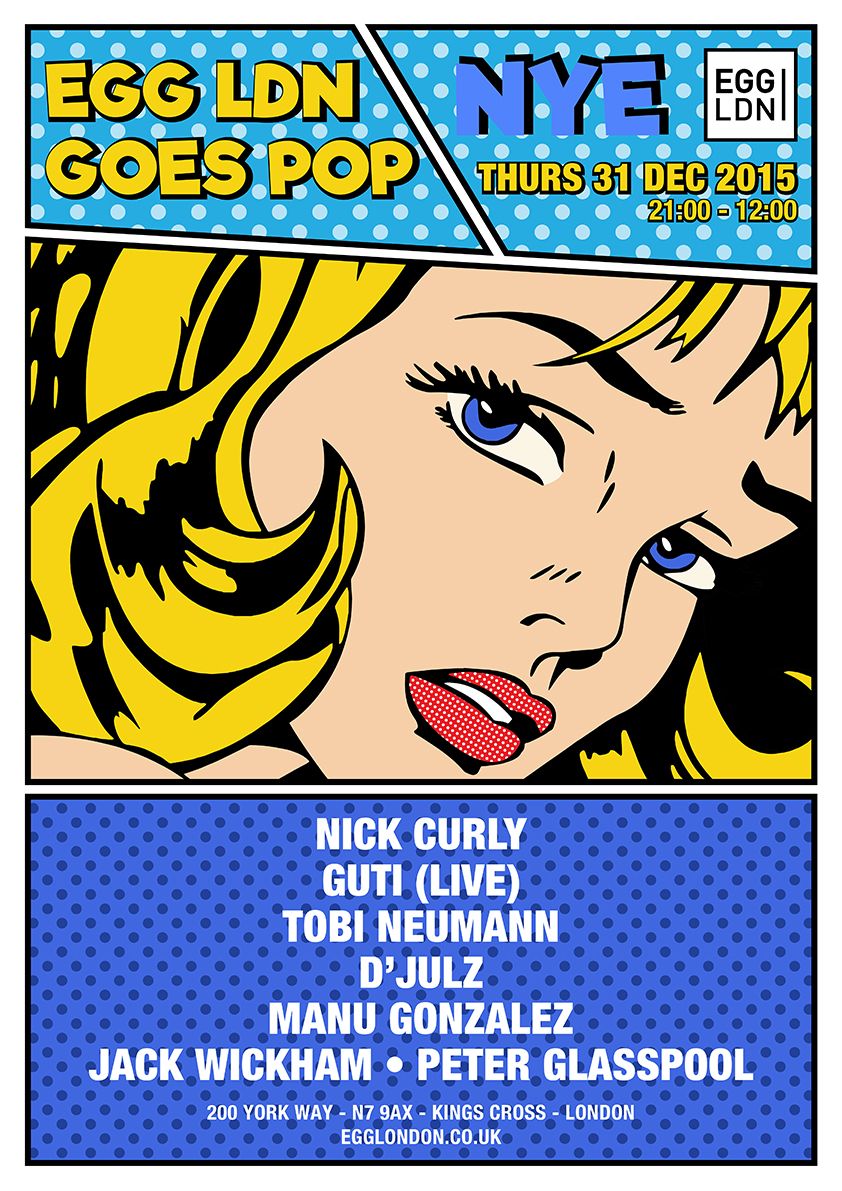 EGG LDN goes pop!
Egg Ldn Goes Pop, unveiling their new 'Pop Art' inspired installation and decor at their Egg Ldn:NYE event and which will be on display at the club for the first two months of 2016.
POW!
Ushering in a new era of installations and club decor, Egg Ldn Goes Pop is the first in a themed series and will feature giant 'Pop Art' inspired hangings, posters, wall art and figures. Egg Ldn Goes Pop is all about putting the fun back into clubbing, stimulating the senses with its carnival of colour and visual delights.
Egg Ldn Goes Pop features the creative talents of one of clubland's most in-demand and innovative production artists, Mark McKenzie, famed for his work on events such as Trade, Pacha, Ministry of Sound, etc alongside Miss Mel, whose bold wall paintings established her as one of the original Trade club production team.
Bright, colourful and bold and inspired by the legends of 'Pop Art', Egg Ldn's makeover will span the club's three floors and new warehouse-space Garden, utilising their many LED video screens and projections also.
'Pop Art looks out into the world. It doesn't look like a painting of something, it looks like the thing itself". Roy Lichtenstein
"Less is a bore." Robert Venturi
Egg Ldn: NYE with Special Guests Nick Curly, Guti Live, Tobi Neumann, D'Julz, Manu Gonzalez and more…
Thursday December 31st
Renowned for their marathon themed NYE events, Egg Ldn, have finely tuned this year's line up with a combination of powerhouse DJs and hot newcomers ensuring that their party is one of the more explosive NYE events across the capital, chock a block with Exclusive mixes and remixes, counting down to midnight against the hugely new bold 'Pop Art' diorama across the club.
WHAM!
Always a big night, Egg Ldn: NYE welcomes one of the key exponents of 'the Mannheim sound' Nick Curly, with releases under his belt on leading record labels like Get Physical, Murmur and Cocoon Recordings. Famed for his coveted residency at Space Ibiza's flagship underground event, Kehakuma, Nick's own brand of deep, tech house has taken him to many of the best dance floors across the world, finding time in between to release 2012's debut album, 'Between The Lines'.
POW!
​Guti (originally from Argentina) is currently taking the world by storm with his crowd-smashing live show and DJ sets as well as appearances on labels such as Desolat, No. 19 Records, Defected and Cadenza.
Originally championed by Loco Dice on his "The Lab' compilation, Guti's reputation grew tremendously with his original Desolat releases including the first "Las Cosas Que No Se Tocan" EP alongside his debut album, ""Patio De Juegos", which were followed up by a spate of high-profile records on Saved, Crosstown Rebels and Carl Cox's Intec Digital. In 2013 his summer smash for Defected offshoot DFTD, "Hope' added more fuel to the fire, resulting in a move to Barcelona to set up his own studio, where he produced his second jazz-infused album 'Rompecorazones' released on his own label of the same name.
Eight years on from his debut performance at Sunday Adventure Club in Berlin, Guti is as passionate about rocking crowds as ever, exploring new sounds which have fed into his Live show and furthering his reputation as one of dance music's most likeable, danceable and dynamic performers.
KAPOW!
Power-polymath Tobi Neumann is a man of diverse talents but if you ever get to catch him in the DJ booth, don't miss it! Exemplary in his contribution to German music culture through audio engineering, film composition and production, Tobi Neumann's techno laced shuffle-house DJ sets have cemented his reputation since the late 1980's. Having collaborated with German house and techno kingpins like "Papa" Sven Väth, the ever present Villalobos, and ultra-durable labels like Cocoon and Playhouse, Tobi's been setting the standard in dance music over the past two decades.
BANG!
Wide-eyed Frenchman D'Julz crosses the channel to serve up a massive helping of his distinctive Bass Culture, as heard on his eponymous label and longstanding party of the same name that takes place at Paris's renowned Rex Club. Part of DC10's current roll call of A-List DJs and a firm fixture at the club's Ibiza line-ups over the past few summers, D-Julz journey-style DJ sets are unforgettable!
​SHAZAM!
A breakout star of this summer's Ibiza season with multiple appearances at Sankeys, his 'The Face' residency at Privilege and sets at Space and Pacha plus wowing the Eastern Electrics Festival in the UK, Manu Gonzalez is a super hot new talent. Having shared the DJ cabin showcasing with legends such as John Digweed, Supernova, Mandy and Solomun, Manu is starting to carve out a niche for his productions with his 'Restless' Remix for Hot Since 82, 'La Terrazza' and 'Fire' as well as stoking listeners on his weekly radio show on Ibiza Global Radio.
The combination of the powerhouses playing at Egg Ldn: NYE ensure that this party is one of the more explosive NYE events across the capital, chock a block with Exclusive mixes and remixes, against the hugely bold 'Pop Art' diorama across the club.
"It does not matter how slowly you go so long as you do not stop". Andy Warhol
"I am for the art of underwear and the art of taxicabs. I am for the art of ice cream cones dropped on concrete." Claes Oldenburg
Listings Info
event: Egg Ldn: NYE
date: Thursday December 31st
at: Egg Ldn, 200 York Way, Kings Cross, N7 9AX
Line Up: Nick Curly, Guti Live, Tobi Neumann, D'Julz, Manu Gonzalez, Jack Wickham, Peter Glasspool, The Willers Brothers and more tba
+ Pop Art installation Launch
Times: 9pm-2pm on Friday January 1st
Tickets: £15 in Advance online from www.egglondon.co.uk or http://www.residentadvisor.net/event.aspx?759395
For table bookings contact: [email protected]
web: www.egglondon.co.uk
Tel: 020 7871 7111
"Pop Art is the inedible raised to the unspeakable" Leonard Baskin
"In the future everyone will be famous for 15 minutes. Andy Warhol