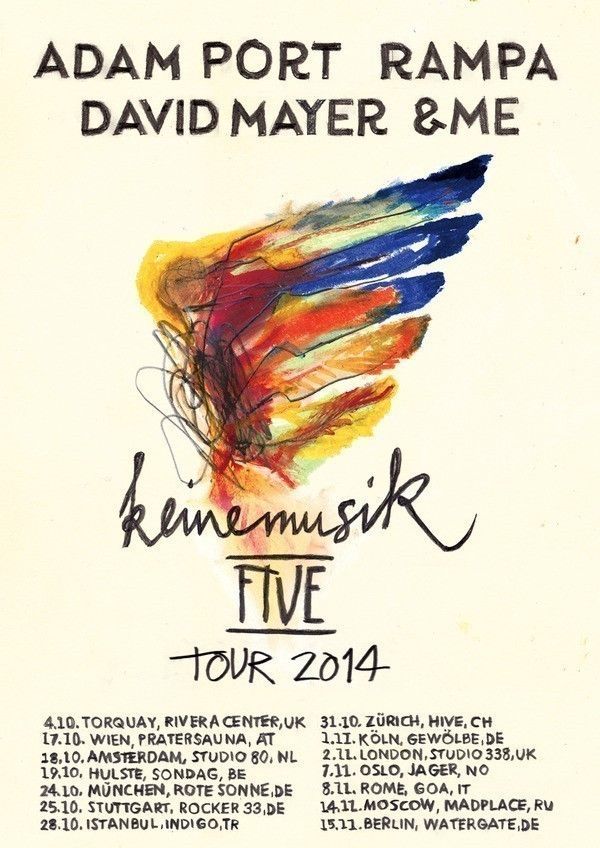 Berlin Label Keinemusik Celebrate 5th anniversary with European Tour
Celebrating their 5th Birthday this year Berlin based record label Keinemusik announce their European anniversary tour, FIVE
Keinemusik is not your typical record label. Creating everything from the productions to the artwork in-house, the DIY Berlin label and collective consists of Rampa, &me, Adam Port, David Mayer, Reznik and visual artist Monja Gentschow . Having achieved success at home with releases including &me's 'Afterdark' and Adam Ports 'Shifter' it seemed only natural for them to celebrate their 5th year together by bringing their winning party formula to the major clubs around Europe.
Bringing their leading register of house and techno to listeners since 2009, the friends annually lay down 5 organic productions, all personally crafted in the Stattbad studio they call home. As they embark on the aptly named FIVE tour, the Keinemusik crew celebrate their anniversary where they feel most at home – on the road and in the clubs of Europe. Kicking off the tour in the UK on 4th of October, the Berlin collective Adam Port, Rampa, &ME and David Mayer, will bring their intimate house party vibes to 13 central locations. Stopping off in Vienna, Stuttgart, Istanbul, Oslo, Rome and Moscow before finally returning home to Berlins Watergate on the 15th of November, the tour also includes a set at Studio 80 during this years Amsterdam Dance Event and a Saved x Keinemusik special at London's 338.
Translating Berlin's city vibe and their unified love of music into every production and set, Keinemusik's philosophy speaks volumes on what they are all about, saying "You don't necessarily need to be overly serious to be taken seriously".
Setting another chapter in the labels history the no-holds-barred tour leads up to the next Keinemusik release. A joint venture of all the KM producers, including a Stereo MC collaboration, the Workparty 5 EP will be drop on the 17th of November celebrating the end of the tour and the labels success over the last half decade.

KEINIEMUSIK 'FIVE' EUROPEAN TOUR DATES
04.10 Torquay, Rivera Center , UK
17.10 Wien, Pratersauna, AT
18.10 Amsterdam , Studio 80, NL
19.10 Hulste, Sondag, BE
24.10 München, Rote Sonne, DE
25.10 Stuttgart, Rocker 33, DE
28.10. Istanbul, Indigo, TR
31.10 Zürich, Hive, CH
01.11 Köln, Gewölbe, DE
02.11 London, Studio 338, UK
07.11 Oslo, Jager, NO
08.11 Rome, Goa, IT
14.11 Moscow, Madplace, RU
15.11 Berlin, Watergate, DE