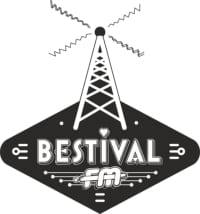 Bestival and Soho Radio Join Forces…
Bestival, one of the UK's largest independent festival and Soho Radio, who feature in the world's top five radio stations, as voted by Mixcloud, have announced that they are to join forces.
Relaunching their longstanding festival radio brand as Bestival FM on the internet-based station, the Bestival team will present two shows; Bestival Weekly, reflecting Bestival's music policy across the years, with festival news and announcements, guests and chat, presented on rotation by Bestival curator Rob da Bank and Goldierocks, and Bestival Live, showcasing archive performances from the festival.
Bestival FM will become Soho Radio's first dedicated content channel, featuring a diverse array of Bestival's output that will bring the live experience of the festival and its sister events to the airwaves. The Bestival shows will be broadcast live at www.sohoradiolondon.com, on the Soho Radio app, on TuneIn Radio, and will be archived on Mixcloud. Soho Radio's central London HQ is also home to a special pop-up outpost of Soho Grind, London's hot espresso and cocktail bars. So, if you fancy seeing Bestival Weekly or any of Soho Radio's shows in action, you can pop down to Windmill Street and enjoy a premium coffee while watching the magic of radio unfold.
Rob da Bank will take on a consultancy role at Soho Radio – a station that has very quickly become not just a London institution, but one of the world's most free-thinking and genre spanning stations. Drawing on his extensive broadcasting career, which includes more than a decade presenting on Radio 1, 6 Music and Spotify, Rob will help realise the station's ambitions and widen their offering. Once a year, Soho Radio will also decamp to Robin Hill Country Park on the Isle of Wight to broadcast live from Bestival's site during the event, following a hugely successful trial broadcast in 2015.
Commenting on the partnership, Soho Radio Co-founder Adrian Meehan said: "We are so excited to be working with Bestival throughout the year. We believe by joining forces we can make the radio station into a truly international mouthpiece for our creative community."
Bestival curator and new Soho Radio presenter Rob da Bank said: "I've had a long and varied radio career and love nothing more than playing new (and sometimes a bit of old) music down the lines to people all over the world. It feels like coming home sitting in the studio at Soho Radio – tiny, a bit ramshackle, vinyl decks, as well as the modern stuff, and a view through a buzzing coffee bar out onto the streets of London: people popping into the studio, records being jogged, chatting, laughter – sort of my ideal radio station. I can't wait to get this partnership started, and for Bestival FM to enable us to talk music to our loyal fans all year round. We've waited a long time for the right opportunity and this feels like the right one".
Bestival FM's first Bestival Weekly show on Soho Radio will be on Thursday March 10th at 2pm. The Bestival show will be broadcast live at www.sohoradiolondon.com; the soho radio app; tune in radio; and archived on mixcloud.