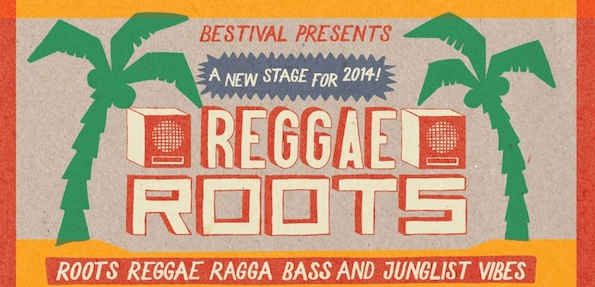 Bestival announce brand new skanking stage: Reggae Roots
We like to keep everyone on their toes at Bestival, moving things around and adding to the action, so we're very pleased indeed to announce something crisp, brand new and good for you at this year's Desert Island Disco – hail the Reggae Roots stage! Adding some righteous behaviour to more than 20 stages, mega soundsystems, non-stop parties and 24-hour escapism in 10 fields of wonderment, The Reggae Roots stage will be dedicated to the myriad flavours of reggae, from ska, rock steady and ragga to dub, dancehall and junglist riddims, with cool operators making sweet selections without objection.
Rob da Bank says: "It's no secret that many of us at Bestival HQ are well into dub, reggae, roots and bass music. Having hosted many of the legends of the genre from Lee Scratch Perry to Gregory Isaacs and the Twinkle Brothers it seemed about time we had a stage just for the skankers and the low-end lovers. The soundsystem is gonna be off the scale, the stage is gonna look like a backyard Jamaican dance and you guys are going to make it all happen… in the sunshine… in love with the bass!"
Featuring Bestival regulars Reggae Roast, Tayo and jim8track as residents throughout the weekend, with Reggaerobics every day to awaken your inner lion, the Roots Reggae stage kicks off big on Thursday night with Radio 1's Toddla T making good with the rockers and heavy beats man Dub Phizix dropping the drum n bass, plus there will be bassline pressure from Prince Fatty and Ashley Beedle on a Yardism tip.
Friday's soundsystem controllers spreading musical sunshine via the medium of bass include erstwhile Rebel MC, Congo Natty Ft. Congo Dubz & Tenor Fly, original skanking rave dons SL2 and the incomparable Trojan Sound System. Plus there will be outlandish live antics from Uzimon, and sublime versions from Unit 137's Ghost Writerz.
Nice Up run ting on Saturday, getting scientific with Jus Now's sub-heavy carribean rhythms, 1Xtra's Robbo Ranx and his dancehall waist-winders, the legendary Rodney P getting lyrical, bassbin botherer Mr Benn, Nice Up's own Shepdog, mash-up soundman Jstar, and Dub Mafia's Eva Lazarus. Plus there will be beat-polymath Wrongtom, up-tempo irieness from Turntable Dubbers, dapper dan Count Skylarkin, and authentic reggae power sound from Wreck It Up Crew.
And the Reggae Roots stage is gonna be large and in charge on Sunday, with the mighty Jah Shaka's uncompromising high energy riddims capping a day that will see digital don Mad Professor at the controls, a live set from the explosive Natty and Poland's dancefloor warriors, Dreadsquad supplying the goodness. There will also be live sets from hook-laden, bass heavy beatmiesters Rebel Control, progressive Ska types and Isle of Wight locals The Ohmz, and London based duo Subculture Sage, plus we'll have an appearance from supreme selector Kaptin Is Dead.
Set to be another jewel in Bestival's glittering musical crown, there are no heavy manners required at our brand new yard, the Reggae Roots stage will be irie ground.
Disco Business:- www.Bestival.net
BESTIVAL TICKET LINKS & INFORMATION:
www.ticketline.co.uk/bestival-tickets / 0844 888 4410