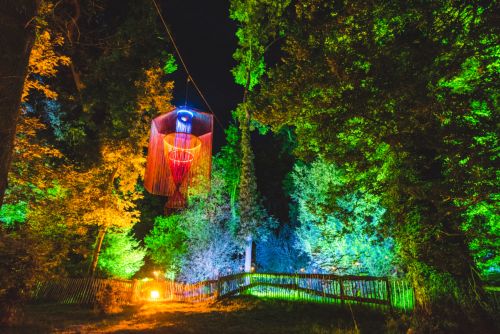 Bestival Announces Ambient Forest Content
Hidden in the depths of the Lulworth Estate's verdant canopy of trees, The Ambient Forest is Bestival'streasure trove of avant-garde amusements and outlandish adventures. An eye-opening thicket of unexpected wonder, there are bounteous attractions to explore. From deeply wonky beats and divining your fortune, to paint-based mayhem or a cuppa and a sing-song, myriad pleasures await you deep in the woods.
Rob da Bank says: "The Ambient Forest has slowly become my favourite afterhours spot at Bestival… freedom to roam under ancient trees, some patches of calm, some moments of madness and the chance to get Lost in the Woods… spot on!"
If you wander in among the tress of the Ambient Forest you're sure to find deep downtempo sound system thrills with an array of cosmic crusaders including Chris Coco, Mixmaster Morris, Pete Gooding and Flying White Dots.
Voyage further still from one woodland to another, Aespia Festival's 24hr world of interactive art and escapism will manifest at Bestival. With paints, sponges, glitter and art secrets, all bursting from their tour bus, their mission is to encourage everyone to release their inner artists; to connect and to heal through participation, play and collaboration. In true Aespia spirit, they'll bring creativity, celebration and – most importantly – colour, through a delicious concoction of installations, paintings, sculptures, performances, music, poetry and workshops. Join the dappled joys of mind-blowing paint parties and cover canvases, trees and even your mates in paint. Enter the giant three-dimensional canvas and explore, adapt and enjoy.
Explore the disco shack hidden in among the trees, and if you're lucky you'll discover epic dance destinations, including the gramophone-powered delights of Pig's Big Record Club and brand-new botanical bar The Frozen Mole; a subterranean gin palace of earthy cocktails and potent tipples with proper tunes fuelling the heads down action. Just remember, if your names not down, you're not coming in.
Stumble upon stories, conversation and songs over a cup of tea at The Kettle at the Centre of the Universe. One of the friendliest places you're ever likely to find, entertainment is provided day and night and you're encouraged to bring what you can to the circle… a song… a story… or a listening ear.
Onwards into the uncharted you might unearth The Crafty Cabin & Crafty Corner our hands-on havens of imagination. Featuring Katie Jones Knit, Lizzie King Tie Dye, New Craft House, Cosmic's Art Space, Warrior Studios Postcards & Flag-Making, Eden Whispers Dream Catchers, Lola's Junk Jewels, and Peace Signs & Temporary Tattoos with CND, there are almost endless ways to get creative.
Ramble on and uncover the astonishing sights and visions of the Illumaphonium. An interactive installation that unites sound and colour in a truly mind-blowing manner, it's guaranteed to captivate you for hours. And finally, at the end of the unknown you might just find certainty with a visit to our Tarot Card Readers.
The epicentre of wild abandon, don't miss out on the extraordinary spectacles and eclectic joys of the Ambient Forest this September at Bestival.
There are still plenty of treats to be revealed so head to www.Bestival.net, Facebook, Twitter, Instagram / Tumblr
#Bestival17