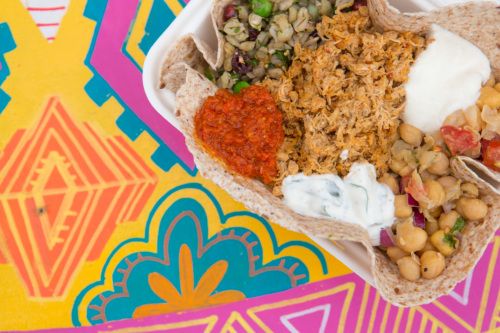 Feast Collective Announced for Bestival
Continuing our mission to ensure that festival food is delectable, delicious and fantastically nutritious, all served up with lashings of edible excitement, we are delighted to announce this year's incredible Feast Collective line-up for Bestival. Featuring a stellar cast of chefs, artisan food producers and all-round kitchen geniuses at the forefront of making mealtimes a real star of the show, be warned, entering the Feast Collective will inflame your food affections like nowhere else on Earth.
Feast Collective curator Gemma Thorogood said: "We've been around the world and back via the Dorset beaches to find the most delicious food the fields can offer for this year's Feast Collective, from Taiwanese Bao buns made by a Brazilian/French lady duo Le Bao, to banging Vietnamese from new kids on the block Krapow! There's new dishes to try, as well as your trusty faves to keep you coming back for more… Plus, the Raclette boys will be keeping the tunes turning over while you chow down to fuel up!"
Combining seriously cheesy food with a deliciously musical meltdown, we are delighted that prime movers in the world of Raclette, Le Rac Shack will be this year's Feast Collective hosts. Serving up big beats on the Feast Collective decks and Alpine cheese-covered treats including fries, new potatoes and Toulouse sausage baguettes, Le Rac Shack are a long-time Bestival favourite, so be sure to check them out.
Commenting on hosting this year's Feast Collective, Le Rac Shack's Sam Hope commented: "Le Rac Shack is super proud to have been invited to host the Feast Collective at Bestival 17. The Feast Collective features some of the best street food in the business, with the quality of food being second to none. MC Melt and DJ Goldilocks will be headlining the FC stage – bringing you nothing but CHEESY bangers and chilled out vibes, making it the perfect atmosphere for the BEST festival."
Naturally, the mouth-watering goodness doesn't stop there. There will be even more lip-smacking, flavour-packing satisfaction from the very best foodies we could find including West African dining doyen Zoe's Ghana Kitchen, Asia, Europe and Latin America-inspired British Street Food award winners Le Bao, 'real' South East Asian street dish authority Makatcha, plant-based food evangelists Milgi, amazing fish and seafood innovators Seadog, and fresh, hand-made dumplings, salads, pickles and punchy-punchy sauce slingers, Dorshi.
Plus there will be irresistible Vietnamese street food from Hanoi Kitchen, ultimate fried chicken sandwich purveyors Butchies, authentic and vivacious Thai food specialists Krapow, fresh, traceable and tasty coffees from Firestation Coffee, incredible tasting fresh juices and smoothies, courtesy of Elephant Juice, pop culture pastry types Piecaramba, Scandinavian and British seafood flavours from Shrimpy, outstanding Mediterranean and North African meaty fare accompanied by homemade exotic sauces and superfood salads fromThoroughly Wild Meat Co, giant sushi wraps from Happy Maki and Arcadian street fodder from The Cauldron.
The ultimate food lovers' haven be sure treat yourself to the truly tasty delights of the Feast Collective at Bestival.
There are still plenty of treats to be revealed so head to www.Bestival.net, Facebook, Twitter, Instagram / Tumblr
#Bestival17