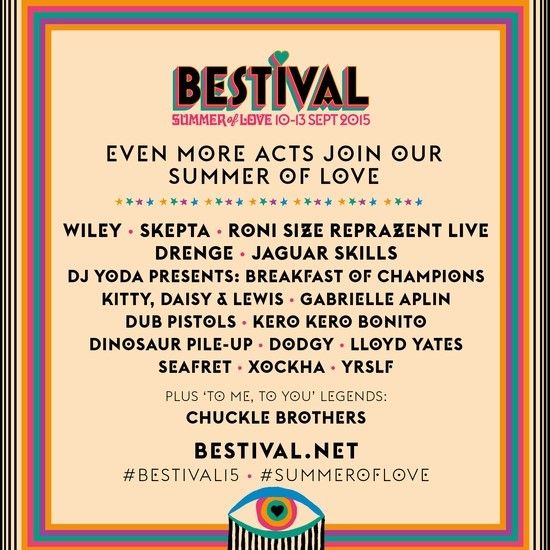 Bestival announces even more acts
With over 25 stages, revolutionary soundsystems, zombie love-ins, psychedelic woodland adventures, 24-hour free haircuts, and a host of dazzling new attractions, Bestival's Summer of Love is already looking pretty damn fit. But as ever, we want to get everyone we love involved, including this rather sultry bunch of musical marvels that will have you rockin' Robin Hill all weekend long this September 10-13.
Love commando Rob da Bank says: "I'm well excited with this new batch of acts we're announcing tonight. With so many identikit festivals about with similar acts and bills I'm proud that 12 years on we don't go with the flow. If the indie amazingness of Drenge isn't your bag then grimy faceslaps from Skepta and Wiley might be, and if you're insane and don't like the legendary junglist brilliance of Roni Size and his live Reprazent show then perhaps, just perhaps, you'll be singing 'to me, to you, to me, to you' whilst dancing in a pair of ill-fitting tropical shorts to the Chuckle Brothers. No matter what, there's plenty more fish in the sea to come, as our Summer of Love really starts to heat up. See you down the front."

Bringing on the love with big fat beats, we'll have main stage appearances from grime pioneer Wiley, who completely smashed it as our secret guest in 2012, plus the unstoppable skank machine, Dub Pistols.
Dub Pistols legend Barry Ashworth commented: "The Highlight of the year for us will always be playing Bestival, this year we are back on the main stage, it doesn't get bigger than that, and if that's not enough you can always catch me spinning tracks and drinking in the Sunday Best Cardboard Record Shop! There's only one Bestival!"
Not quite true, Barry, there are two Bestivals, but we know what you mean! Big love to all our Canadian brethren! More Isle of Wight-based Bestival main stage action will come from cool chanteuse Gabrielle Aplin, sing-along faves Dodgy, and the Isle of Wight's own Xockha and Yrslf.
Old blue, Bestival's beloved Big Top will be playing host to some mighty sounds this summer, too, including the much requested return of Joseph Junior Adenuga AKA Skepta and an absolute must-see live set from drum n bass hero Roni Size & Reprazent. We'll also have recently expanded noiseniks Drenge, our favourite scratch master DJ Yoda Presents: Breakfast of Champions, with his brand new hip-hop band busting up the Big Top live, and then the man himself will be taking on Bollywood for a typically special DJ set, and we'll have one of the coolest bands ever to grace a festival, Sunday Best favourites, the utterly incomparable Kitty Daisy & Lewis.
Commenting on their latest Bestival appearance, Kitty Daisy & Lewis uttered as one: "We're so excited to be coming to Bestival again this year, we always have a great time. Sunday Best know how to throw a festival!"
The Big Top will also welcome a high-voltage rock assault from Dinosaur Pile-Up, plus sets from Kero Kero Bonito, Lloyd Yates, Seafret and – we're not sure it's possible to express quite how excited we are about this – The Chuckle Brothers! Yes, it'll be history in the making with be-mulleted slapstick to me, to you. CAN. NOT. WAIT.
As if all that wasn't enough to get you all giddy with joy, he was one of the smash hits acts that started our summer in finest style at Common People, so we're extremely pleased that turntable ninja, Jaguar Skills, will be joining us to destroy the dancefloor at The Port.
BESTIVAL TICKET LINKS & INFORMATION:
www.ticketline.co.uk/bestival-tickets / 0844 888 4410
Adult Ticket £195.00
Student Ticket £185.00
Teen (13-17) Ticket £130.00
Child (12 & under) Ticket Free (BUT you MUST obtain a ticket)
Campervan Ticket £92.50
Adult Wild Copse Ticket £325.00
Teen Wild Copse Ticket £165.00
Caravan £105.00 Car Park £15.00
All Tickets: – will incur a booking fee. – incur a £1 donation to the Isle Of Wight Youth Trust*.
There are no Day Tickets.
Lucky Cat Hospitality Packages are also available.
THE WEEKLY PAYMENT PLAN
We're pleased to say that we are offering a 10-week payment plan that allows you to buy an adult ticket for an initial deposit of £25 (plus booking fees) followed by a payment of just over £19 per week over the next 19 weeks.
Only available online via: www.ticketline.co.uk/bestival-tickets
Once you have signed up to the payment plan, Ticketline will automatically debit your card on a weekly basis. They only accept Visa (credit or debit) or Mastercard for the payment plan.
NB: Booking fees will be charged with your initial transaction.
THE ISLE OF WIGHT YOUTH TRUST CHARITY DONATION
*This year we are adding on a £1 charity donation onto all Bestival tickets. The money raised will go directly to the Isle Of Wight Youth Trust (Reg Charity no. 1087163) to help fund their fantastic work offering counselling and support to young people aged 25 and under on the Isle of Wight. The Bestival Foundation is also a proud supporter of the Youth Trust.