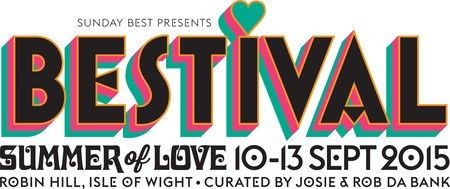 Bestival announces Films in the Forest Line-up
We're delighted to announce that Films in the Forest, Bestival's late night cinema affair, returns to the Amphitheatre, welcoming with open arms and a warm celluloid hug those wandering souls who stumble across their cinematic wares deep in the Ambient Forest. Celebrating 'Bestival's Summer of Love', programmers from Jersey's Branchage Film Festival and London Short Film Festival have artfully selected nightly double bills under the banner of 'Peace, Love & Harmonies'.

Upping the motion picture magic through the weekend, London Short Film Festival-selected short films will play each night in between the main features, and we'll also have live pre-screening music from Brightonian folk troubadour Ben Parker, as well as plenty of cinema snacks and a bar for good measure!
Rob da Bank says: "Even though we've been doing it for years, I'm still totally amazed by how fantastic it is to wander into the Ambient Forest and chance upon a brilliant little cinema showing loads of ace films. This year our Films in the Forest crew have done us proud, showcasing our Summer of Love theme in all its splendour, especially with the inspirational Woodstock, and the scintillating Searching for Sugarman. So throw on your finest fancy dress and get down with us at the pictures".
Films in the Forest kicks off on Friday with a double bill celebrating peace, tolerance and political activism, featuring a look at the granddaddy of all music festivals, Woodstock, and the extraordinary story of how two wholly different communities come together for a common cause in Pride.
Got a hot date at Bestival? You could do worse than head off on a romantic adventure into the woods on Saturday, for an evening of odd couples and kooky love affairs, as we celebrate Love. Kicking off with Steven Soderbergh's exploration of flamboyant star of stage and television, Liberace's secretive five-year love affair with Scott Thorson in Behind the Candelabra, the evening climaxes with mind-bending science fiction comedy-drama Eternal Sunshine of the Spotless Mind.
Films in the Forest concludes on Sunday with an evening of two contemporary classics, both of which will strike a chord with the music lover in all of you! The award-winning Searching for Sugarman is a must-see, charting the extraordinary and inspirational story of mysterious 70s musician Rodriguez. And Stephen Frears' movie adaptation of Nick Hornby's best-selling novel, High Fidelity brings this year's Films in the Forest sessions to a triumphant close.
BESTIVAL TICKET LINKS & INFORMATION:
www.ticketline.co.uk/bestival-tickets / 0844 888 4410
Adult Ticket £195.00
Student Ticket £185.00
Teen (13-17) Ticket £130.00
Child (12 & under) Ticket Free (BUT you MUST obtain a ticket)
Campervan Ticket £92.50
Adult Wild Copse Ticket £325.00
Teen Wild Copse Ticket £165.00
Caravan £105.00 Car Park £15.00
All Tickets: – will incur a booking fee. – incur a £1 donation to the Isle Of Wight Youth Trust*.
There are no Day Tickets.