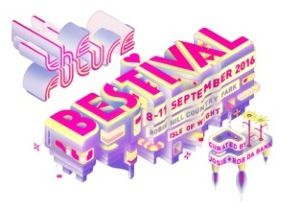 Bestival Announces Final Headliners
Busting out from the houses of joy, our mighty main stage is going to take a spanking as we turn up the levels on a Future soundclash that will bring Bestival 2016 to a jubilant close. Announcing not one but two Sunday night headliners, hip-hop will meet dancehall for a mind-blowingly triumphant booty shaking party in the ultimate Sunday night head to head on the Isle of Wight.
Rob da Bank says: "We love a big finale at Bestival, we also love hip-hop and dancehall and a massive soundsystem superclash between Wiz Khalifa and Sean Paul seems like a solid plan to close off another big weekend of music of raving, partying and expanding your minds at Bestival. Pull up!"
Commenting on his Sunday night headline performance Wiz Khalifa said: "Can't wait to be back in the UK and perform at Bestival. The fans here have such good energy, it's going to be lit."
Looking forward to his headline appearance, Sean Paul said: "I can't wait to play at Bestival… I've heard the grand finale on the Sunday night is the best festival spot in the UK and I'm gonna bring the fyyyaahhh"
Yes! In a UK festival exclusive, we have not just one but two Billboard Hot 100 chart toppers – hip-hop superstar Wiz Khalifa and dancehall legend Sean Paul – who will be the twin big things at the greatest party the Future has ever seen. Kicking off with Sean Paul, who will be taking it uptown with sweet beats and all the bass, you can expect to be dutty wining all the time as we transcend the normal and head into the unknown. Famed for getting the dance bouncing with tracks like Get Busy, Temperature and Entertainment, you know this is going to go Full Frequency… but that's just part one.
Once the dancehall behaviour has lit the blue touch paper on our most epic of finales, we get the hip-hop as Wiz Khalifa takes to the stage to drop the dopest flow. Pittsburgh's finest rhymer, Wiz came to worldwide attention for his track Black and Yellow, and keeps on smashing them out of the park, with Work Hard Play Hard (something the Bestival crew are well versed in), See You Again and We Dem Boyz cementing his place as one of hip-hop's MVPs and one of our favourite ever MCs. Guaranteed to take the party into the stratosphere, if that's not a sure fire knock out one-two, we don't know what is.
But you know us, we don't know when to stop! Capping what will be one of our most incredible Sunday nights ever, the man like da Bank, Tayo and more will take to the stage for Purple Rave a truly spellbinding audio-visual tribute to Prince. A huge and enduring influence on everyone in the Bestival family, Prince was unquestionably up there with the greatest musicians in history. So, don't you dare miss our eye-popping pyrotechnic paean showcasing hits, rarities, the odd cheeky bootleg and more, all accompanied by a coruscating firework spectacular that will be our heartfelt tribute to the one that got away.
And keeping the good news flowing we have got even more future sailors joining the Bestival bill, who we predict will be making jubilant appearances across the weekend, including Oxford quartet Glass Animals, and fast, mesmeric masters Crystal Fighters.
Giving you the Future of festivals now, don't miss out on our Robin Hill adventures. Keep an eye out for the omens: www.Bestival.net, Facebook, Twitter, Instagram / Tumblr
#Bestival16
BESTIVAL TICKET LINKS & INFORMATION:
www.ticketline.co.uk/bestival-tickets, 0844 888 4410