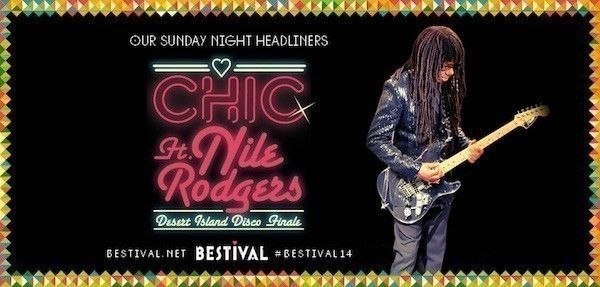 Bestival reveal Sunday Night Headliners
Following his important intergalactic funk mission showing those Daft Punk Robots exactly how to party, our fabled dancefloor-filling hero returns to earthly realms. Picking up three Grammys and a BRIT on his way, he wipes the space dust from his trademark white suit, picks up his legendary six-string hit-maker, and descends majestically to the Isle of Wight. The call goes out from the Bestival crew, the King of Funk has arrived, Nile Rodgers is here and the Desert Island Disco is GO!

Rob da Bank says: "Ever since I first booked Chic and Nile for Bestival a few years back they have hands down been the best live band we've ever had at Bestival and Camp Bestival. And once people start realising how many hits Nile has written and produced for artists ranging from Madonna and David Bowie through to Daft Punk's Get Lucky you realise this is just one huge disco jukebox that is gonna keep firing out the hits all night! I'm over the moon that Nile and the crew are going to wrap up our Desert Island Disco Finale with a damn funky, glittery bang. Everybody Dance!"
We're chomping at the bit to get on our Desert Island dancefloor as super producer and the world's coolest man, Nile Rodgers is bringing the ultimate cosmic party band, Chic Featuring Nile Rodgers back to Robin Hill, this time as glorious Sunday night headliners!
Speaking about his headline set Nile Rodgers said: "I'm so excited to be back at Bestival, this time in the prestigious Sunday night headliner slot following legends Stevie Wonder and Elton John. Expect an extra special Desert Island Disco set from myself and Chic! Looking forward to seeing you all in September"
The undisputed heavyweight King of Disco and hailed "a legend" by none other than Pharrell following their crowd-slaying collaboration at the BRITs, Mr Nile Rodgers is the world's most in-demand producer right now, racking up studio time with the likes of Chase & Status, Felix da Housecat, Disclosure, David Guetta, Tensnake, and Avicii. Additionally, Nile is also the man behind the biggest career hits from David Bowie, Dianna Ross, Duran Duran, and Madonna, to name but a few. In recent years at Bestival, we've seen Nile and his Chic organisation re-emerge as a globally respected and truly mighty musical force and can't wait to see them bringing the house down like only they can, headlining Sunday evening.
Following a precedent set by Fatboy Slim aboard HMS Bestival last year, Chic will be performing a spectacular and specially themed show, a Desert Island Disco Finale, exclusive to Bestival. With an awe-inspiring litany of pop music's greatest hits from "Le Freak (Aw Freak Out)" and "Good Times" to "Let's Dance" and "Like A Virgin", it will be a jaw-dropping, eye-popping, firework-fuelled disco inferno to end times. Sunday night at Bestival will be an epic, booty shaking twerkathon of disco bliss and the stuff of legends, and we know you don't want to miss that!

With our Port line-up featuring tons of incredible DJs plus lots more bands, performances, magic, mayhem and more still to announce, keep on clicking www.bestival.net and our Facebook and Twitter for all the latest Desert Island Disco behaviour.
BESTIVAL TICKET LINKS & INFORMATION:
www.ticketline.co.uk/bestival-tickets / 0844 888 4410
Adult Ticket with entry from Thursday 4th September – £195
Student Ticket with entry from Thursday 4th September – £180
(For full-time students only. Valid NUS or ISIC ID required at the box office. No other student ID accepted)
Teen (age 13-17) Ticket with entry from Thursday 4th September – £127
Child (age 12 & under) Ticket – Free (but you must obtain a ticket)
Caravan Tickets: £101 (per vehicle) Campervan Tickets: £90 (per vehicle)
Advance Car Parking – £15
All Tickets:
– will incur a booking fee.
– there are no Day Tickets.
– incur a £1 donation to the Isle Of Wight Youth Trust*.
THE WEEKLY PAYMENT PLAN
We're pleased to say that we are once again offering a 25 week payment plan which means that an adult ticket can now be bought at a payment of £7.80 per week over 25 weekly payments.
Only available online via: www.ticketline.co.uk/bestival-tickets
Once you have signed up to the payment plan, which basically means giving your agreement by ticking the bank mandate form on Ticketline's website, Ticketline will automatically debit your card on a weekly basis. They only accept Visa (credit or debit) or Mastercard for the payment plan.
NB: Booking fees will be charged with your initial transaction.
THE ISLE OF WIGHT YOUTH TRUST CHARITY DONATION
*This year we are adding on a £1 charity donation onto all Bestival tickets. The money raised will go directly to the Isle Of Wight Youth Trust (Reg Charity no. 1087163) to help fund their fantastic work offering counselling and support to young people aged 25 and under on the Isle of Wight. The Bestival Foundation is also a proud supporter of the Youth Trust.
Travel: Book Now For Best Early Prices
Wightlink – www.wightlink.co.uk/bestival / 0871 376 1000
Red Funnel – www.redfunnel.co.uk/bestival / 0844 844 9988
Hovertravel – www.hovertravel.co.uk/bestival2014 / 01983 811000
Big Green Coach – www.biggreencoach.co.uk/bestival
www.bestival.net / facebook.com/bestivalfestival / Twitter: @bestival