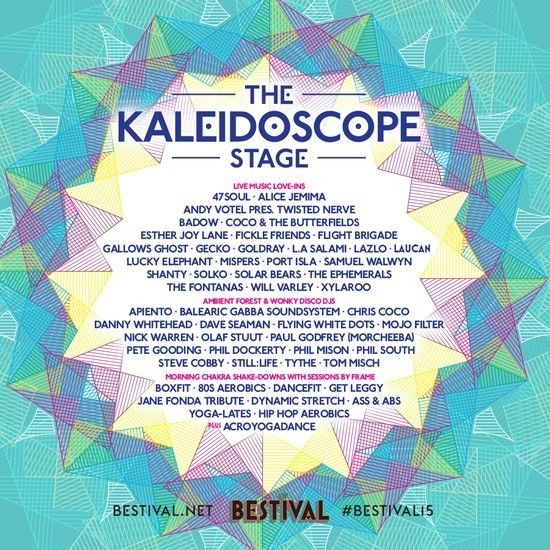 Bestival Reveals Brand New Kaleidoscope Stage
Our brand new arena, Slow Motion, is all about taking the festival experience to a whole new plane, creating a festival within a festival dedicated to connecting mind and body. As part of that trip we're super-excited about our brand new psychotropic stage attraction, The Kaleidoscope. Featuring energising morning pursuits, pastoral musical vibes by day, wonky disco joys into the night and rapturous bespoke animations to amuse the mind's eye, the Kaleidoscope stage will add a whole new dimension to Bestival's bag this 10-13 September at Robin Hill Country Park.
Summer lover Rob da Bank says: "I'm more excited about our new Slow Motion festival within a festival than I have been about a new area at Bestival for years. Add to that the fact that Mrs da Bank has invented a new, insanely cool audio-visual stage called The Kaleidoscope, and I'm ready to pop… The Kaleidoscope will be populated by a mix of the best ambient, electronica and chill-out DJs known to man, offset by folk, soul, psychedelia and new wave electronic rhythms. Prepare to get horizontal and vertical all at the same time…"

Brimful of prismatic pleasures, by day the Kaleidoscope will be the place to catch synesthesic sounds from right across the musical spectrum, including sets from 47Soul, Alice Jemima, Andy Votel presents Twisted Nerve, Badow, CoCo and the Butterfields, Esther Joy Lane, Fickle Friends, Flight Brigade, Gallows Ghost, Gecko, Goldray, L.A Salami, Lazlo, Laucan, Lucky Elephant, Mispers, Port Isla, Samuel Walwyn, Shanty, Solko, Solar Bears, The Ephemerals, The Fontanas, Will Varley and Xylaroo.
When night falls, it's woozy does it, by way of the Ambient Forest, as our consciousness-expanding circle of selectors take charge of the ones and twos at Wonky Disco time. Geared up to induce epic mind excursions, bathed in psyche-twisting light projections, our vibrantly vivid visions will be soundtracked with polychromatic inspiration from Apiento, Balearic Gabba Soundsystem, Chris Coco, Danny Whitehead, Dave Seaman, Flying White Dots, Mojo Filter, Nick Warren, Olaf Stuut, Paul Godfrey (Morcheeba), Pete Gooding, Phil Dockerty, Phil Mison, Phil South, Steve Cobby, Still:Life, Thythe and Tom Misch.
And for the truly enlightened Bestivalites, the Kaleidoscope stage will host morning gatherings to warm up your senses and get that all-important chakra shake down with sessions by Frame, including Boxfit, 80s Aerobics, Dancefit, a Jane Fonda Tribute, Dynamic Stretch, Ass & Abs, Get Leggy, Yoga-Lates and Hip-Hop Aerobics, plus the wonderful AcroYogaDance.
A varicoloured world of joy at the heart of Slow Motion, the Kaleidoscope is a mesmerising delight not to be missed.
BESTIVAL TICKET LINKS & INFORMATION:
www.ticketline.co.uk/bestival-tickets / 0844 888 4410
Adult Ticket £195.00
Student Ticket £185.00
Teen (13-17) Ticket £130.00
Child (12 & under) Ticket Free (BUT you MUST obtain a ticket)
Campervan Ticket £92.50
Adult Wild Copse Ticket £325.00
Teen Wild Copse Ticket £165.00
Caravan £105.00 Car Park £15.00
All Tickets: – will incur a booking fee. – incur a £1 donation to the Isle Of Wight Youth Trust*.
There are no Day Tickets.
Lucky Cat Hospitality Packages are also available.
THE WEEKLY PAYMENT PLAN
We're pleased to say that we are offering a 10-week payment plan that allows you to buy an adult ticket for an initial deposit of £25 (plus booking fees) followed by a payment of just over £19 per week over the next 19 weeks.
Only available online via: www.ticketline.co.uk/bestival-tickets
Once you have signed up to the payment plan, Ticketline will automatically debit your card on a weekly basis. They only accept Visa (credit or debit) or Mastercard for the payment plan.
NB: Booking fees will be charged with your initial transaction.
THE ISLE OF WIGHT YOUTH TRUST CHARITY DONATION
*This year we are adding on a £1 charity donation onto all Bestival tickets. The money raised will go directly to the Isle Of Wight Youth Trust (Reg Charity no. 1087163) to help fund their fantastic work offering counselling and support to young people aged 25 and under on the Isle of Wight. The Bestival Foundation is also a proud supporter of the Youth Trust.