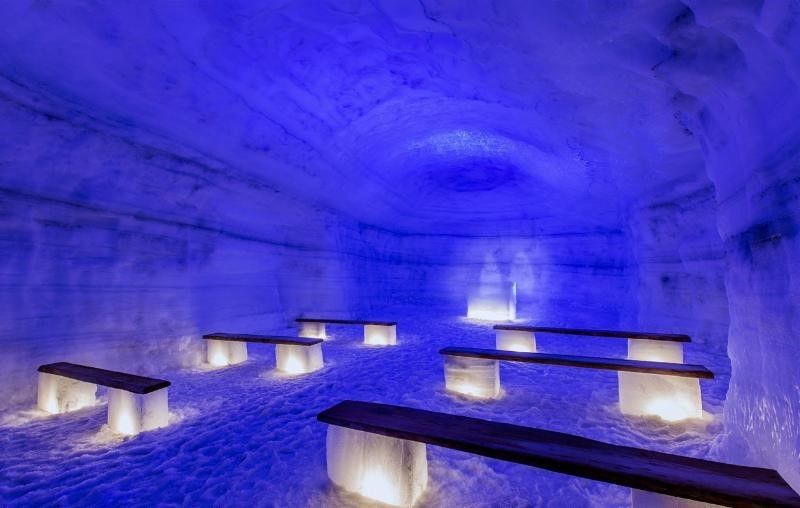 Iceland's Secret Solstice festival to host party within glacier
Been looking for the ultimate holiday experience that combines your love of adventure with world-class music? Simply nothing can top the world's first party within a glacial cave system in Iceland as an extension of the Secret Solstice festival.

Well, that's exactly what 2015's Secret Solstice festival is promising to deliver for only 70 lucky people when they host "Icerave" this summer.

Leaving Reykjavík on Saturday evening, the 20th of June 2015, guests will travel from Iceland's capital city by coach into the wilderness at the stroke of midnight. Once arriving at Langjökull – Europe's second-largest glacier – the remainder of the journey to the entrance to "Icerave" will be taken in ice explorer vehicles, modified from their previous roles of transporting rocket equipment for NASA.
Guests will then be some of the first people on Earth to descend into a man-made cave system beneath ice up to 580m thick, taken on a 45-minute guided tour of the cave system, before ending with private DJ sets by world-class electronic artists Totally Enormous Extinct Dinosaurs and Artwork, within one of the glacier's caverns.

According to Secret Solstice festival director Fred Olafsson, attendees will become a part of history, as this will mark the first ever musical performance being held within a glacier.

For seventy people, partying in a half kilometre long tunnel under the ice is truly going to be the experience of a lifetime," said Olafsson. "It almost doesn't feel real to be putting on such a unique event, literally inside a glacier.
Ensuring everyone parties responsibility and it's a safe experience for all involved, a two-drink maximum has been implemented, while the whole event's security and tour will be handled by the professional crew that runs the cave.

70 tickets only are on sale from today for 29,900kr (approximately £145/$225/€203), and are available as an individual event, as well as to existing Secret Solstice festival ticket holders. All transportation, food, cocktails mixed on site by Reyka Vodka, entertainment, as well as a once-in-a-lifetime memory are all included in the ticket price.

Tickets can be purchased here: https://www.tix.is/en/event/749/icerave/

As if the second midnight sun music festival couldn't get any better, we're psyched to announce the final Secret Solstice lineup additions for our 2015 event, with 26 names being added to our already epic roster.

Hercules & Love Affair, MTV's Jackass star Brandon "Bam" Margera's band Earth Rocker, rising UK hip-hop star Stormzy, producer Serge Devant, German electronic duo Wonkers, and many others. This takes the Secret Solstice 2015 lineup to well over 100 names, added to our massive list of acts including Wu-Tang Clan, FKA twigs, Kelis, The Wailers, Charles Bradley, Flight Facilities, and so many more.

The full list of new additions can be found below. But remember, 2015 festival passes are now selling faster than ever, VIP tickets are flying out the door, and our ultra-exlusive Óðinn festival passes are likely to all sell out before the event:

Here are our latest names:

Bam Margera's Earth Rocker
Hercules & Love Affair
Serge Devant
Shaman Shawarma
Sinistarr
Orange Volante
Hidden People
Poor Richard
Lára Rúnars
Stormzy
Sesar A
Cheddy Carter
Reykjavíkurdætur
Berndsen
Sturla Atlas
Jakobsson
RVK DNB
Steindór Jónsson
Skeng
Ledfoot
Dikta
Kiat
Wonkers
Mælginn
Margeir
Panda
Skúli Mennski

These join the following artists already confirmed to play the festival:

Wu-Tang Clan
FKA Twigs
Kelis
Tale Of Us
Skream
Hjálmar
Totally Enormous Extinct Dinosaurs (DJ)
Nick Curly
Moodymann
Gusgus
Route 94
Erol Alkan
Kink (Live)
Zero 7 (DJ)
Submotion Orchestra
Fm Belfast
Daniel Avery
Detroit Swindle
Samaris
Droog
Leon Vynehall
Artwork
Anushka
Klose One
Ghost Culture
Rob Shields
Kamera
Agzilla
Borg
Hermigervill
Simon Fknhndsm
Lagaffe Tales
Introbeats
Ksf
Moff & Tarkin
Sexy Lazer
Viktor Birgiss
Guti (Live)
Agent Fresco
Alabama 3
Rüfüs
Thugfucker
Mind Against
Gísli Pálmi
Úlfur Úlfur
Javi Bora
Helgi Björnsson
Júníus Meyvant
Emmsjé Gauti
Bent
Arkir
Egill Tiny
Mella Dee
Benni B-Ruff & Friends
Benny Crespo's Gang
Yamaho
Tetris Takeover
Bones
Halleluwah
7 Berg
Máni Orrason
Macro/Micro
Stereo Hypnosis
Kristian Kjøller
Geimfarar
Shades Of Reykjavík
Þriðja Hæðin
Mushy
Sexy Lazer
Axel Flóvent
Beatmachinearon
Gkr
Frímann
Alex Session
Luca Pilato
Hr. Hnetusmjör
Jóhannes Lafontaine
Marteinn
Proxy 2.0

Check the following link for 2015 festival passes, VIP tickets and the ultra-exlusive Óðinn festival passes here: http://secretsolstice.is/#!/tickets

WEB: http://secretsolstice.is/
FB: http://fb.com/SecretSolstice
TW: http://twitter.com/secret_solstice
IG: http://instagram.com/secretsolstice
YT: http://youtube.com/SecretSolsticeHQ