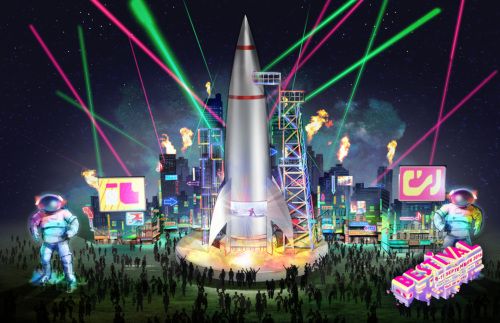 Bestival – The Spaceport – New Stage and Headliners Announced
The Port is dead. Long live The Spaceport!
HMS Bestival has vanished in mysterious circumstances. Investigations are underway, but as the enigma deepens and the conspiracy theories grow, the ship's fate remains unclear. As the future unfolds, and human horizons expand beyond the planet, The Port, devoid of its antiquated maritime attraction, will evolve into a new kind of universal berth. A colossal cosmodrome. The Spaceport.
Rob da Bank says: "Be under no illusions my futuristic friends… This stage is going to blow your mind and take you interstellar like no other stage before… This is The Future of the dance. HMS Bestival, our trusty old ship, has sunk or otherwise been sucked down a Bermuda Triangle shaped whirlpool, and thus we are reinventing Robin Hill's sacred rave space once more with a spaceship the likes Planet Earth has never witnessed.
"A veritable space oddity standing seven storeys high The Spaceport will beam out music day and night, lit by lasers with giant astronauts floating across the sky. Prepare for take-off, take your protein pills and put your helmet on. See you at The Spaceport in t-minus 196 days and counting…"
Featuring a vast rocket standing more than 20 metres high at its centre, The Spaceport is a laser-loaded mega-structure featuring a truly state of the art db audio array processing sound system, guaranteed to smash out epic low-end, with lighting design from Lite Alt Design's world renowned Paul Normandale, whose previous credits include the Chemical Brothers, Coldplay and the Tate Modern Turbine Hall. The Spaceport is a unique step in the advancement of sound and vision, where next-level partying isn't just an ambition, it's a promise.
As well as a main stage date with Major Lazer, the mighty Diplo will also be making a separate appearance headlining our brand new stage. A true innovator and originator, when Diplo first brought his Mad Decent Soundsystem to rip up Bestival 2009 the night was truly legendary, so expect more of the same and a lot more besides.
Rave pioneer, three-deck wizard, label don and über producer, Carl Cox is lined up for some very special headline excursions at The Spaceport. A mainstay of contemporary dance culture over the last three decades, we're super-excited that he'll be joining our futurescape playing an unmissable, career-spanning House Classics set.
He's headlined the main stage (twice), he's played Bollywood, the Big Top, and even a sneaky set or two in the hidden disco, so when we asked our great friend and serial rave god Fatboy Slim back this year, there was only ever one place we wanted him to play; on our epic new stage, The Spaceport!
The Spaceport's full line-up will be announced very soon, plus we have one more main stage headliner, and more music, madness and mayhem to unveil. The future really is here. Join us.
Future Information Services: www.Bestival.net, Facebook, Twitter, Instagram / Tumblr