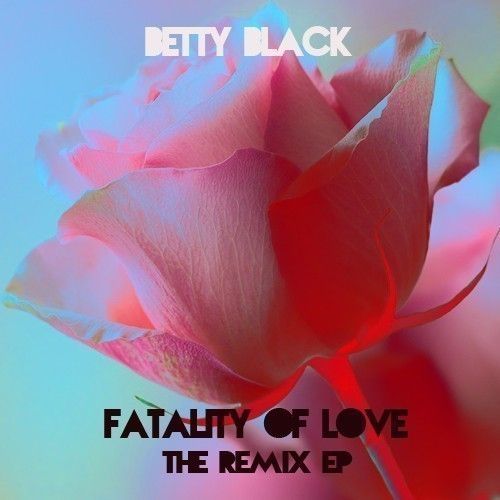 Betty Black – Fatality of Love Remix EP
Sylvia Black aka Betty Black is a sonic rebel with an indomitable spirit and a fearless approach to music. The dynamic multi-instrumentalist marries disparate elements like swampy garage rock, dusty Southern gothic blues, spaghetti westerns, lush electronic landscapes and gripping barbed-wire tales about love, relationships, lust and longing into an intoxicating cocktail that is as inviting as it is threatening.

Over the past six years, she has gained international acclaim as the lead vocalist for New York-based dark electronic pop outfit KUDU, and for her successful co-writes and collaborations with Black Eyed Peas, Moby, William Orbit, Kelis, The Noisettes, Spank Rock, Benny Benassi, The Knocks and, most recently, RUN DMT and Télépopmusik, which have amassed sales over 5 million copies worldwide.

With her new single, "Fatality of Love", Black casts a suggestively melancholic vocal with heartbroken girl-group harmonies alongside a slinky carnal rhythm and washes of guitar as she rejects a lover before they betray her. The Remix EP features mixes by avant-garde drummer/artist and former KUDU band mate Deantoni Parks (who has also worked with Mars Volta, John Cale, Me'shell Ndgeocello and Kimbra), New York-based producer/percussionist Aram who puts a dancehall-inflected electro spin on the song and French producer/composer Pino Rastovitch whose quixotic downtempo rework recalls AIR and Goldfrapp, as well as, the new track "Possessed".

"Fatality of Love" is the latest offering from Betty Black's darkly seductive album Bad Weather, which includes "Killing Time", the gritty and anthemic title track and the slow-burning "Am I Not Your Girl?". The set, which was composed, arranged and produced by Sylvia along with co-producer/engineer Rudyard Lee Cullers (Yeah Yeah Yeahs/ Basement Jaxx/ Bright Eyes) and Jamin Gilbert, is out now on KID Recordings.

Fatality of Love (Remix EP) will be released digitally November 26 on KID Recordings.
bettyblack.net/
www.facebook.com/BettyLeeBlack
www.twitter.com/BettyLeeBlack
www.soundcloud.com/sylvia-black
www.instagram.com/sylvia_sees
www.kidoutsider.com
www.facebook.com/pages/Kid-Recordings/166318823414428
www.soundcloud.com/outsider-music