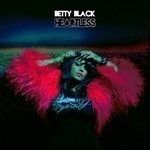 Betty Black – Heartless
Betty Black returns with "Heartless", the tantalizing second single lifted from her forthcoming album 'Valley Low' (due early 2015).Drawing inspiration from dark alt-pop icons such as Sisters of Mercy, Siouxsie and the Banshees and PJ Harvey, the bass-playing "southern Gothic chanteuse" delivers an incendiary and ominously sexy rock 'n' roller that's equally brash, unrepentant and forlorn. It's coupled with the B-side "I Want A New Drug", where Black cleverly recasts Huey Lewis & the News' saccharin 1983 hit into an intoxicating debauched comedown. The release follows the dynamic singer/songwriter, producer and musician's string of acclaimed singles, remixes and EPs including the fiery anthem "Come Back Lover", the sultry "Fatality of Love", "Bad Weather", "Am I Not Your Girl?" and the Bad Weather and Slow Dance EPs.

Betty Black is the brainchild and alter-ego of professed musical chameleon Sylvia Black (aka Sylvia Gordon), who has garnered a formidable body of work; serving as the lead vocalist for cult-fave Brooklyn electronic dance-pop trio KUDU, and for her successful co-writes/collaborations with Black Eyed Peas ("Meet Me Halfway", "The B.O.Y."), Moby ("Last Night"), Télépopmusik ("Fever", "Try Me Anyway"), The Noisettes ("Winner"), Chris Brown, Kelis, Spank Rock, Benny Benassi, William Orbit, The Knocks and RUN DMT, amassing sales over 5 million worldwide.