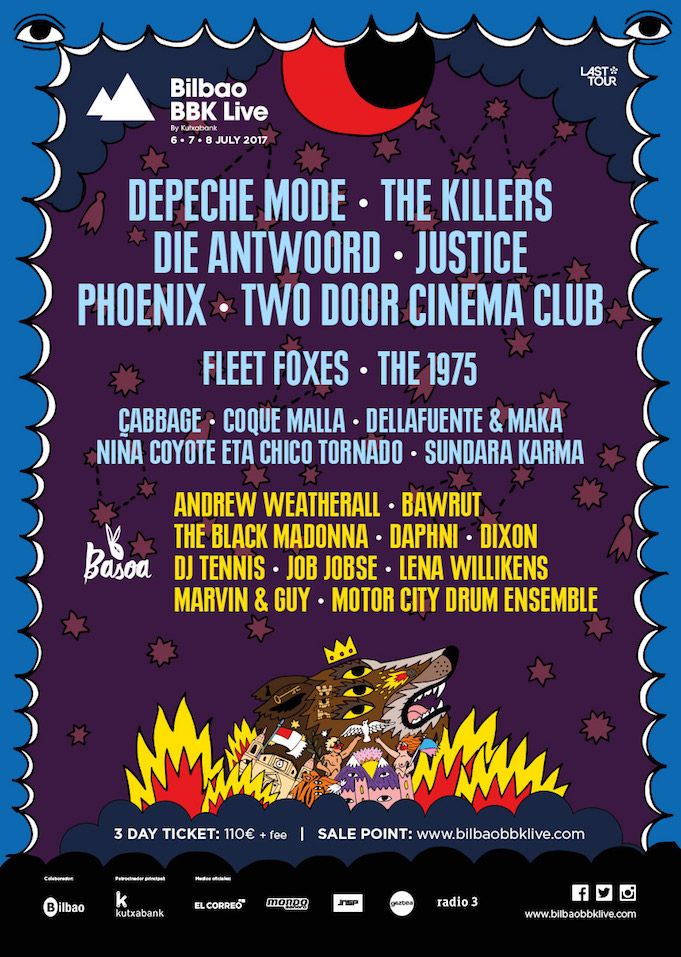 Bilbao BBK Live 2017 adds more acts….


Bilbao BBK Live reveals the second wave of artists set to perform in 2017. Justice, The 1975, Dixon, The Black Madonna, Sundara Karma, Job Jobse, MCDE and more will join previously announced acts including Depeche Mode, The Killers, Fleet Foxes, Phoenix, Andrew Weatherall, Daphni and DJ Tennis at the festival's twelfth edition, which takes place from 6-8 July 2017 atop the Kobetamendi Hill in the the heart of the Basque Country.
Justice made a triumphant return to the scene in 2016 with the release of their first song in five years, "Safe and Sound" and subsequent full-length, Woman. The enigmatic French duo who shot to fame in 2007 with acclaimed debut, †, and hits like "D.A.N.C.E." are guaranteed to deliver an exhilarating, dance-fuelled performance.
Next up, bringing a wealth of sharp-edged pop from their platinum-selling debut and 2016 follow up I Like It When You Sleep, For You Are So Beautiful Yet So Unaware Of It, is The 1975. The atmospheric Kobetamendi Hill will play host to another captivating live show from the British 4-piece.
The line-up for Basoa, Bilbao BBK Live's carefully curated dance music space also grows, with a wealth of new additions, including Dixon, co-founder of the formidable Innervisions label. The German producer's distinctive sound and unwavering popularity has just seen him take the #1 spot in the Resident Advisor DJ Poll for the fourth year in a row. Also confirmed for Basoa is Chicago's The Black Madonna, whose atmospheric rise in recent years is testament to her dexterous turntable and selector skills, Dutch DJ and former Trouw resident Job Jobse, revered producer Motor City Drum Ensemble, Bawrut and Lena Willikens.
Completing today's new additions are UK indie-rockers Sundara Karma, Manchester based five-piece Cabbage and a trio of Spanish talent, Coque Malla, Dellafuente & Maka and Niña Coyote eta Chico Tornado.
With acts including Depeche Mode, The Killers, Phoenix, Two Door Cinema Club, Die Antwoord, Fleet Foxes, Andrew Weatherall, Daphni and DJ Tennis already confirmed and many more still to be announced, Bilbao BBK Live 2017 is shaping up to be the biggest edition to date. Book now at bilbaobbklive.com.



LINEUP
DEPECHE MODE – THE KILLERS
PHOENIX
TWO DOOR CINEMA CLUB
DIE ANTWOORD – FLEET FOXES
JUSTICE – THE 1975
ANDREW WEATHERALL – BAWRUT – THE BLACK MADONNA – DAPHNI – DIXON – DJ TENNIS – JOB JOBSE – LENA WILLIKENS – MARVIN & GUY – MOTOR CITY DRUM ENSEMBLE
CABBAGE – COQUE MALLA – DELLAFUENTE
NIÑA COYOTE ETA CHICO TORNADO – SUNDARA KARMA
TICKETS
General Admission 3-Day Ticket from 96€ + BF
Book now at www.bilbaobbklive.com
CONNECT
Website www.bilbaobbklive.com
Facebook www.facebook.com/bilbaobbklive
Twitter www.twitter.com/bilbaobbklive
Spotify www.spotify.com/user/bilbaobbklive
Instagram www.instagram.com/bilbaobbklive