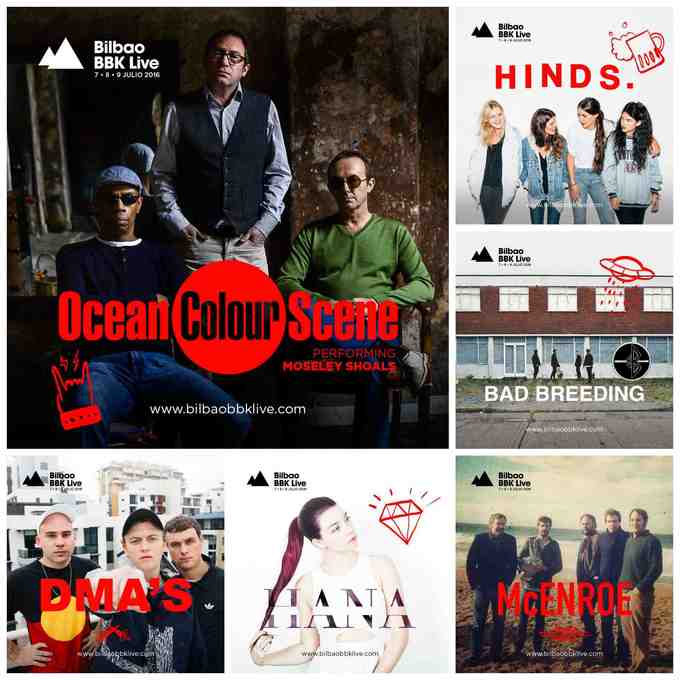 Bilbao BBK Live adds Ocean Colour Scene, Hinds & more.
Bilbao BBK Live are excited to announce britpop icons Ocean Colour Scene will play an exclusive show in Spain at this year's festival. Also joining the lineup are Spanish indie gang Hinds, Australian Trio DMA's, noisy punk's Bad Breeding, Hana and McEnroe. They join an already jam-packed lineup which includes Arcade Fire, Pixies, Foals, Underworld, 2Manydjs, Grimes, Years & Years, Tame Impala, Father John Misty and Wolf Alice.
One of Brit Pop's earliest and most popular bands, Ocean Colour Scene, are set to visit Kobetamendi with an exclusive festival performance and their only date scheduled in Spain. The legendary band will perform their second studio album 'Moseley Shoals' (1992) which sold over a million copies and led to the band's international success from start to finish to an eagerly awaiting crowd at Bilbao BBK Live this summer!
Since bursting on to the Madrid DIY scene, Hinds have polished the raw and rowdy sound that marks their unique and personal brand. The indie quartet quickly caught the attention of international audiences having released only a couple of singles. Now, having recently released their highly anticipated debut album 'Leave me Alone' the girl gang are certainly one of today's most promising talents and are not to be missed at this years festival! Having just released their debut LP 'Hills End', the 90's brit pop obsessed DMA's have quickly gone from home-recorded demos to selling out shows in Australia and touring the world. Influenced by the likes of Oasis and Happy Mondays this Aussie revivalists trio are a welcome addition to the lineup for 2016.
Hailing from the council estates of Stevenage, Bad Breeding have gained a reputation for their noisy, explicit punk sounds and their incendiary live shows. The British punk quartet have been described by The Guardian as one of "the best new punk bands in Britain" expressing themselves and what they stand for through the music they play. Their explosive, gritty live show will certainly be one to remember on their first visit to Bilbao BBK Live.
Hana is Lorde, Lana del Rey and Grimes' musical obsession. So much so, she has already shared tours with the last two. Melancholic and delicate, Hana will visit Bilbao BBK Live to present her self-titled EP, released last march. Raised in Getxo, Spain and considered one of the best indie bands in the Spanish music scene, McEnroe will return to Kobetamendi with their poetic, heartfelt latest album, 'Rugen las flores' (2015).
Heineken® will collaborate with Bilbao BBK Live for yet another year. Reaffirming the brand's commitment with live music and as an example of events that set trends.
Bilbao BBK Live boasts the perfect festival location combined with an unparalleled musical lineup including Arcade Fire, Pixies, Foals, Tame Impala, New Order, Underworld, Editors, Grimes, M83, Years & Years, 2manydjs, Father John Misty, Wolf Alice and many more for what promises to be the festival's best and biggest yet. Tickets, priced at £93.00 + bf are available now at www.bilbaobbklive.com.
Thursday 7
Arcade Fire / New Order / M83 / Chvrches / Hot Chip / Years & Years / Blood Red Shoes / Hola A Todo El Mundo / Hidrogenesse / Hinds / Little Scream / DMA'S / Rural Zombies / Begiz Begi
Basoa: Four Tet / Floating Points / Joe Goddard (Hot Chip) / Horse Meat Disco (Severino & Jim Stanton) / Abu Sou
Friday 8
Pixies / Underworld / Grimes / Love of Lesbian / Ocean Colour Scene / Jose Gonzalez / Junior Boys / Slaves / Belako / Nudozurdo / WAS / C. Tangana / Blossoms / Hana / Inheaven / Green Class
Basoa: Erol Alkan / Tim Sweeney / Fort Romeau / Jeremy Greenspan & Borys / Undo
Saturday 9
Foals / Tame Impala / Editors / Father John Misty / Soulwax / 2manydjs dj set / Courtney Barnett / Wolf Alice / Jagwar Ma / Triangulo De Amor Bizarro / Leon Benavente / McEnroe / Bad Breeding / Yellow Big Machine
Basoa: me / Red Axes / Agents of Time live / Pional / CPI (Marc Piñol & Hugo Capablanca) / JMII
TICKETS
General Admission 3-Day Ticket from £93.00 GBP +BF
General Admission 3-Day Ticket + Camping from £100.50 GBP +BF
Book now at www.bilbaobbklive.com/en-us/tickets
Connect
Website www.bilbaobbklive.com
Facebook www.facebook.com/bilbaobbklive
Twitter www.twitter.com/bilbaobbkliveen
Spotify http://spotify.com/user/bilbaobbklive
Instagram www.instagram.com/bilbaobbklive