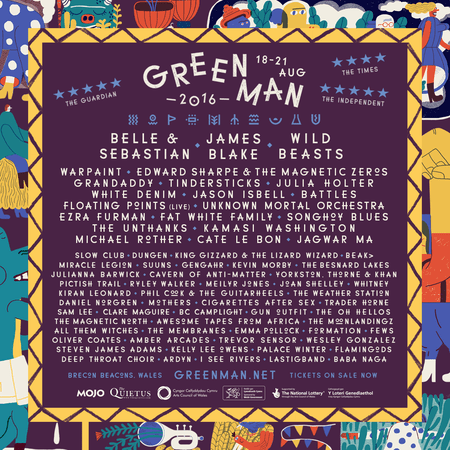 Applications for Green Man Rising 2016 are now open!
Roll up! Calling all bands and singer-songwriters: applications for Green Man Rising 2016 are now open! Our annual contest is seeking the festival headliners of the future, providing a platform for the best emerging artists to shout loudly about their music. Think you've got what it takes?
One deserving champion wins the chance to wow the Green Man crowds from our majestic Mountain Stage alongside the likes of Belle and Sebastian, James Blake and Warpaint. Pretty cool.
Rising is completely FREE to enter – all the details are online here: http://found.ee/0vyTQ
Here's how it works: a panel of prestigious tastemakers, blogs and influencers all listen through the long-list. These guys know their stuff, and if you're good enough, they'll pick you as one of our 20 semi-finalists. This year's tastemakers include CMJ Music Marathon, SXSW, Goldflake Paint, London On The Inside, Disco Naivete, Sound Reaction and Shiny Shiny New.
Each music buff will then rank their six favourites from the shortlist. The five most popular acts across everybody's choices will be invited to play our Rising Final at The Dublin Castle on the 15th of June.
At the final, bands will be heard by more of music's elite – in the past we've had reps from Domino Records, Moshi Moshi, Beggars, Bella Union, Mojo Magazine and of course Green Man!
The winner of the live contest will open Green Man's Mountain Stage Friday 19th August, while the other finalists will appear on the Green Man Rising stage.
Deadline is the 31st May, so get your act together – our music maestros can't wait to hear your stuff!
Rising is made possible because of invaluable support from Cyngor Celfyddydau Cymru | Arts Council of Wales and the PRS for Music.

About Green Man Festival: Now in its 14th year, Green Man is an independent music and arts festival held in the breathtaking surroundings of the Brecon Beacons, Wales. Confirmed to perform so far at this year's festival are Belle & Sebastian, James Blake and Wild Beasts PLUS many more. Join us to explore Green Man's ten wild lands of literature, laughs, art, yoga, mischief and music!
www.greenman.net
www.facebook.com/greenmanfestival
www.twitter.com/greenmanfest