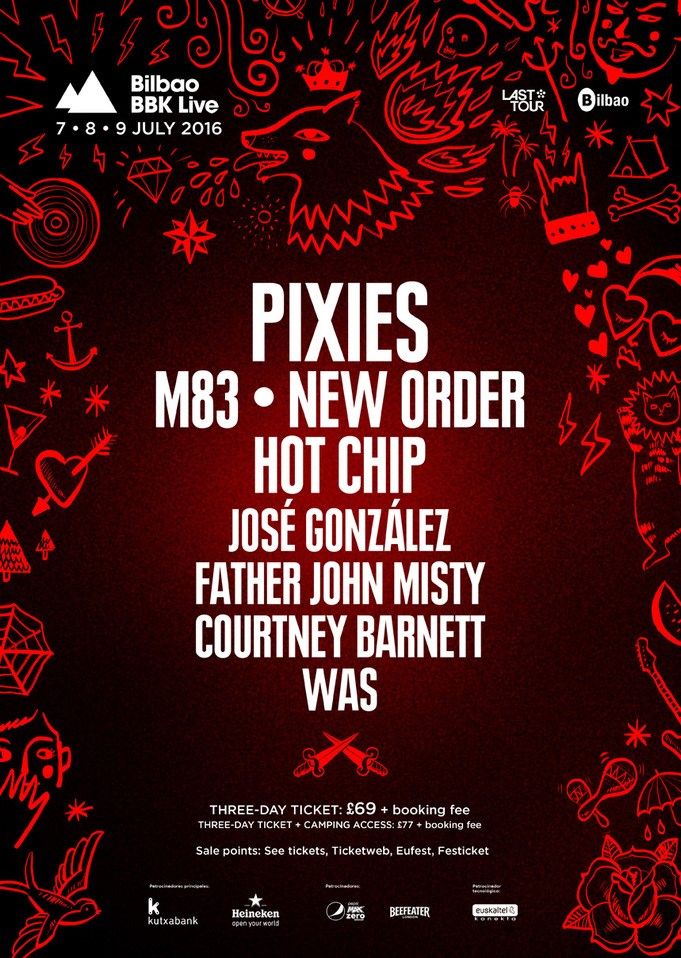 Bilbao BBK Live announces the first wave of artists for 2016
Back for it's 11th year, Bilbao BBK Live returns in 2016 to welcome 40,000 revellers to the picturesque Basque Country for a weekend of incredible music. Taking place from 7 – 9 July the festival places an amazing lineup in front of a stunning backdrop of green mountains and scenic views across the city. Today the festival proudly announces its first wave of artists for next year with Pixies, New Order, M83, Hot Chip, Jose Gonzalez, Father John Misty, Courtney Barnett and We Are Standard all set to take the stage.
With a legacy that speaks for itself, Pixies will be making a long and eagerly awaited return to the area for what promises to be one of the defining moments of the weekend. As undisputed legends of alternative American rock and with a canon of huge hits including 'Debaser', 'Where Is My Mind' and 'Here Comes Your Man' as well as last year's widely acclaimed new material, the band remain one of the most enduring and influential groups on the planet.
Fresh from the release of their new album 'Music Complete' and with a revitalised lineup of both new and old faces New Order will be bringing their signature new wave to the festival. From classic cuts like 'Blue Monday' to future classics like 'Tutti Frutti', Bernard Sumner and co are not to be missed.
Sure to soundtrack some of the dreamier moments of Bilbao BBK Live this summer are Grammy nominated synth pop band M83. As the brainchild of french electro hero Anthony Gonzalez, the group pair the huge anthemic sounds of hit single 'Midnight City' with the tender, heartbreak pop of 'Wait' to incredible effect. Making their debut at the festival, Hot Chip will be flying the flag for the UK's incredible electronic music scene. Since returning this year with new album 'Why Make Sense?' the band have gone from strength to strength and with a live show surely unrivalled within their genre they make the perfect addition to the lineup.
Swedish singer-songwriter José González' profile has never stopped rising since the release of his debut album 'Veneer'. From his breakthrough cover of The Knife's 'Heartbeats' through to this year's self produced full length 'Vestiges And Claws' he has positioned himself as one of Europe's finest talents. Former Fleet Foxes drummer Joshua Tillman's critically acclaimed second album under his Father John Misty moniker, 'I Love You Honeybear' is one of 2015's undisputed albums of the year. This summer the troubadour's incredibly personal indie-folk will undoubtedly see the cult of FJM grow even further.
Also confirmed is witty Australian rocker Courtney Barnett who over the last couple of years has turned heads with her ramshackle, heartfelt and at times hilarious songs and energetic live show. Debut album 'Sometimes I Sit And Think And Sometimes I Just Sit' is one of the landmark releases of 2015, met with widespread critical acclaim the record has earned her a Grammy nomination for Best New Artist. Closing the first wave of announcements for this year is Spanish four-piece We Are Standard who will be bringing their trademark fun indie vibes to their hometown.
With many more acts still to be announced this is set to be a huge year for Bilbao BBK Live, bringing a host of musical legends and acclaimed artists to the atmospheric Kobetamendi Hill. Tickets, priced at £69.00 + bf are available now at www.bilbaobbklive.com.
Line Up
Pixies / New Order / M83 / Hot Chip / José González
Father John Misty / Courtney Barnett / Was
+More acts TBA
Tickets
General Admission 3-Day Ticket from £69.00 GBP +BF
General Admission 3-Day Ticket + Camping from £77.00 GBP +BF
Book now at bilbaobbklive.com/en-us/tickets