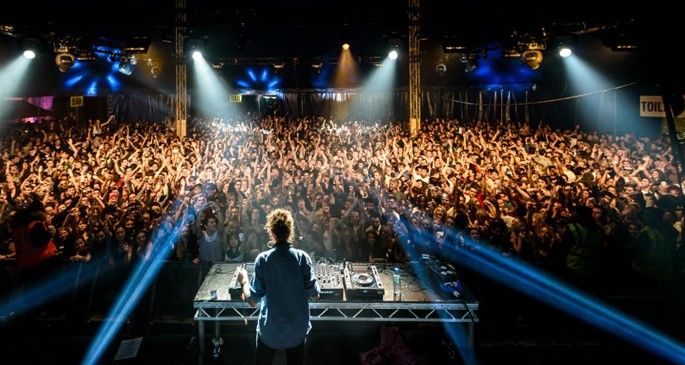 The Rainbow presents Chapter XII
Chapter XII is the Midlands' biggest inner city festival, with zero sound restrictions, a number of different, unique, industrial party spaces and only the finest names in house and techno all making it an irresistible 12 hour event from midday to midnight on Saturday 26th March. The festival is the annual birthday event of the hugely influential and ever-evolving Rainbow Venues, so it is sure to be extra special indeed.
After the vast success of last year's sold out event, this year Chapter 12 boasts two more stages in the form of The Big Top and The Textile Factory. Couple that with the Rainbow Venues' other famous spaces including the Arena, The Warehouse and the newer, more intimates space that are The Blackbox and Roof Terrace and you have a 360 degree musical experience that covers many bases in brilliant fashion. Of course, each one will have a great attention to detail when it comes to light, sound and production, so it wont fail to make a mark on all those who attend.
There will also be Chapter 12 by night for those who have the legs for it and it will see the world famous Hot Creations crew offer up an after-party featuring key acts like Patrick Topping, Infinity Ink LIVE, wAFF and Russ Yallop.
As well as that, there are countless world class acts lining up across the 12 hours and various spaces. In The Big Top, Desolat boss Loco Dice, Drumcode's Italian techno titan Joseph Capriati, live duo Pan Pot, Paradise man Jamie Jones, plus local hero Adam Shelton back to back with Lewis Oxley.
The Arena finds Cadenza head honcho Luciano playing top of the bill, and then a very special hybrid live show from SCI+TEC boss and global dance star Dubfire is also on offer, with Sasha and Nic Fanciulli also set to play back to back. Canadian tech house titan Art Department and classic house and techno man Argy, of Bedrock and BPtich Control, also plays.
The Warehouse sees the return of Maya Jane Coles, Rumors boss Guy Gerber, George Fitzgerald, and techno tastemakers Dense & Pika. The Textile Factory promises plenty of bass as Lobster Boy takeover with Redlight, Preditah, Mella Dee, NYTA, Mele and Mak & Pasteman all playing. Birmingham's favourite house and techno hotspot The Blackbox boasts sets from Trust chief Nick Curly, Drumcode techno star Alan Fitzpatrick and Fuse foudner Enzo Siragusa.
Once again, the team behind Rainbow Venues have programmed a mouth watering festival that will see them pull out all stops to ensure it is a unique musical experience.
Website – http://therainbowvenues.co.uk
Facebook – https://www.facebook.com/therainbowvenues