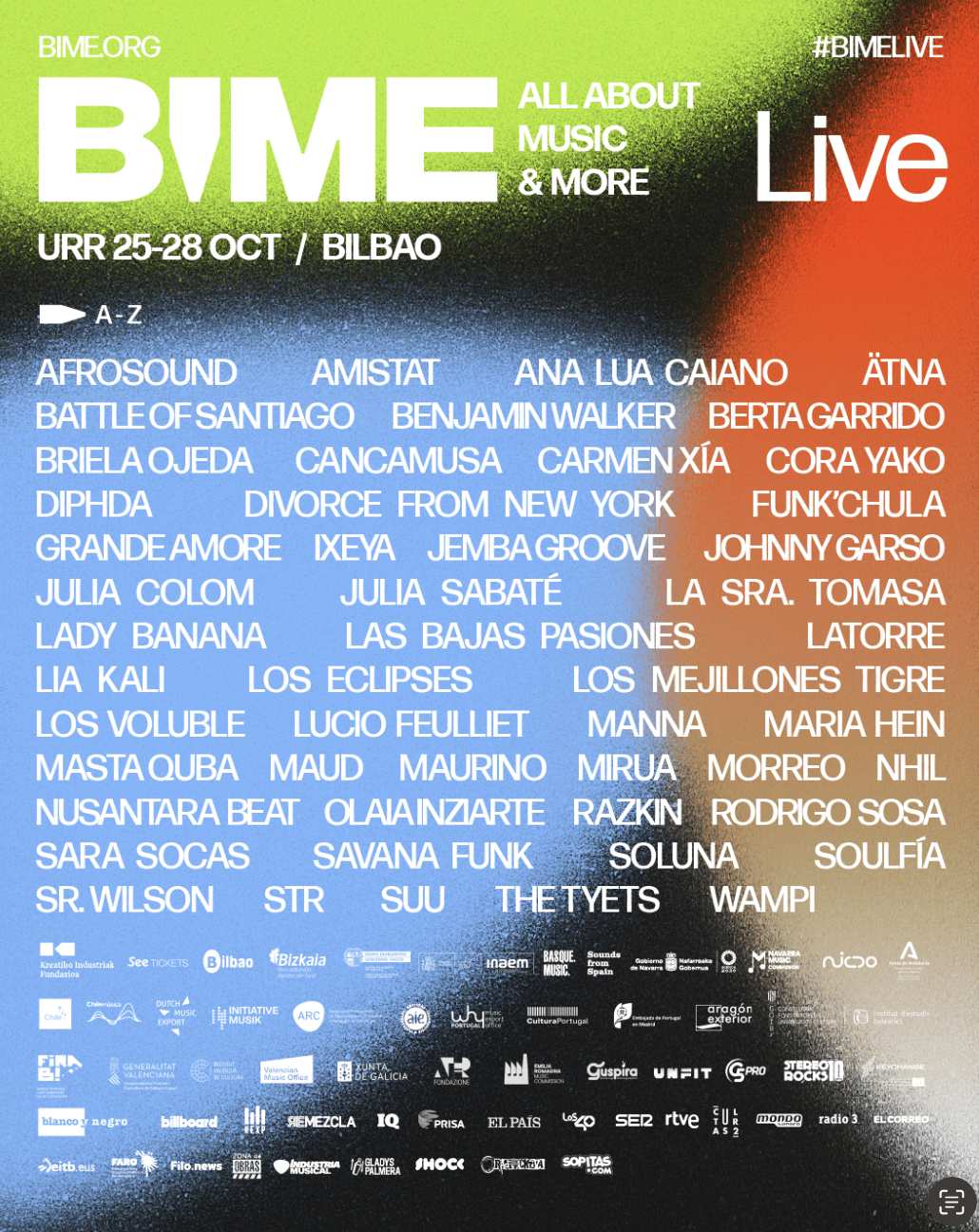 Bilbao Will Become The Music Industry's Hub
More than 250 experts and institutions will gather at BIME on October 25 to 28 to discuss AI, synchronisation, sustainability, and connections between territories. 
Gabi Bobrovizki (Head of Artist Relations @ Boiler Room)
Jen Malone (Founder of Black&White Music and Music Supervisor of Euphoria series)
Teresa Ferreiro & Libertad Suárez (a.k.a. Garrita) (Co-founders of Sister Of Rave)
Lil C (DJ, dancehall connoisseur & 1/4 of Prestige Pak)
Chiara Santoro (EMEA Brand Relations at Youtube)
Alfonso Pérez Soto (President of Emerging Markets at WARNER  MUSIC)
For four days, BIME LIVE will put on more than 50 free showcases and concerts throughout Bilbao's venues and streets. 
In-person and online tickets for BIME PRO are still available, at a reduced price for students, on the official website.
___________________________________________________________________
BIME, the international cultural and economic event is back in the Biscayan capital. Celebrating 11 editions held in Bilbao (Spain) and a successful second edition in Bogota (Colombia) in 2023. For five days the event will turn the city into the Spanish music industry's focal point welcoming professionals from Europe and America, discussing ways to strengthen both continents' cultural and creative industries.  
This year's edition is divided into two major parts: BIME PRO, a professional congress taking place at the Euskalduna Palace in Bilbao from Wednesday through Friday and featuring 100 panels with more than 250 professionals from throughout the world. BIME LIVE, the live music programming will fill Bilbao's concert halls and open-air spaces with more than 50 free showcases from Wednesday to Saturday. 
THE FUTURE OF MUSIC'S KEY TRENDS AND PROFESSIONALS
Some of the music industry's most important voices at BIME Bilbao 2023: Alfonso Pérez Soto (ES), President of Emerging Markets at WARNER  MUSIC; Chiara Santoro (IT), Director of Scale Markets and EMEA Brand Relations at Youtube; Morgan McGrath (US), Vice President of Booking in Latin America at LIVE NATION; Claudio Lillo (UK), International Music Agent; Jen Malone (US), Founder of Black&White Music and three-time Emmy nominee for her work in acclaimed series such as Euphoria (HBO); Laura Tesoriero (AR), The Orchard's current Senior Vice President for Latin America; Ariel Chichotky (AR), Dale Play Records; Gabi Bobrovizki (UK), Head of Artist Relations at Boiler Room, one of the most recognised club culture platforms; Andrés Sánchez (MX), international promoter at OCESA; and María Montejo (CO), President of the Andean Region at SONY Music Colombia, among many others. 
Some key topics this year include audiovisual content synchronisation, artificial intelligence, and the relationship between brands and music. These, alongside Ed Gerrard (US), President of Impact Artist Management; Enric Palau (ES) from Sónar; and Gonzalo Figari (ES) President of El Club de Creativos will take centre stage at this year's edition. PROMUSICAE will host a panel which will discuss how to board the Spanish success train. LIVE DMA, KULTURA LIVE, and ACCES Y ASSAC, will address some of the issues that concert halls face today, and AEDEM will lay out debates about how to tackle earning rights and music publishing.
Some artists set to star in this edition are: Samantha Hudson (ES); Arkano (ES); Jorge Ilegal (ES), Ana Curra (ES), Ona Mafalda (ES), Bikôkô (ES), Verde Prato (ES), Teresa Ferreiro (ES), Garrita (ES), Co-founders of Sister Of Rave; Lil C (UK) and Lala Hayden (ES), Briela Ojeda (CO), Lucio Feuillet (CO), and Afrika (ES). 
International promoters and industry professionals are convening at BIME FEST, alongside Official Ticketing Partner See Tickets, for a prime networking and knowledge-sharing opportunity focused on the future challenges of live music. Key topics include ecological tools and responsibilities with YOUROPE, public policies for sustainability from FMA, and insights into innovation and emerging trends in live music from APM.
COMMITMENT AND RESPONSIBILITY IN THE MUSIC INDUSTRY 
Reaffirming its commitment to promoting responsible practices, BIME is centring conversations around sustainability in the industry by welcoming speakers such as Lluís Torrents (ES) from Sala Razmatazz, and Fernando Bigeriego (ES) Head of the Support Unit at the General Directorate of Cultural Industries, Intellectual Property, and Cooperation in Spain's Ministry of Culture and Sport.
Additionally, BIME is working hard to achieve a more inclusive industry through the BIME MUSIC EQUALITY FORUM. Here, these professionals will discuss these topics: Rosa Lagarrigue (ES) Founder and Director of RLM Management and head of career development for Mecano, Miguel Bosé, and Alejandro Sanz, and Vega (ES), artist and Director at La Madriguera Records. There will also be a conversation about the music industry's commitment to creating equal societies, featuring the voices of Yeison García (COL-ES) Director at Conciencia Afro, and Quinndy Akeju (ES) Co-founder and Coordinator at Afrocolectiva.  PAM and MIM will address the evolving landscape of music genres and generational shifts within the music press and industry.
BIME STARTUP! AND BIME CAMPUS: INNOVATION AND TRAINING 
BIME START UP!, supported by Banco Santander and featuring Eywa's collaboration, is the hub for discovering music-related technological innovations, and fostering connections among attendees, corporations, and investors. Highlights include an exhibition area, StartUp Village, and the STARTUP! COMPETITION with 8 innovative companies vying for top honours. Renowned industry figures like Aga Samitwoska from Whocares.media (PO) and Jeff Bacon, Founder of 73BARRIOS (UK), will also participate.
BIME CAMPUS provides an advanced theoretical and practical training programme taught by professionals from the cultural and creative industries such as Ella McWilliam (UK) CEO and Co-Founder Of Full Fat Agency, and Cristina Perpiñá (ES), General Director at SGAE. This training programme aims to help students integrate themselves into the music industry. 
MUSIC INDUSTRY AWARDS AT BIME
This edition will include three significant award ceremonies. PREMIOS FEST, a well-established event celebrating its 10th anniversary, honours the dedication and ingenuity of individuals behind music festivals across Spain. BIME EQUITY AWARDS, in collaboration with Amazon Music, is dedicated to acknowledging female and LGTBIQ+ talent, as well as those distinguished for their career, future potential, and social contributions, with notable figures like artist Samantha Hudson. Additionally, introducing MUSIC MOVES EUROPE AWARDS to BIME for the first time, these accolades recognise emerging European talent and have previously been bestowed upon artists such as Mumford & Sons, Dua Lipa, Zaz, and Stromae, aiming to propel promising artists towards a bright future in Europe.
4 DAYS OF MUSIC WITH MORE THAN 50 FREE SHOWCASES
Once again, BIME LIVE is bringing live music to the heart of Bilbao, flooding the city with music for 4 days, from Wednesday, October 25 to Saturday 28. There will be a wide variety of shows taking place in Bilbao's well-known concert halls and outdoor stages. 
More than 50 showcases by artists from the Netherlands, Germany, Norway, Italy, Estonia, Portugal, Canada, Spain, Colombia, Chile, Mexico, Argentina, Cuba, Paraguay, Ecuador, Navarre, Andalusia, Catalonia, the Balearic Islands, Aragon, Galicia, Valencia and more. Afrosound's (CO) tropical rock, Ana Lua Caiano's (PT) harmony between Portuguese folklore and electronica, the Andean rhythms and melodies of Briela Ojeda (CO), jungle, house, bruk, and jazz feelings of Divorce from New York (US) pop, rock and roll, and 80's techno from Grande Amore (CO), electronica, pop, Ecuadorian tradition and symphonic music from LaTorre (EC); more urban stylings from Masta Quba (MX) and Lia Kali (ES); reggaeton from Soulfia (CL) and Wampi (CU);  the alternative sounds of Los Eclipses (MX) and manna (EE), which will be present under the umbrella of the European Keychange programme.
A PROFESSIONAL AND INSTITUTIONAL MEETING POINT TO TAKE THINGS INTERNATIONAL
For its 11th edition in Bilbao, BIME continues to be the most relevant hub for music internationalisation between Latin America and Europe which is reflected in the programming of the festival. Georg Haüslen, Director of the Department of Culture at the European Commission, who will speak this year at BIME.
Additionally, there will be professional delegations and institutions from different European countries, such as Germany, Spain, Finland, France, Italy, the Netherlands and Portugal. As well as hosting people from Argentina, Brazil, Chile, Colombia, Cuba, the United States, Mexico, Paraguay, Peru, Uruguay and Venezuela. These groups and people are meeting again to continue generating new business opportunities on both sides of the Atlantic, as well as to discuss relevant issues such as international legislation and protecting the cultural sector and its professionals in different areas.
Bilbao-Bizkaia-Euskadi will host the event, which will be attended by regions such as Navarra; Comunitat Valenciana; Andalusia; Balearic Islands; Catalonia; Aragon; Galicia; Emilia Romagna (Italy); Antioquia and Bogota (Colombia).
Additionally, in collaboration with Acción Cultural Española (AC/E) and in conjunction with the Spanish Presidency of the EU Council's cultural initiatives, BIME is hosting 'Programming Europe,' an international gathering for music organisers spanning various genres. Moreover, the internationalisation training program, Conexiones i, supported by the Spanish Ministry of Culture and Sports and co-funded by Next Generation EU, will persist this year, expanding its scope to encompass artistic collaboration through initiatives like BIME Sessions.
NETWORKING AT BIME
BIME serves as the ultimate destination for music professionals worldwide, fostering connections both in person and through its virtual community. Beyond its two annual gatherings, BIME operates 365 days a year, offering an online platform that enables individuals to network and collaborate from anywhere in the world, at any time.
Other participating institutions: AGADIC, AGENCIA ANDALUZA DE INSTITUCIONES CULTURALES, AIE, ARAGÓN EXTERIOR, ASSOCIACIÓ PROFESSIONAL DE REPRESENTANTS, BASQUE.MUSIC., INSTITUT D'ESTUDIS BALEARICS, CÁMARA DE COMERCIO DE BOGOTÁ, DUTCH MUSIC EXPORT, ELPAUER, EMBAIXADA DE PORTUGAL, EMILIA ROMAGNA MUSIC COMMISSION, FUNDACIÓN SGAE, G5 Y CIRCUITO CULTURAL GUARANÍ, IBERMÚSICAS, IDARTES, INAEM, INITIATIVE MUSIK, INSTITUT FRANÇAIS BILBAO, INSTITUTO CUBANO DE LA MÚSICA, KULTURA – EUSKO JAULARITZA, LAN ETA ENPLEGU – EUSKO JAULARITZA, LANBIDE, LAS ARTES Y EL PATRIMONIO DE CHILE, MEDITERRANEW MUSIC, MINISTERIO DE LAS CULTURAS, MUSIC FINLAND, NAVARRA MUSIC COMMISSION, PROMOTORS I MÀNAGERS DE CATALUNYA, SECRETARÍA DE DESARROLLO ECONÓMICO DE CALI, SOUNDS FROM SPAIN, UNFIT + GIUSPIRA, VALENCIAN MUSIC OFFICE, WHY PORTUGAL, AND MORE…