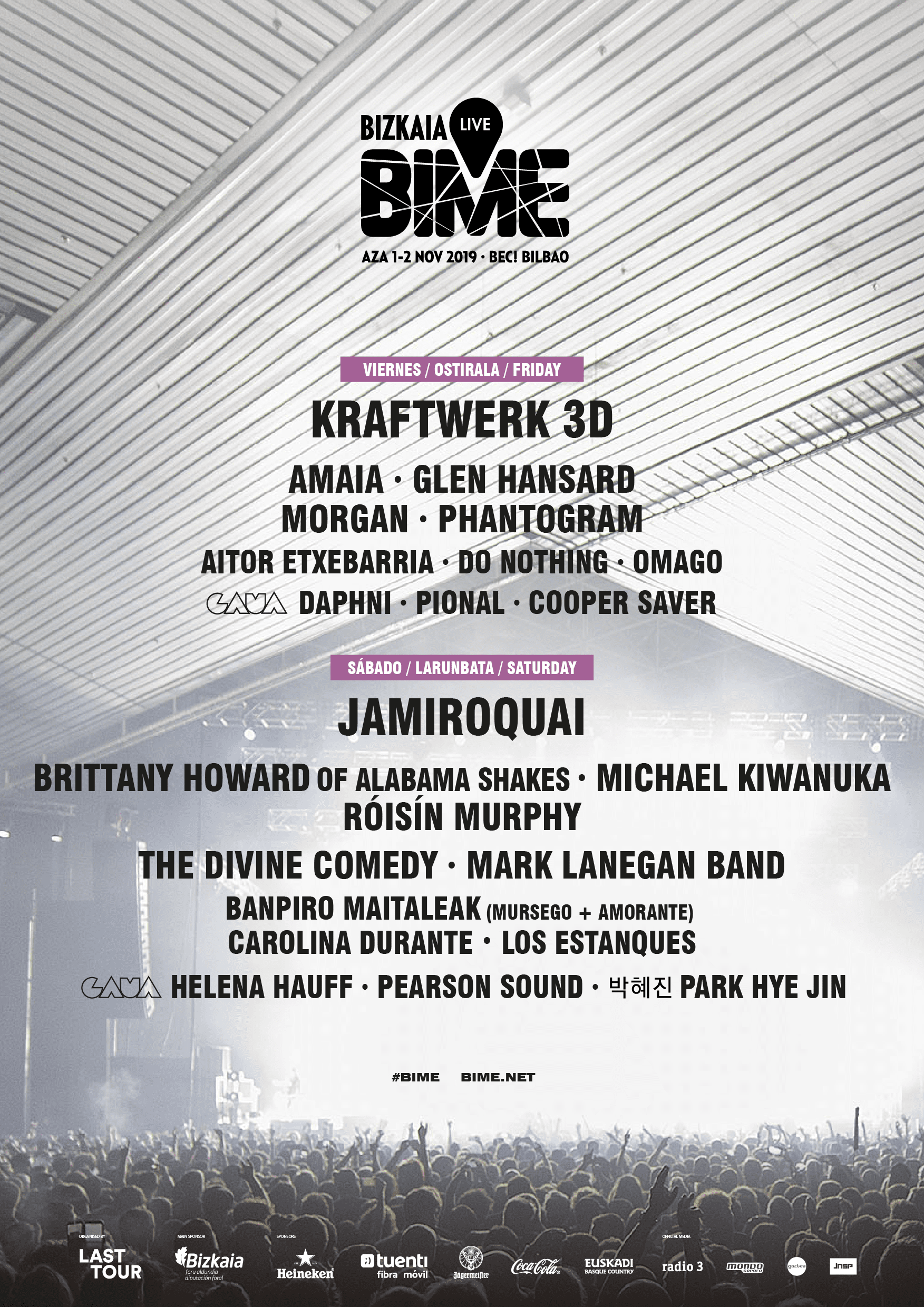 BIME Live – Spain's biggest Autumn festival expands 2019 line-up
BIME LIVE, Spain's biggest Autumn festival reveals yet more acts for its seventh edition, to be held the1st and 2nd November at the BEC! Bilbao.  Glen Hansard, Irish singer-songwriter, guitarist, and Oscar winner, will make his BIME LIVE debut, presenting his latest work, This Wild Willing, a folk-framed ode to experimentation with a Middle Eastern flourish.  Joining him is Alabama Shakes frontwoman Brittany Howard, presenting Jamie, her new funk- and soul-tinged album—and first solo outing—in memory of her deceased sister.  Róisín Murphy also joins the bill, treating BEC! audiences to her quirky avant-garde electropop.  With her Incapable single fresh out of the oven, the Anglo-Irish songstress and ex-Moloko vocalist is dropping in on Bilbao as part of her European tour.
Next up is the dark electronic rock and dream pop of Josh Carter and Sarah Barthel, better known under their Phantogram moniker, back with their latest single, Into Happiness.  Then Omago, a young Basque act with a pop-rock essence and winner of the Soinu Berriak battle of bands put on by the Deputation of Biscay, will also be ascending to the stages of BIME LIVE.
Lovers of the heftiest dance-led sounds will also have their own little piece of paradise, as the Gaua stage returns for another year.  The raw and reckless techno of Helena Hauff, eclectic sets of Daphni aka Caribou, polyvalence of UK producer Pearson Sound, and pop-leaning house of Madrid's Pional will be some of its protagonists.  Closing out the lineup of the festival's anticipated club stage are Cooper Saver,L.A.-based Dublab radio DJ with releases on such labels as ESP Institute and Permanent Vacation;  and the post-house pronouncements of South Korean Park Hye Jin.
These new acts join previously announced names including Kraftwerk 3D, Amaia, and Glen Hansard on the Friday night bill; and Jamiroquai, Brittany Howard, Róisín Murphy, and The Divine Comedy slated for Saturday at BIME LIVE.
With the Goxo stage lineup and other artists still TBC, two-day passes are already on sale for the price of 85 euros. Book now at https://www.bime.net/live.
BIME 2019
BIME LIVE
1-2 November, 2019
BEC! Bilbao